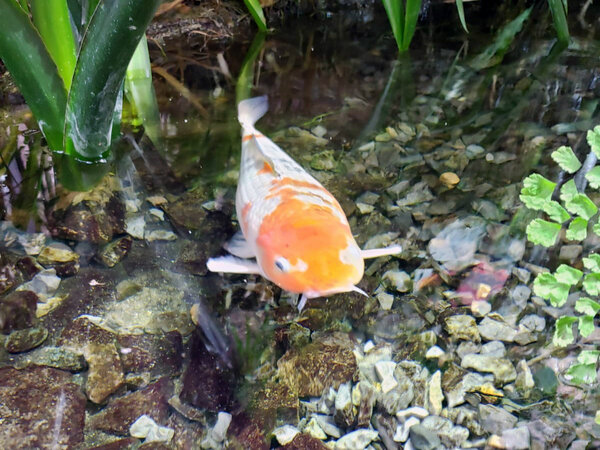 Bubbles the koi has been in the pond at the Museum of Natural Sciences since it opened in 1987. On June 19, he moved to a larger pond on campus. (Photo: Nadine Zabder).
By Chris Putnam
The University of Saskatchewan (USask) Museum of Natural Science's oldest resident has a new address.
Bubbles the koi fish, who has lived in the Geology Building's indoor pond since the museum opened in 1987, has outgrown his home and been moved to a larger pond at Innovation Place.
"Although I know that Bubbles will be missed in the museum, I think if people have a chance to go see him at Innovation Place, they'll be really happy for him," said Dr. Erica Bird (PhD), manager of the Museum of Natural Sciences.
The 33-year-old koi has charmed generations of visitors to the museum.
"A lot of people care about that fish. If you look at the rock in front of that pond, it's polished from so many people sitting and leaning and touching," said Sue Johnson, who worked as a technician for the Museum of Natural Sciences from 2003–2018.
The bright orange-and-white koi is "a friendly fish, always ready to listen and blow kisses," Johnson said. For years, students and other visitors have stopped by Bubbles' greenery-surrounded pond to watch the fish or talk to him.
"Let's just say Bubbles holds a lot of people's secrets," said Johnson.
Some visitors would draw the fish's portrait or take his photo. One anonymous fan of Bubbles even created an unofficial Instagram page for him.
Bubbles was one of 13 baby koi donated to the museum in 1987 by biology professor emeritus Dr. Bob Randell (PhD). Bubbles' pond-mates have all since died, and he has been swimming alone since around 2012.
Bubbles was given his name several years ago by a group of students who visited him regularly. The name stuck when they told it to museum staff, Johnson said.
Until this week, Bubbles' sex was uncertain. Based on his interactions with the other fish in the pond at Innovation Place, it is now clear that he is male, said Johnson.
On June 19, Bubbles was transported by animal care staff to the large koi pond in the Garden Park at Innovation Place on the north end of the USask campus.
Members of the public can visit the outdoor pond anytime, provided it isn't closed for a private event and that they follow social distancing guidelines during the COVID-19 pandemic.
The Museum of Natural Sciences is currently closed along with other university buildings.
Bird visited Bubbles at his new pond shortly after the move. "Bubbles was hanging out with the other fish and swimming around with them, and that was really wonderful—to see Bubbles having these spacious new digs and new friends," she said.
With luck, Bubbles could live decades longer in his new home. Koi in captivity often live more than 70 years.
No decisions have been made yet, but the Museum of Natural Sciences is considering getting new fish for its pond.