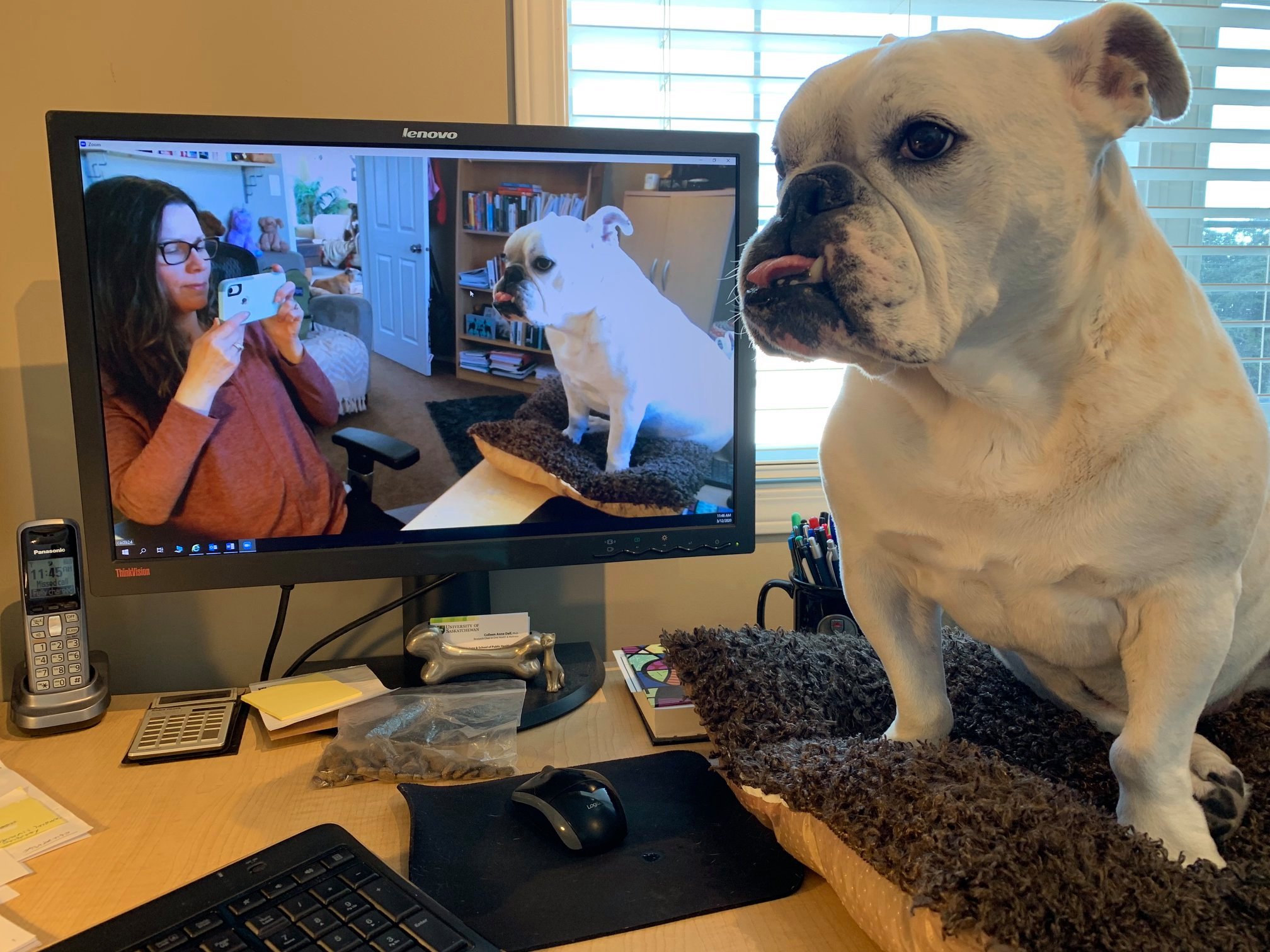 Online therapy dog program showing positive results, USask professor says
Virtual PAWS Your Stress events will take place until the end of July
By Shannon Boklaschuk
The University of Saskatchewan (USask) PAWS Your Stress Therapy Dog program has been online for seven weeks, offering comfort and self-care tips to members of the campus community who have been physically separated due to the COVID-19 pandemic.
While the PAWS Your Stress research team is just starting its mid-project evaluation, Dr. Colleen Dell (PhD) has heard about the smiles on people's faces when they watch videos of the St. John Ambulance therapy dogs and interact with them online.
"Happiness is a key outcome for visiting with the therapy dogs in person, and my sense is that that is translating to the online environment," said Dell, a sociology professor in USask's College of Arts and Science and the university's Centennial Enhancement Chair in One Health and Wellness.
"Once we learn about the impact we are having, that will help us determine if, and how, we continue into the fall term."
PAWS Your Stress events started taking place online on April 20, after the university closed due to the coronavirus health crisis. The virtual events are currently scheduled to continue until the end of July.
Online therapy dog visits take place on Facebook Live (@PAWSYourStress), while recorded videos are shared on additional platforms, including Instagram (@pawsyourstress), Twitter (@PawsStress) and YouTube (PAWSYourStress). Funding for the online program has been provided by the Saskatchewan Health Research Foundation and the Centennial Enhancement Chair in One Health and Wellness.
"We know from the literature on companion animals, or pets, that they can help us reduce stress and anxiety by encouraging us to be in the moment with them, as well as physiologically they can help reduce our stress hormones," said Dell, who is also a senior research associate with the Canadian Centre on Substance Use and Addiction.
"We are looking into the literature whether this can happen in an online environment, and there are promising results. Just think of how popular 'cute' animal videos are online—there is a reason we watch them, just like there is a reason we invite pets into our lives. They make us feel good."
Dell's research team identified two goals for its 14-week exploratory online program: to virtually extend the sense of USask's therapy dog community connection by enabling students, and people throughout Saskatchewan and beyond, to visit with the dogs online; and to share evidence-informed information about pandemic-specific mental health self-care tips from the perspective of the therapy dogs.
"We know the importance of sharing evidence-based information when it comes to mental health for people, and this is especially true during this pandemic. We also know that people may feel they are being talked at a lot, so we decided to share pandemic-specific, evidence-based messages from the dogs about how they are staying healthy," said Dell.
"This ranges from following routines to sleep better, such as eating a snack before bedtime, through to the importance of good hygiene, like trimming your nails, or picking up on an old hobby to have fun—like my therapy dog, Anna-Belle, getting on the skateboard once again. We absolutely can learn from animals."
Dell's research team chose to use Facebook Live visits, recorded videos on Flipgrid and storybook read-along sessions on the therapy dog website to connect with the community. The team promotes all three types of online therapy dog visits through Facebook, Twitter and Instagram.
Dell said the Facebook Live events—which are offered several times a week for about 15 minutes per session—are a great way to visually connect and chat with individuals in real time. They feature a therapy dog involved in a healthy activity, such as going for a walk, playing hide and seek or learning a new trick, and the activity is linked to a pandemic-specific health tip.
The team's pre-recorded videos on Flipgrid, meanwhile, offer greetings from the therapy dog teams, often mentioning the places the dogs regularly visit. The videos are about two minutes long and typically feature a therapy dog doing an everyday activity, such as chasing a ball or just being present and enjoying the moment.
Dell said the online readings of children's books are offered in partnership with Scholastic Canada, with the dogs' handlers reading aloud to their dogs and to the viewers. Research has shown being that being read to can help develop meaningful connections, she said.
While the therapy dogs have become a popular feature on campus, Dell wants students, staff members, faculty and others to know that the dogs are still there for them during the pandemic—even if they can't connect in person right now.
"We have likely all experienced the difficulties that come with being separated from your community over the past several months. Whether you chose to visit with the therapy dogs in person or not on the USask campus, you are likely aware that they are a part of our community and I want everyone to know that they are still here for you," Dell said.
"By going online, we are attempting to extend that sense of a caring USask community; our volunteer handlers and their St. John Ambulance therapy dogs contribute to our community because they care about us."
PAWS Your Stress, which began in 2014, is a partnership between Dell's office, Peer Health and the St. John Ambulance Therapy Dog program. Learn more about the online therapy dog program and the research team behind it—Dell, Ben Carey, Alexandria Pavelich, Maryellen Gibson, Dr. Holly McKenzie (PhD) and Dr. Linzi Williamson (PhD)—by visiting therapydogs.ca.
---
Related Articles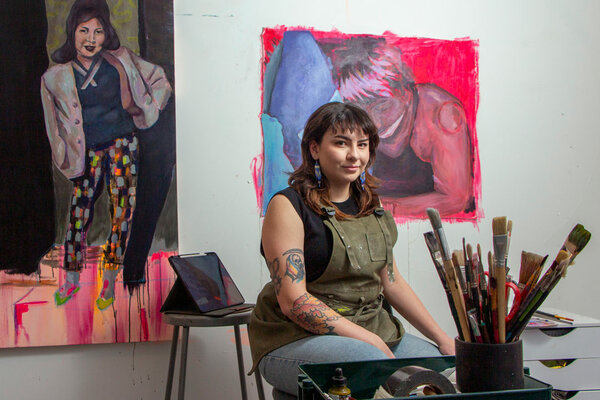 MFA student won a 2023 Outstanding Student Achievement in Contemporary Sculpture Award from the International Sculpture Center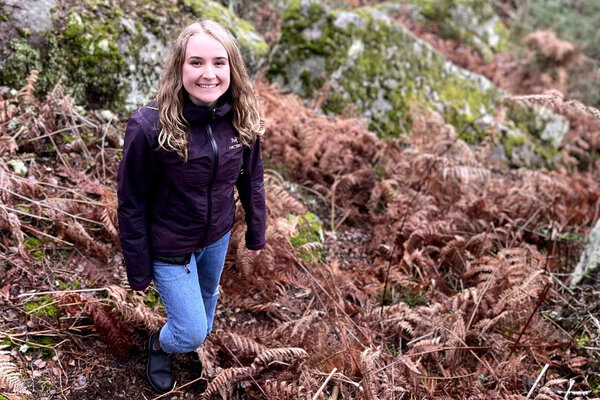 USask biology student Rachel Andres is making plans to continue her love of plant science research at the University of Oxford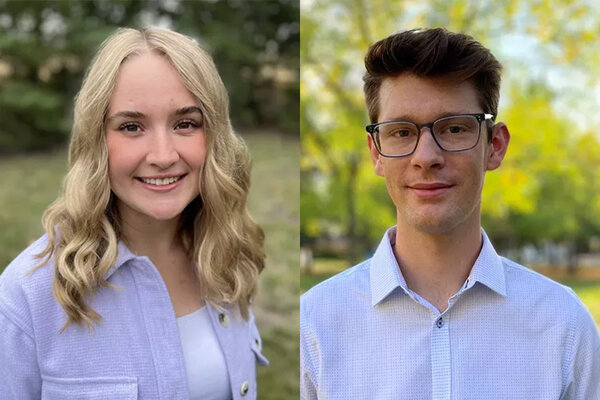 Biological sciences student Rachel Andres is one of two USask recipients selected for the prestigious Rhodes Scholarship