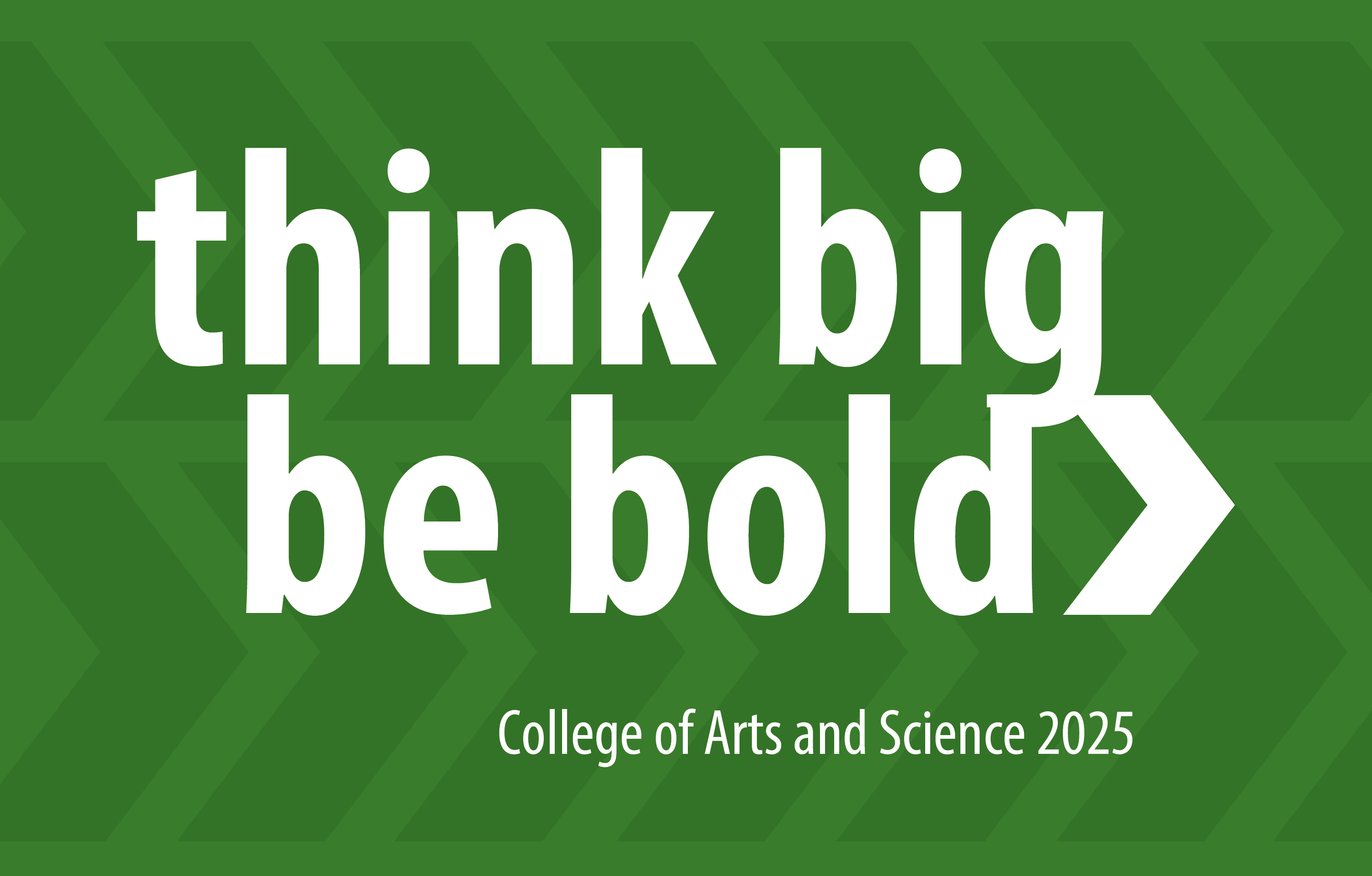 Think Big – Be Bold Plan Celebration Day
A day for celebrating the creativity and ingenuity of College of Arts and Science students, faculty and staff
See which achievements our departments are most proud of over the past year!
Join us for a full day dedicated to recognizing and celebrating the creativity and ingenuity of College of Arts and Science students, faculty and staff.
Monday, March 2
10 am–2 pm
Arts Building (top of ramp) and Geology Building (second floor)
Activities, displays and interactive demonstrations from 11 departments will take place in the Arts Building at top of the ramp, and in the Geology Building second floor by the Tim Horton's.
As we are now one year into our seven-year college plan, it's time to tell the stories about major accomplishments we have made towards two of our priority commitments: Students First, and Excellence in Research, Scholarly and Artistic Work.
As a unified college, we will champion the impact and achievements of our artists, scholars and researchers.
We will build more personal and relevant connections, and tell our stories.
This is your college; meet others who study and work here, and experience the coherence of our Think Big – Be Bold living plan.
For more information about the college plan, visit artsandscience.usask.ca/2025
---
Program at a Glance
10 am–2 pm Monday, March 2, 2020
| | |
| --- | --- |
| Arts Building top of ramp | Geology Building 2nd Floor by Tim Horton's |
| English Department | Archaeology and Anthropology Department |
| History Department | Geological Sciences Department |
| Linguistics Department | Indigenous Studies Department |
| Music Department | Mathematics and Statistics Department |
| Political Studies Department | Physics and Engineering Physics Department |
| Sociology Department | |
Complete Program
Archaeology and Anthropology
View a recording of guest lecturer and panel discussion the important topic of repatriation, complementing our 50th Anniversary lecture series last year on Engagement and Reconciliation
Photograph display of Alexandria Smith, an anthropology undergraduate student, awarded an Indigenous Achievement Week student award in February
Other accomplishments TBA
English
10-10:30am

Dr. Joanne Leow - Intertidal Polyphonies

10:30-11:00am

Dr. Peter Robinson - Canterbury Tales mobile/web application

11:00-11:30am

Dr. Jenna Hunnef / Dr. Kathleen James-Cavan

Certificate in the Study of Indigenous Storytelling and Career Internship

11:30am-12:00pm

Dr. Jeanette Lynes - MFA in Writing

12:00-12:30pm

Dr. David Parkinson - Project in International Collaborative Teaching and World Class Day

12:30-1:00pm

Dr. Lindsey Banco - Graduate Studies in the Dept. of English

1:00-1:30pm

Dr. Wendy Roy - Serials, Sequels, and Adaptations in Early Twentieth Century Canada

1:30-2:00pm

Dr. Yin Liu - Medieval Codes
Book table featuring recent books by faculty members, emeriti, students, and alumni, and a large RSAW poster documenting all the recent publications of our current faculty
Poster display to show our community and student engagement events like Writing North, Literature Matters, River Volta, Peter Millard Lecture, and the Honours Colloquium
Highlight upcoming events like Movies that Matter, more Literature Matters, Career Options events (for students), and major academic conferences that will take place in the summer for the Association for Literature, Environment, and Culture in Canada Biennial Meeting in Saskatoon, and the 20/20 Vision conference
Feature our new Certificate in the Study of Indigenous Storytelling and our achievements with the MFA in Writing program
Geological Sciences
Via televised animation, Prof. Bruce Eglington will illustrate a plate reconstruction model to automate the identification of geodynamic margins and links to selected igneous activity. He will show links of marine and terrestrial settings to geochronology
Posters that graduate students have shown at conferences
History
Professors will be at the table from 10 am-2 pm: come and meet them!
Display will highlight Vice-Dean and Prof. Valerie Korinek's award-winning book Prairie Fairies: A History of Queer Communities and People in Western Canada, 1930-1985
Department will highlight the Canadian Bulletin of Medical History and Ethnohistory
Display to celebrate the more than 50 years we published the Canadian Journal of History
Display to Historical Geographical Information Systems Lab—the biggest and best in Canada
Celebration of the George Ivany Award in Internationalization to Prof. Simonne Horwitz
Promotion of Study Abroad courses
Indigenous Studies
Profile of the INDG 410/810 class "Aboriginal Self Determination Through Mitho Pimachesowin Ability to Make a Good Living," unique in that it is a combined grad/undergrad night class and that many of the students are attending via Webex into the classroom from as far away as Alaska to different communities in northern Saskatchewan
Professors will be at the Indigenous Studies table from 10 am–2 pm
Display Indigenous studies research and scholarly work, including publications of books and articles
Profile Indigenous Studies Engagement in the study abroad program
Linguistics
A number of successful initiatives related to "Student First"
Research, scholarly and artistic work success in the last year include publications of books, book chapters, journal articles, refereed proceedings, conference presentation; documentary film; invited keynote addresses; funding received
Music
10:30 am: Flash Mob with Greystone Singers
Watch the video "Imagine Yourself Here"
Mathematics and Statistics
Prof. Steven Rayan, Director of the Centre for Quantum Topology and its Applications (quanTA) will be present to showcase this new interdisciplinary centre in Arts & Science devoted to the mathematics and physics of novel new quantum materials, inspired by the discovery of topological materials that have revolutionized condensed matter physics. The quanTA Centre is involved in the theory, simulation, and realization of a new generation of quantum materials, with a focus on enabling innovations such as quantum computing and energy-efficient technologies.
Highlight recent accomplishments: the inaugural Peter Scherk Lecture in Geometry, which will be an annual event of quanTA, was delivered by world-renowned mathematician Dan Freed (UT Austin).
Watch the PIMS 20th celebration slide show
Success of the PIMS-Fields Summer School on High-Energy Physics and the Symposium "Quantum Engineering and Harmonic Analysis". Our statisticians organized a fantastic PIMS Data Science Bootcamp for students and researchers in 2019, which was an interdisciplinary activity with Computer Science. These events were of an international scale, drawing participants from multiple countries to the College!
Highlight the distinguished career paths of some of our graduates
We are proud to honour and highlight Travis Black, a student in Mathematical Physics (BScH), who was awarded a 2020 Indigenous Student Achievement Award!
Physics and Engineering Physics
Demonstration of a robotic telescope and video of the Sleaford Observatory
Watch a movie and slides of CANoRock going into space
Observatory merchandise will be offered for sale
Political Studies
Highlight the Department of Political Studies T.E.A.C.H. Series (Teaching Effectiveness And Classroom Happiness) which invites faculty and teaching experts to explore instructional strategies, new research on teaching and learning, and inclusive pedagogy in a communal setting
Sociology
Displays and videos on:
Interactive surveillance technologies and new courses/research on surveillance and social control
Therapy dogs on campus (with some dogs attending!)
Service dogs and veterans and dogs in prison
Selected presentation of research publications, including books and articles by department members, along with unique forms of dissemination in research, such as magazines, video and theater
---
Upcoming Events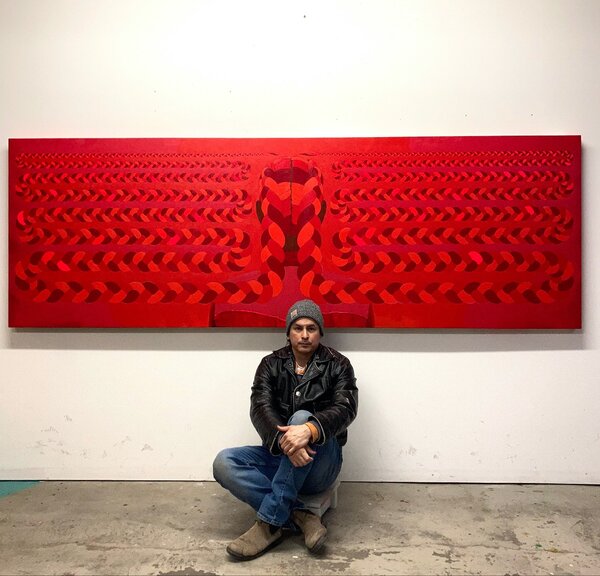 May 13 - Aug 26, 2022
The major solo exhibition by College of Arts and Science graduate Wally Dion (BFA'04) focuses on new and recent artworks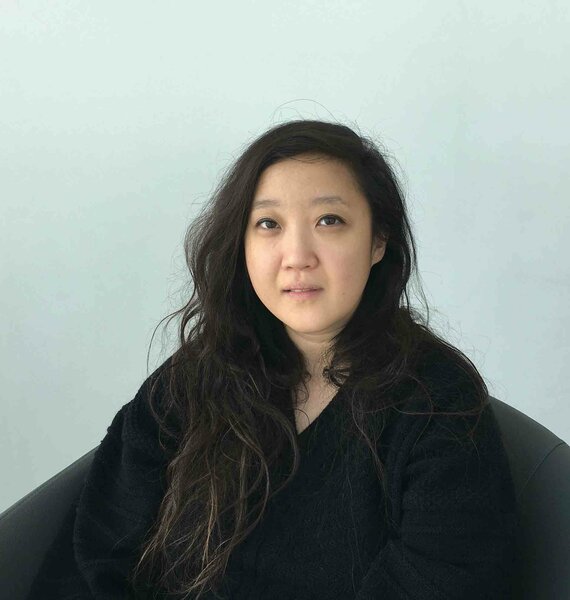 Jun 3 - Aug 30, 2022
The artistic practice of College of Arts and Science graduate Julie Oh (BSc'07, BFA'09) considers found objects as powerful vessels for the human experience
Oct 18, 2022
SHIFT is a webinar series for students and recent graduates that focuses on how to succeed post-graduation