USask alumna becomes first Sask. player to join national women's sledge hockey team
Posted on 2019-11-06 in Alumni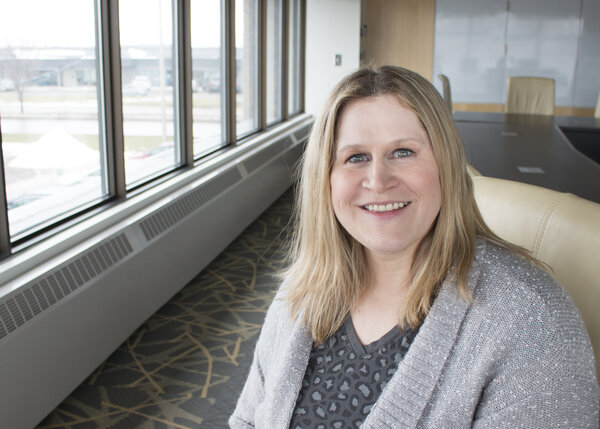 Tracey Arnold (BA'07, BA'11), who works at the Saskatchewan Medical Association, now serves as a goalie for the national women's sledge hockey team. (Photo: Maria Ryhorski)
By Shannon Boklaschuk
Tracey Arnold made history this year when she landed a spot on the national women's sledge hockey team, becoming the first Saskatchewan player to join the Canadian squad.
When asked about this milestone achievement, the Saskatoon resident and University of Saskatchewan (USask) alumna described it as "a great thing" and "a great feeling."
"I feel a lot of responsibility with that now," said Arnold (BA'07, BA'11). "I enjoy it, and I want to be an advocate for sledge hockey, as well, for anyone—woman, man, youth, whoever. But I feel a bit of responsibility with that, because I'm kind of holding a torch now—and I want to do my best and represent the best."
Arnold, who comes from a family of athletes and sports fans, enjoyed playing hockey as a child while growing up in southeastern Saskatchewan. Her hockey career was cut short, however, when she was seriously injured in a motor-vehicle accident at the age of 12, leaving her paralyzed.
Although she was told she would never walk again, Arnold defied expectations. While she still lives with long-term nerve damage, today the 41-year-old walks with a cane.
Playing stand-up hockey after the car accident was no longer a possibility for Arnold, but her passion for the game never stopped. About five years ago, after seeing a sledge hockey advertisement, she decided to look further into the sport. The rest is history.
"I thought, 'Hey, I'm kind of old—but I'm going to give it a try,' " she said with a laugh, noting that she is new to the national team but is its oldest member. "I researched and found that there was a club here in Saskatoon and I got in contact with them—the Saskatoon Ice Tornadoes."
After giving sledge hockey a try, Arnold never looked back.
"There (were) a few tears shed—happy tears—because it was something I could go back to enjoy and go back to my roots of hockey," she said. "It was ingrained in our family. That was what we did on Saturday nights was (watch) CBC hockey, because we only had three channels."
Arnold now serves as a goalie for the national team—a position she hadn't played until she started exploring sledge hockey as an adult. She admits she was nervous, at first, to get back on the ice, because she wasn't sure what to expect.
"I hadn't really done it for a long time so I was like, 'How different (will it) be in a sledge for hockey?' You have two blades underneath you—even though you do when you're skating, typically—but they're really close together, and I wasn't sure: 'If I fall on the ice, can I get up?' There's all these things that are new, but it was really fun and they were really good at teaching me right away. The love for it obviously didn't go away; it just kind of re-sparked it."
In October, Arnold and the other national team members spent time together in Bridgewater, Nova Scotia, where they attended a camp. More travel is on the immediate horizon for Arnold. This month she will be in Calgary for a development camp and will also head to St. Louis, Missouri, to compete in the NHL's Sled Hockey Classic. In February 2020, she will be in Vancouver, where the women's national sledge team will play against U.S. competitors.
While Arnold is focused on sledge hockey right now, she's also known as a top athlete in another sport: arm wrestling. She became involved in arm wrestling during her final year of high school, and it immediately appealed to her competitive nature.
"It was the first time since we'd had our car accident that (there was) something that I could do that was competitive and athletic and for myself," she said.
Arnold has travelled extensively as a result of her arm-wrestling career, competing at provincial, national and international events. She's lost track of how many national titles she holds; she estimates it's 16 at different weight classes. In 2010, she also placed second in the left-arm competition and third in the right-arm competition at the world championships in Mesquite, Nevada.
Arnold, who is now president of the Saskatchewan Armwrestling Association (SAWA), serves as the head scorekeeper for arm wrestling in Canada. Since 2013, she has been the secretary/treasurer for the Canadian Armwrestling Federation.
Arnold compares the feeling of winning an arm-wrestling competition to the joy of winning a hockey game.
"It's because you know all the work that's gone into getting to that," she said. "It's travelling to tournaments, practicing, exercising in the gym, making sure you're at the top of your game, having the support of massage and chiro or physio."
In addition to sports, Arnold has other passions, including education and learning. Arnold said she "fell in love" with psychology as a student at USask's College of Arts and Science. She received a three-year Bachelor of Arts degree in psychology in 2007, before returning to USask to take more classes and receive a four-year degree in 2011.
Arnold said she appreciated "the people aspect" of psychology, noting social psychology and neuropsychology helped her better understand the physical and emotional impacts of her auto accident.
"That's kind of what spurred my schooling," she said.
Arnold's education has also helped her during her diverse career path. She was previously employed with the Saskatchewan Foster Families Association (SFFA) as a foster family advocate, assisting in strengthening the professional relationship between foster parents and the Ministry of Social Services. That job made a big impact on Arnold and taught her many life lessons, and she continues to be in contact with some of the people she met as a result.
"It definitely shaped who I was, and am, today," she said.
Arnold also worked as a case manager at the Saskatchewan Workers' Compensation Board before joining the Saskatchewan Medical Association (SMA), a professional association for physicians that also represents most medical students and residents training in the province. At the SMA, Arnold is a practice advisor with the electronic medical records (EMR) program.
"I enjoy working at the SMA," she said. "Obviously, through all the roles I've had, I like advocating. I like supporting (people). This role fits right into that."
Arnold said the SMA, and her co-workers there, are very supportive of her sledge hockey journey, as are many other Saskatchewan residents.
She counts friends and family members, including her husband, Richard Riegel, and two-year-old son, Silas, among her many supporters.
Her support network also includes coaches and medical professionals, as well as organizations such as the Saskatchewan Wheelchair Sports Association (SWSA) and Canadian Sport Centre Saskatchewan, a member of the Canadian Olympic and Paralympic Sport Institute (COPSI) Network.
Arnold said her son is already a big hockey fan, and "it's pretty awesome" when he is able to watch her on the ice.
"He's cheering me on and it's pretty cool to hear 'I love you mommy' from the stands—and he knows I'm out there and he's always waving to me," she said.
Arnold said she loves stand-up hockey and sledge hockey equally, and she's enthusiastic about both. She notes sledge hockey isn't much different than stand-up hockey.
"I think what I like the best about (sledge hockey) is it's challenging and it's fun," she said. "I think for me, because I like to learn and grow, it's given me that aspect to do that in a sport (where) now I'm back to my roots and loving it. I really like that."