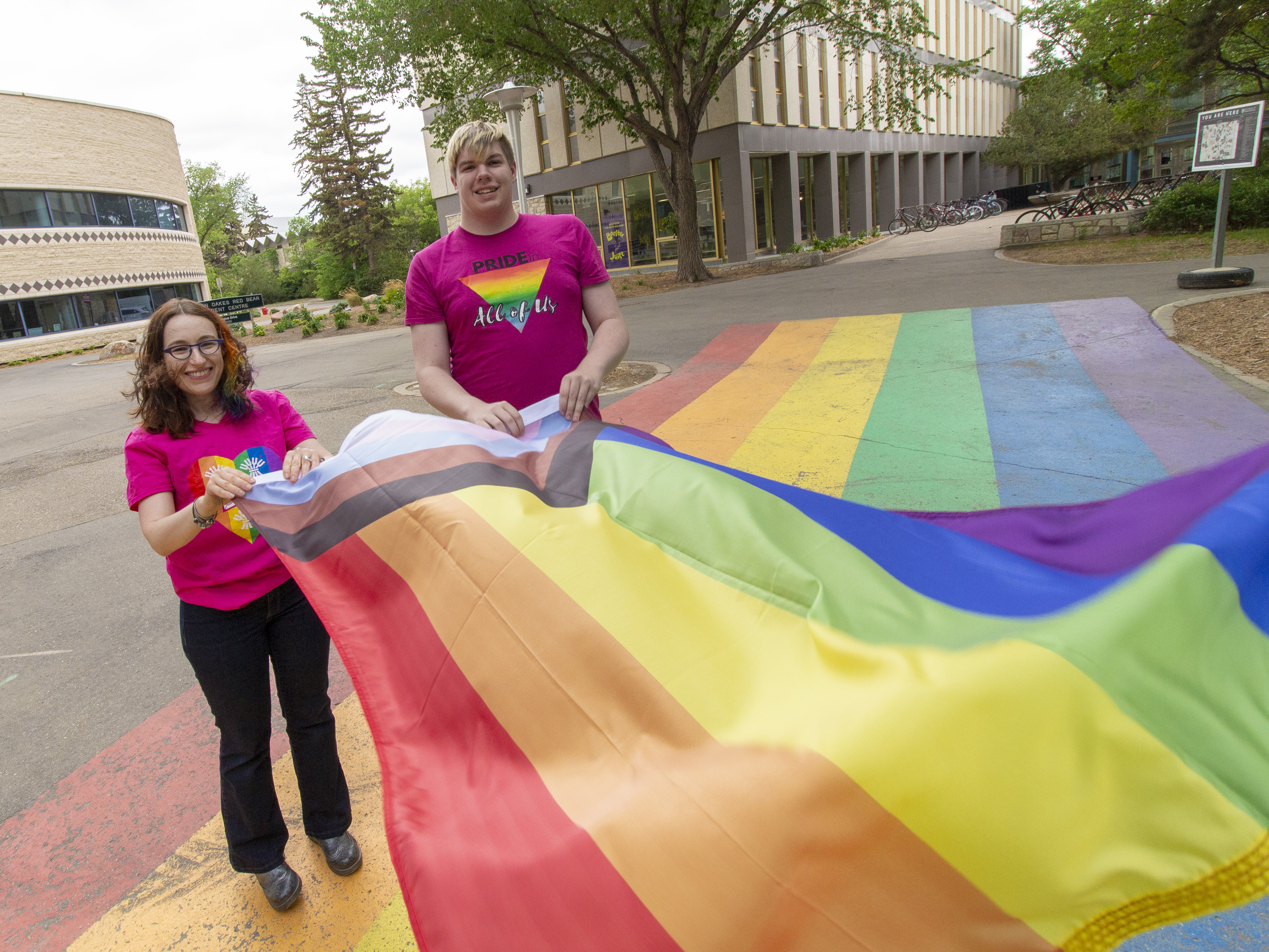 USask to host events during Saskatoon Pride Week
A new, more inclusive, Pride flag will be raised outside the Peter MacKinnon Building on June 17 at 10 am
By Shannon Boklaschuk
Pride Week offers an opportunity for everyone at the University of Saskatchewan (USask) to celebrate gender and sexual diversity and to share the drive for equality, say a professor and a student involved in organizing the campus events.
"Planning the Pride Week means that we can create an inclusive space that's not for some of us but it's for all of us," said Jory McKay, a third-year anthropology student in the College of Arts and Science who serves as the University of Saskatchewan Students' Union (USSU) Pride Centre coordinator.
For McKay, who also sits on the Saskatoon Pride board, Pride Week is a time to acknowledge all of the queer people on campus who "have come before us, and those that will come after us," as well as to recognize "the Indigenous people in our area that have put so much work into queer issues and are major queer advocates."
"I think that's one of the most important things for me, is being able to recognize the people that have done all of these things," he said. "When I was younger, I never would have thought my future university would be able to be putting on a full week of Pride events throughout the Pride Festival—so it's just like a dream come true."
The Saskatoon Pride Festival runs from June 14 -22. USask will also host a number of events on campus during the week, including the Pride flag raising outside of the Peter MacKinnon Building on June 17 at 10 am.
Everyone is invited to attend the flag raising, which symbolizes USask's commitment to creating an inclusive and positive working and learning environment for everyone, including those in the LGBTQ2S+ community. A more inclusive flag will be raised this year; in addition to the six colours traditionally associated with the rainbow Pride flag, the new flag also includes a five-coloured chevron featuring black, brown, light blue, pink and white. The black and brown stripes represent marginalized LGBTQ2S+ communities of colour, while pink, light blue and white represent the Transgender Pride flag.
For Dr. Simonne Horwitz (D. Phil), a history professor in the College of Arts and Science, helping to organize USask's Pride events also means extending the educational opportunities involved in Pride. McKay and Horwitz are co-chairs of the Provost's Advisory Committee on Gender and Sexual Diversity, which serves to assist USask in creating a community that embraces diversity and ensures fair, respectful and inclusive treatment of all of its members.
"Pride is not just a party; it's not just a celebration of identity. It's also a reminder of the struggles that queer people have been through, and the first Pride march in '69 was a response to the Stonewall uprisings," Horwitz said.
"I think that we should never forget that Pride is also about claiming space for people who are not often central. So Pride Week puts queer people in the centre—where usually you're on the margins—and I think that's really important. We still don't have equal opportunities and equal rights, so it is still a political statement as well as a celebration."
One of the successes of the Provost's Advisory Committee on Gender and Sexual Diversity is increasing the number of inclusive washrooms on campus, said Horwitz. A complete list of inclusive washroom locations is available on the university's online map.
In terms of education, Horwitz also encourages course instructors to ask students which pronouns they use. Some individuals prefer to use gender-neutral pronouns, such as they/them or ze/hir, rather than gender-specific pronouns, such as he/she or him/her.
Horwitz's hopes for Pride Week on campus are that queer students, staff and faculty feel they have "a central place" at USask and that it's safe to be out. Allies are also encouraged to participate, to show their support for the queer community and to learn how to be a good ally. Positive Space and Trans Positive workshops, developed and presented by members of the Provost's Advisory Committee on Gender and Sexual Diversity and the USSU Pride Centre, will be offered during Pride Week. For a complete listing of campus Pride events, visit the Positive Space website.
"We are always trying to push the Positive Space training courses and hope that more students, staff and faculty take those courses, because it just opens up a different way of thinking," said Horwitz.
"We're making great strides towards making this campus an inclusive space, but we've still got a way to go—especially in terms of faculty and staff and coming up with ways to support them as well," she added.
McKay said the USSU Pride Centre is an inclusive space for students that is full every day—often close to capacity. McKay said "it's such an amazing thing to see all these people come into the space and use these resources," adding that it was one of the first places he looked for on campus when he became a USask student.
"Now that we're in the Memorial Union Building, right above Louis', there's so many people that come through there. There's so many people that learn about our services," said McKay. "We have so many queer people, so many allies, that come into the space—and everyone in that space uses it as a learning experience and a place to meet other people like them."
If faculty, staff and students would like to visibly show their support during Pride Week, a limited amount of USask Pride T-shirts, as well as mugs and socks, are now available for purchase at the Shop USask Bookstore. Proceeds from the sale of the items will support queer initiatives on campus coordinated by the Provost's Advisory Committee on Gender and Sexual Diversity.
USask students, faculty and staff are also invited to walk with USask in the Saskatoon Pride Parade, which will start at noon on June 22 in the city's downtown. Another option is to find a spot along the parade route to cheer on the USask walkers.
"Pride is for everybody; it's doesn't matter which of the identities you identify with, or the multiple identities that you have," said Horwitz.
McKay said it's important that events such as those organized during Pride Week are "woven into the fabric" of campus life.
"I know whenever I'm in classes, just being able to see that these events exist—being able to find people that are similar to me and have similar lived experiences—really has made my university experience a very good one," he said.
---
Related Articles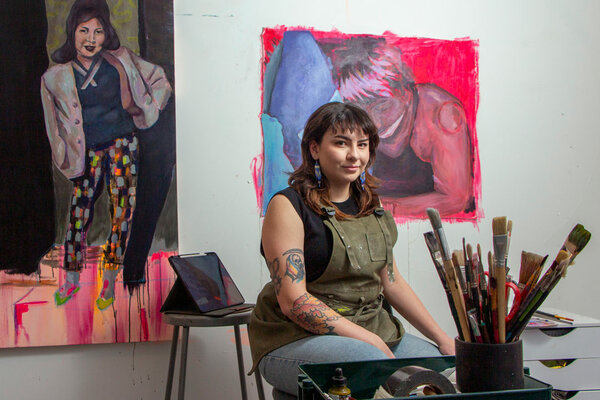 MFA student won a 2023 Outstanding Student Achievement in Contemporary Sculpture Award from the International Sculpture Center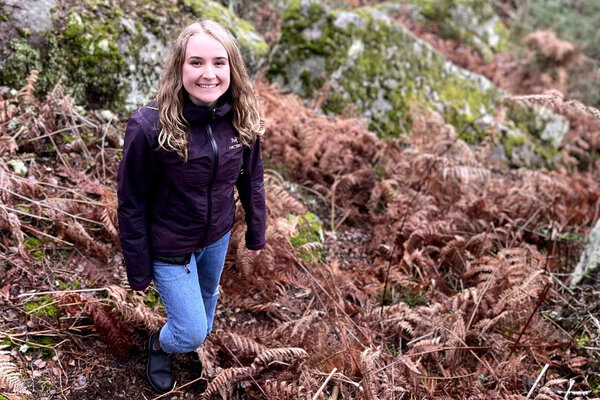 USask biology student Rachel Andres is making plans to continue her love of plant science research at the University of Oxford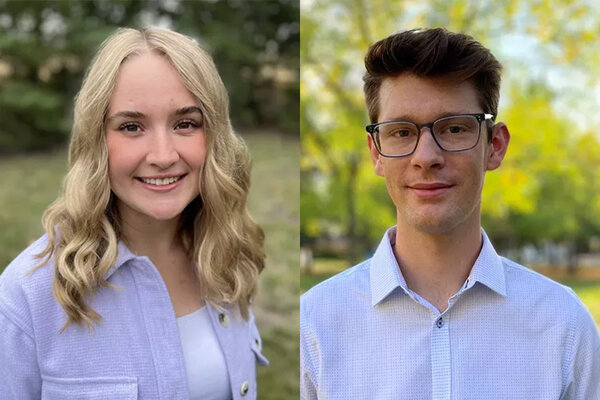 Biological sciences student Rachel Andres is one of two USask recipients selected for the prestigious Rhodes Scholarship