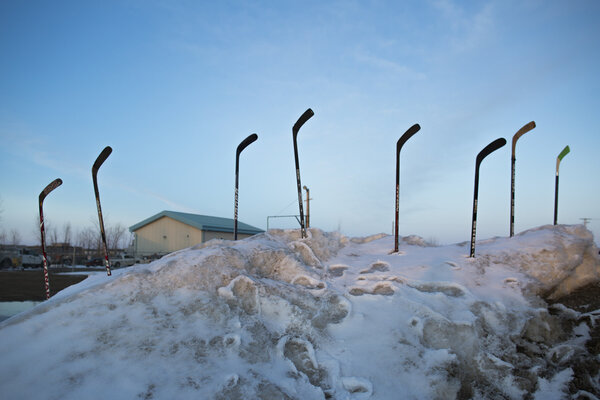 Political studies student Kayle Neis took this award-winning photo for the Saskatoon StarPhoenix in the wake of the Humboldt Broncos tragedy. (Kayle Neis/Postmedia)
By Shannon Boklaschuk
University of Saskatchewan (USask) student Kayle Neis felt "very shocked" when he won a prestigious National Newspaper Award (NNA) at a gala in Toronto on May 3.
He wasn't expecting to win and had no speech prepared.
"I have never won an award of this calibre, so it was a very big honour for me," said Neis, a fourth-year student in the College of Arts and Science majoring in political studies.
Neis, who takes photos for the Saskatoon StarPhoenix newspaper, was honoured in the news photo category. His shot of hockey sticks in a snowbank depicted a makeshift memorial for the 16 members of the Humboldt Broncos junior hockey organization who died as a result of a bus-truck collision on April 6, 2018.
"Kayle's photo tells the story of the care and support shown by the people of Saskatchewan in the wake of the Humboldt Broncos tragedy. It shows numerous hockey sticks planted in a snowbank as part of the #sticksout initiative after the crash," said Saskatoon StarPhoenix/Regina Leader-Post editor-in-chief Heather Persson. "The judges praised the innovative approach—but also the beautiful simplicity—in the composition and execution of the photo."
The National Newspaper Awards were established by the Toronto Press Club in 1949 to encourage excellence and reward achievement in daily newspaper work in Canada.
"For our size of market, winning an NNA is a huge accomplishment," Persson said. "We are up against all the big papers in the country, like the Toronto Star and The Globe and Mail. Although we have been nominated several times, Kayle's win for photography is only the second in the history of the Saskatoon StarPhoenix."
After finishing university, Neis plans to continue working as a photojournalist and visual storyteller. He describes his education in the College of Arts and Science as "crucial" to his day-to-day work as a photojournalist.
"It has allowed me to gain deeper context into the issues I photograph and (has given) me better tools to critically think during my assignments. The help of my professors has also been instrumental to my success; bouncing off ideas and getting critiques has (been) an extremely beneficial process to my work," Neis said, adding that still photography can help tell stories, document histories and give context to the issues people face.
"It can be a very intimate and powerful way to share information and communicate with one another."
Neis said covering the Broncos tragedy was "extremely hard." Through the process, he learned a lot about himself and also about the "wonderful and welcoming" community of Humboldt, he said.
"I think it was very important to cover that story and do it in the most delicate way possible. I will never forget how hospitable everyone in that community was to me. I can't begin to understand how difficult it would have been to have media around all the time, but the community extended everything they could and I'm forever humbled by that. They will always be in my thoughts."