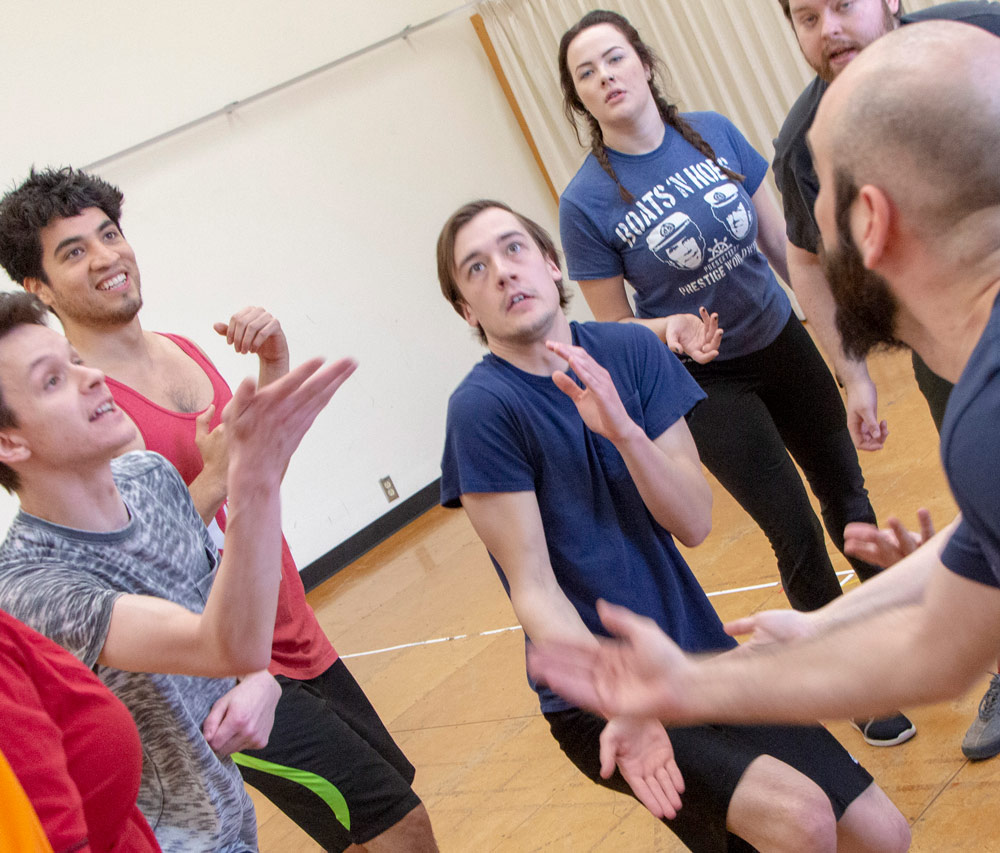 U.K. theatre group teaches USask drama students
Members of a Tony Award-nominated theatre company from the U.K. are training students at the University of Saskatchewan
By Chris Putnam
Members of a Tony Award-nominated theatre company from the U.K. are training students at the University of Saskatchewan this week.
During a residency on campus from April 1–5, two practitioners from Frantic Assembly are teaching methods of creating theatre to upper-year Department of Drama students and alumni.
Based in London, Frantic Assembly is best known for its highly physical, movement-driven storytelling—something that is the focus of the theatre group's five-day residency.
"It's been a whirlwind. My body is sore," said third-year BFA in acting student Emily Heinek on the third day of workshops.
Heinek and 23 other participants have been practicing lifts, falls and other full-body exercises as they learn techniques for creating meaning through movement onstage. Their goal for the week is to present a short original production for the public on the evening of Friday, April 5.
Heinek said she is most excited to learn methods of using movement in an abstract way to complement the more naturalistic approaches she is learning through the acting program in the College of Arts and Science.
"That's something that not a lot of companies are doing," Heinek said. "I'm hoping to bring that, once I'm done my BFA, into the Saskatoon scene."
Natasha Martina, an associate professor in the Department of Drama, said her motivation in organizing the residency was to give students more tools to create original works.
"One of the biggest things that we've noticed in the community of Saskatoon is a lot of our students end up going out and creating their own work—whether it's writing a play or doing a collaborative piece," said Martina.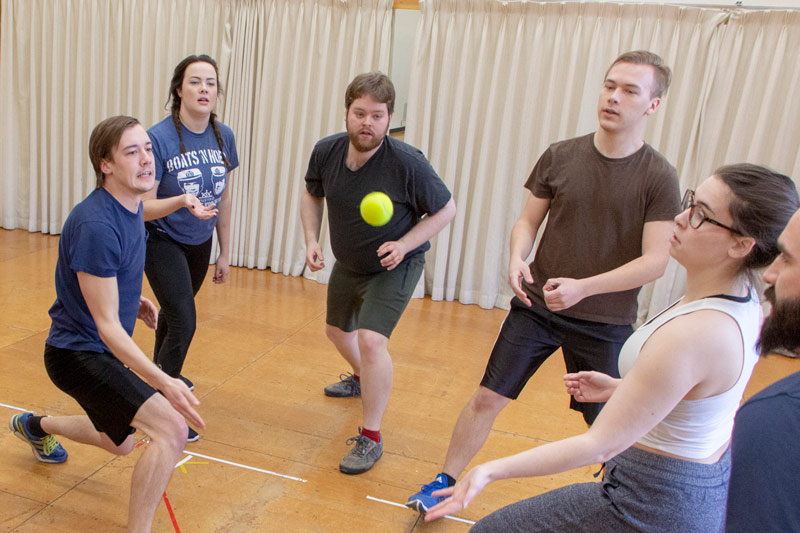 The workshops with Frantic Assembly—whose choreography on The Curious Incident of the Dog in the Night-Time was nominated for a Tony Award and an Olivier Award—are an opportunity to give those students "a taste of what it's like to create something from the beginning to the end in five days," Martina said.
The workshops were offered in place of the last week of classes for third- and fourth-year drama students. Five recent graduates of the program also returned to participate.
Frantic Assembly practitioners Gavin Maxwell and Amelia Cardwell are leading the sessions.
"We've got quite a specific method of how we devise theatre," said Cardwell. "What we've come here over the week to do is make a show in collaboration with the actors that we have in the room. So we've not come with a scripted play or a bit of Shakespeare."
The final production will instead be developed cooperatively from a single theme—"trust"—and will incorporate the actors' own stories, Cardwell said.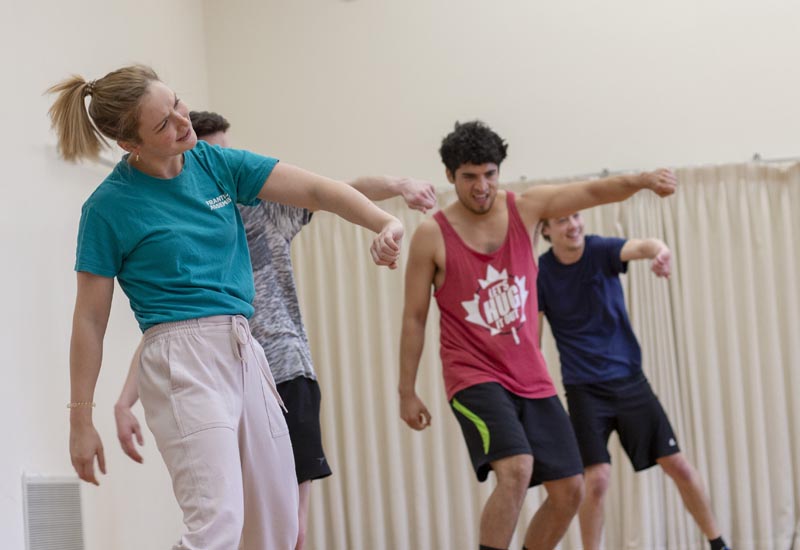 "They're a really strong group that have been super generous and friendly and hospitable, and we're really excited about what we could make with these guys," said Maxwell.
The students' presentation will be at 7 pm on April 5 at the Emrys Jones Studio Theatre at the John Mitchell Building on campus. Admission is free.
The residency is funded by the Gwenna Moss Centre for Teaching and Learning and the Department of Drama.
---
Related Articles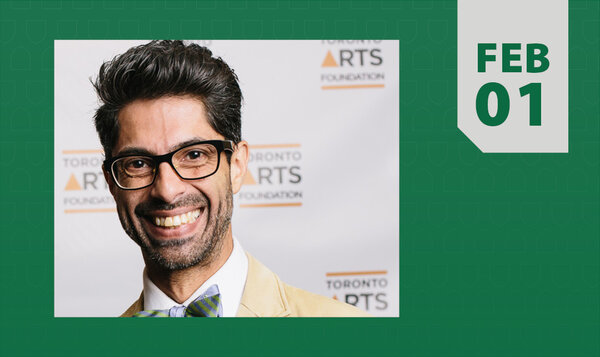 A talk in the Fine Arts Research Lecture Series (FARLS) in Music by Hussein Janmohamed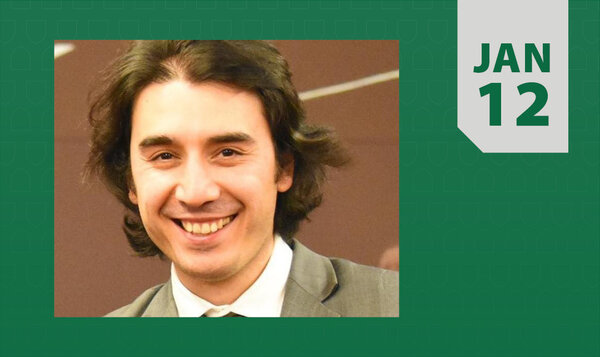 A talk in the Fine Arts Research Lecture Series (FARLS) in Music by Shah Sadikov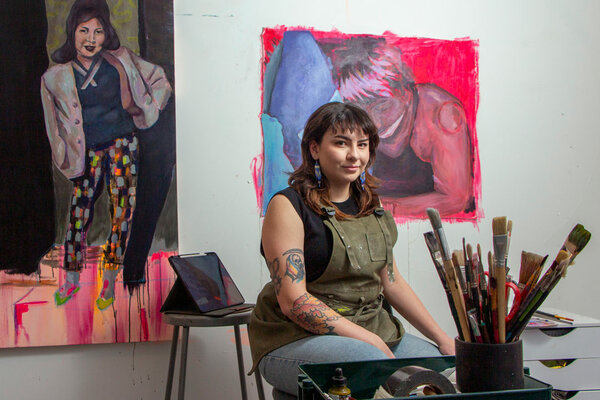 MFA student won a 2023 Outstanding Student Achievement in Contemporary Sculpture Award from the International Sculpture Center