De Brou Memorial History Lecture: Professor Valerie Korinek, Western Canadian Queer Communities, 1969-1985
Posted in Arts & Culture, Politics & Society
Mar 19, 2019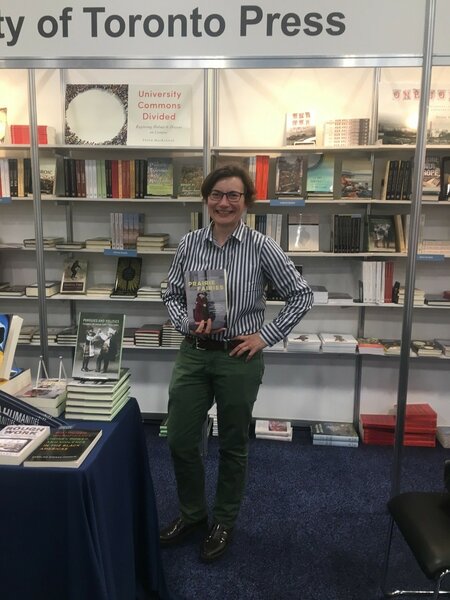 Professor Valerie Korinek is the author of Prairie Fairies: A History of Queer People in Western Canada, 1930-1985.
Join the Department of History and the History Graduate Students Committee for the 2019 De Brou Memorial History Lecture. This year, USask history professor Dr. Valerie Korinek (PhD) will give a talk entitled "The Prairies Coming Out Strong": Western Canadian Queer Communities, 1969-1985.
Date: March 19, 2019
Location: Frances Morrison Central Library, 311 23rd St. East, Saskatoon
Time: Doors open at 6:30 pm, talk begins at 7 pm
Talk description:
This lecture draws upon the oral, archival and cultural documents collected for Korinek's recently published book Prairie Fairies: A History of Queer People in Western Canada, 1930-1985. "Coming Out Strong" shares histories of queer urban and rural people in the Prairies. In particular, it highlights the interplay amongst the five major urban centres: Winnipeg, Saskatoon, Regina, Calgary and Edmonton. In so doing, this lecture provides a window into how Prairie activists and actors created spaces for socializing, politicizing and organizing other gay and lesbian residents. Ultimately, it will illustrate how connected Prairie gay and lesbian people were, how they forged networks provincially and nationally and of the various ways that "western" versions of social, cultural and lesbian activism were proudly rooted in the Prairies.
Speaker's bio:
Professor Valerie J. Korinek is a historian of modern Canada and Vice-Dean Faculty Relations in the College of Arts and Science at the University of Saskatchewan. An expert in gender and cultural histories, she has published widely in the area of feminist media, histories of sexuality and activism, food history and oral histories. She is the author of four monographs and anthologies, including PrairieFairies (University of Toronto Press, 2018) and the co-edited work EdibleHistories, Cultural Politics: Towards a Canadian Food History (UTP, 2012).