USask alumni, drama student stage feminist play
Posted on 2019-03-04 in Alumni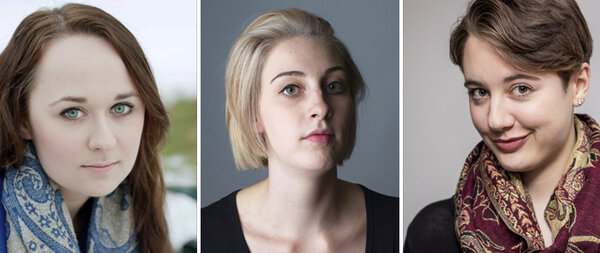 From left: Danielle Spilchen, S.E. Grummett and Judith Schulz
By Shannon Boklaschuk
A group of University of Saskatchewan (USask) alumni, along with a current USask student, are presenting a feminist play set to open on International Women's Day.
The show, S.C.U.M.: A Manifesto, was written by S.E. Grummett (BFA'16) and Caitlin Zacharias (BFA'18), two graduates of the College of Arts and Science's Department of Drama. It stars Grummett and another drama graduate, Danielle Spilchen (BFA'13), who play pop-art icon Andy Warhol and writer Valerie Jean Solanas, respectively. Solanas is known for shooting and critically wounding Warhol in 1968 and self-publishing a work called SCUM Manifesto.
In a recent interview, Spilchen described the character of Solanas as "a tidal wave," noting her loud, brash personality.
"You just kind of have to dive in and see where it takes you, because she's such a force," said Spilchen.
S.C.U.M.: A Manifesto is the fourth show of Live Five Independent Theatre's 15th season. The run kicks off with a pay-what-you-can preview on March 7, while opening night is scheduled for March 8 (International Women's Day). The opening night timing is intentional.
"It's time to show Saskatoon that feminist theatre exists and it's important, and this is what happens when you let women tell their stories," Grummett said.
Grummett is a non-binary theatre artist, clown and puppeteer who started Scantily Glad Theatre—Saskatoon's only feminist and queer company—after graduating from USask's acting program. Grummett co-created S.C.U.M.: A Manifesto with Zacharias for a spot in Saskatoon's annual Fringe Theatre Festival in 2016. The play—which is described as a feminist satirical comedy and as a dark comedy—has since been a part of the Canadian Fringe circuit and has been performed for sold-out crowds throughout Canada and the U.S.
The script for S.C.U.M.: A Manifesto has been tweaked over the years. Since the play was first written, "we've really grown and solidified our voice and what we want to say," said Grummett, noting recent historical events, such as the rise of the #MeToo Movement, have brought more social awareness to feminist issues.
"It's harder to have your blinders on these days, which I think is a good thing," they said.
The show is currently being directed by Emma Tibaldo, while third-year USask drama student Judith Schulz is serving as assistant director. Schulz said she was interested in working on the project because she wants to "keep on dabbling in the professional theatre world" before she completes her degree and because of the people who are involved with the show.
"I knew most of them—or knew of most of them—(and) that they were great artists to be around and to work with and to learn from," Schulz said. "I was very excited to make connections with them and learn from them in any way I could."
In addition to Grummett, Zacharias and Spilchen, several other USask alumni are involved in the show. Amberlin Hsu (BFA'16) is taking on the lighting and costume design, Taegan O'Bertos (BFA'18) is working on the projection design and Lenore Maier (BA'14) is responsible for sound design. Emma Thorpe (BFA'15) is the stage manager.
Grummett said USask's drama program is known for preparing graduates to be multi-disciplinary theatre artists—and that is something that comes in handy.
"The beautiful thing about our city and our theatrical community is everybody sort of does a little bit of everything and everybody's got a very broad range of skills, which is wonderful when you're producing your own work," they said.
S.C.U.M.: A Manifesto runs from March 7 – 11 and from March 15 – 17 at The Refinery Arts & Spirit Centre, located at 609 Dufferin Ave. Tickets are $25 for adults and $22 for students and seniors. Tickets can be purchased by going online to livefive.ca or by calling 306-653-5191.