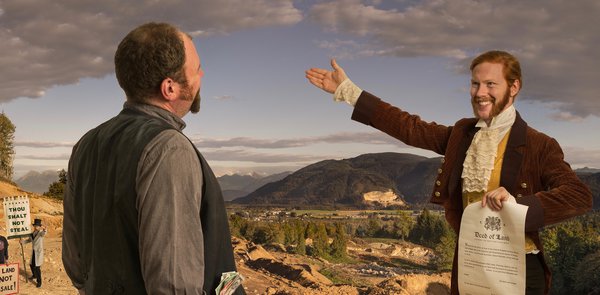 The Great Land Sale, Sandra Shields and David Campion, 2016 (detail).
Date: Jan. 29, 2019
Time: 3 - 4 pm
Location: Diefenbaker Canada Centre
The Diefenbaker Canada Centre (DCC) is pleased to be presenting a new exhibit entitled Grand Theft Terra Firma, which will open on Jan. 29 and remain on display until March 10.
This exhibit, created by artists David Campion and Sandra Shields and curated by The Reach Gallery Museum, is an unflinching redress of Canada's colonial narrative. By combining contemporary popular culture with historical source material, the artists disrupt the celebratory mythology of nation building and invite visitors to critically evaluate their own continued and complicated relationship to colonial practices.
As part of the events surrounding the exhibit, the DCC will be hosting an exhibit opening on Jan. 29 from 3 – 4 pm.
The exhibition is presented with support from the departments of history and Indigenous studies in the College of Arts and Science at the University of Saskatchewan.