College of Arts and Science holds inaugural Pinning Ceremony
Posted on 2019-01-17 in College Vision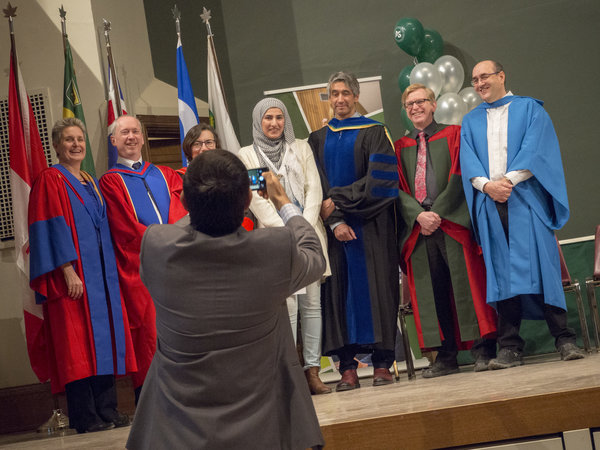 Students and alumni posed for photos with members of the College of Arts and Science's Dean's Executive during the inaugural Pinning Ceremony. (Photo by Chris Putnam)
By Shannon Boklaschuk
Caid Brossart, a second-year student in the College of Arts and Science at the University of Saskatchewan (USask), was pleased to be named to the Dean's List for the 2017-18 academic year.
On Jan. 16, 2019, Brossart joined other Dean's List students and award-winning new alumni for a special event at Convocation Hall on the USask campus to recognize their academic achievements.
As friends, family members, faculty, staff and others looked on, they were given specially designed gold college pins by Dean Peta Bonham-Smith and other members of the Dean's Executive.
The event was meaningful for Brossart, who believes the new tradition is a way to strengthen a sense of college identity.
"I think it's nice to take pride in your work," he added.
The college's inaugural Pinning Ceremony celebrated students who were named to the Dean's List as well as distinguished new alumni who were honoured with awards during USask Convocation in 2018. The Dean's List includes students with averages in the top five per cent of each program type in the College of Arts and Science.
Braden Cline, also a second-year student in the college, was another pin recipient. He was happy to be named to the Dean's List and to attend the Pinning Ceremony.
"That was the main reason I came today—to take pride in my work and to feel good about my accomplishments," he said.
Third-year student Taylor Kyle said the pin she received will be a cherished item that will be stored in her jewelry box. She felt it was "really exciting to be recognized for working so hard."
"Each student who is named to the Dean's List or who receives a Convocation award is a source of great pride for our college," Dr. Gordon DesBrisay (PhD), the college's vice-dean academic and the event emcee, told the crowd of about 300 people gathered in Convocation Hall.
"It is because of the tremendous efforts of our Dean's List students and our Convocation award winners that our college, and the University of Saskatchewan, have international reputations for academic excellence," he said.
The event began with a drum song performed by Sage Scabbyrobe, a friend of University of Saskatchewan Students' Union (USSU) president Rollin Baldhead. College alumni also delivered messages to the students.
Pauline Melis (BA'77, MA'82) spoke in her role as vice-president of the University of Saskatchewan Alumni Association Board of Directors, while Max Liu (BSc'18) gave a message to the crowd via video. At USask's 2018 Fall Convocation, Liu—who is currently studying medicine at the University of British Columbia—was the recipient of the President's Medal, which is awarded to the graduating student with the highest overall average.
Alumna Jacqueline Woods (BMus'06) provided a piano performance during the Pinning Ceremony as the students came to the stage to receive their pins, which were attached to green and white ribbons and placed over the recipients' heads.
The College of Arts and Science is the largest college at USask, offering 48 programs in the sciences, fine arts, humanities and social sciences. More than 10,400 students were enrolled in the college in the 2017-18 academic year.
During the Pinning Ceremony, Bonham-Smith noted that no other college in Canada brings together as many academic disciplines as the College of Arts and Science. She said "that decision was not made by accident."
"It was the same decision you made when you enrolled here. You chose to broaden your mind by combining diverse ways of knowing and understanding the world. You saw the value in connecting and collaborating with people who are different from you," she said.
"Some subjects captivated you more than others, and perhaps you have been inspired to choose one as a major or career. However, you continued to challenge yourself with ideas and experiences outside your comfort zone. You are growing into a potent force of creative and critical thought. You are learning to tackle problems by connecting many forms of knowledge.
"Wherever you go from here, you will find yourself making those connections and calling upon those diverse skills. You will continue to be a courageous learner and a bold solver of problems. You will have a support network of friends and colleagues established here in your college. This is what it means to have a home in the College of Arts and Science."