USask education influences bookstore owner's approach to business
Posted on 2018-12-05 in Alumni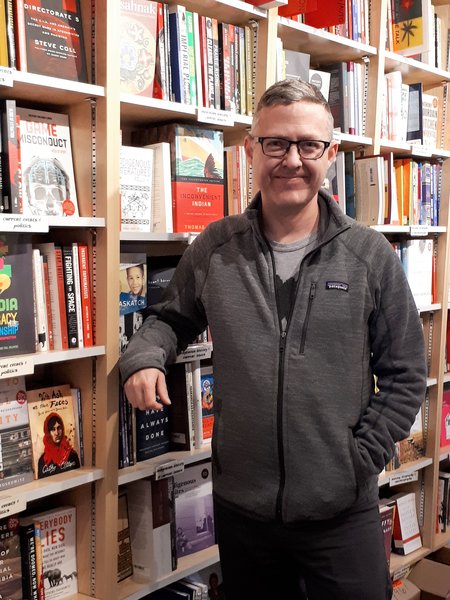 USask alumnus Peter Garden owns Turning the Tide bookstore in Saskatoon's Broadway area. (Photo by Shannon Boklaschuk)
By Shannon Boklaschuk
Peter Garden didn't study accounting or finance, but his road to entrepreneurship was still impacted by his education at the University of Saskatchewan (USask).
The Saskatoon bookstore owner says his classes in women's and gender studies (WGST), taken through USask's College of Arts and Science, played a significant role in the development of his business. Not only was Garden exposed to issues of gender inequality through the WGST courses, but he also examined issues related to race and class.
"It really fuelled my activism in a lot of ways, and that fit directly to wanting to make literature on those issues available," he said. "I started out with having a really significant section on feminism and gender issues and LGBTQ issues—and those were kind of the core subject areas that I started the bookstore with."
Today, Garden's independent alternative bookstore, Turning the Tide, is marking a milestone by celebrating its 15th anniversary. Located in Saskatoon's Broadway Avenue district, at 615 Main St., the store carries a selection of fiction and poetry, as well as textbooks and non-fiction books on current events, sustainable living and more.
Cookbooks, graphic novels, magazines and children's books are also available for purchase, and Turning the Tide is one of the city's last running movie rental businesses, offering documentaries, dramas, action, horror, comedy and television series.
Garden received his Bachelor of Arts degree in women's and gender studies in 2003, the same year he opened Turning the Tide. That degree was preceded by a Bachelor of Arts degree in psychology that Garden obtained from USask in 1997. He is currently pursuing a Bachelor of Social Work degree through the University of Regina.
Garden took his first WGST course as a psychology student and the subject matter resonated with him.
"I don't know why I was more kind of open to that," he said. "I kind of came up through putting on punk-rock shows and stuff, and a lot of bands were talking about feminism and sort of pushing those boundaries in terms of what ideas were acceptable for men and what we should be kind of looking into. That really sort of just opened my mind and my eyes."
Women's and gender studies examines human behaviour, institutions and cultural contexts in order to reveal and analyze the prevailing assumptions about gender, sexuality and social diversity on which they are based. The program provides students with a broad analytical vision of the world, and explores a wide variety of topics ranging from changing economic and political roles to representations of gender and sexuality in popular culture.
Garden said his WGST education continues to affect how he thinks about things and looks at the world around him. For example, he recalls taking a research methodologies class that introduced him to readings about power differences and "organizing in ethical ways when you have privilege and other people don't."
"It still has such a big impact on sort of the way I do things now, what I prioritize," he said.
Garden was drawn to entrepreneurship through what he calls an "activist path" and his desire to make specific types of media available to others. Opening the bookstore was the realization of a long-time dream.
"I really love kind of sharing ideas and sharing things that I find exciting with other people, and I have since I was a kid," he said.
Garden notes it would have been helpful to have some business training or a mentor to advise him during his early days of entrepreneurship, as he had to figure out many important things—such as bookkeeping—on his own. However, he brought a number of strengths to his business, including customer-service experience, a passion for the literature he was selling and an interest in connecting with the community.
Over the years Garden has reflected on the "tradeoffs" he has made while running his store and what it means to be an "anti-consumerist" business owner. For example, he doesn't want to participate in events such as Black Friday—where people often buy things just for the sake of buying—yet he does need to sell books to remain open.
"It's tricky. In a lot of ways I think running sort of the ethical business is a bit of an uphill climb," he said.
Over time, as the world has gravitated toward big-box stores and buying from online shopping giants, Garden has adapted and innovated. For example, he has partnered with community organizing centres, sold books on consignment in various places and held pop-up shops in communities without bookstores. Online shopping is also available from Turning the Tide, allowing customers to choose from more than four million titles on the store's website.
In 2015, Turning the Tide relocated after a new owner purchased the property housing the Merry Mansion and the Farnam Block, which was slated for demolition. As a result, the store moved to Main Street in a new partnership with The Stand – Community Organizing Centre. Turning the Tide and The Stand, which offers meeting and co-working space, continue to operate alongside each other today.
Garden is grateful for the staff, volunteers and customers who have contributed to the "improbable survival" of his small bookstore. He acknowledges the support he has received from his partner, USask community health and epidemiology professor Dr. Rachel Engler-Stringer (PhD), and their two daughters, Amélie and Sophie.
Garden also believes Turning the Tide's "embeddedness in the community" has played a role in its longevity. Ultimately, his goal is to provide people with space for conversations.
"I think that's always something that I kind of I strive to do, is opening a space for discussing issues. So maybe people gravitate towards that," he said.