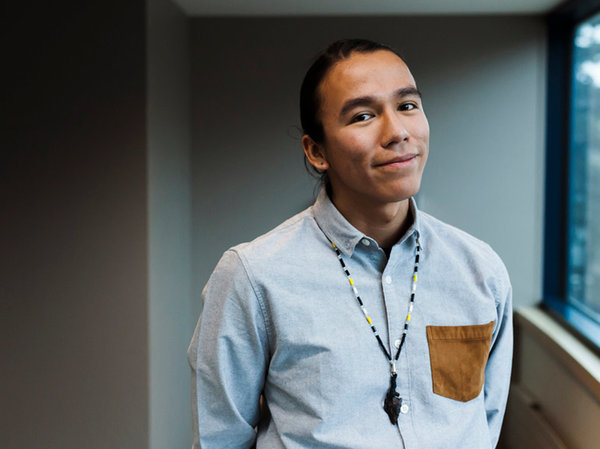 Leigh Thomas, a student in the Regional and Urban Planning Program, is among the 2018 CBC Future 40 winners.
Students and alumni of the College of Arts and Science were among those recognized by CBC Saskatchewan last week for making their province a better place.
Forty Saskatchewan residents under the age of 40 were honoured on Nov. 15 at CBC's Future 40 Gala. Future 40 winners are nominated by members of the community and chosen by CBC Saskatchewan.
This year's recipients included two students, two alumni and one postdoctoral fellow of the College of Arts and Science.
Kayla Brien (BA'12, BA'13) is an advocate for greater opportunities for marginalized people and a devoted volunteer for organizations such as The Princess Shop and the Canadian Red Cross.
Darian Lonechild is pursuing a degree in Indigenous studies at the University of Saskatchewan. She was elected this year as one of two youth representatives for the Federation of Sovereign Indigenous Nations, as well as co-chair of the Assembly of First Nations National Youth Council.
Dr. Edel Perez Lopez (PhD) is a postdoctoral fellow in the Department of Biology. He has made important contributions to our understanding of plant diseases, including aster yellows and clubroot, which affect canola in Saskatchewan.
Leigh Thomas is a poet, naval reservist and student in the Regional and Urban Planning Program who works to learn and share traditional Nēhiyaw and Métis knowledge. He has had leadership roles in numerous Indigenous engagement and reconciliation events and initiatives.
Stephanie Yong (BA'01, MBA'10) is the principal at Stephanie Yong Consulting, a firm that helps to generate ideas and solve strategic problems for community and social impact projects. She sits on the boards of several local organizations and is a co-founder of the Seeds for Dreams program.