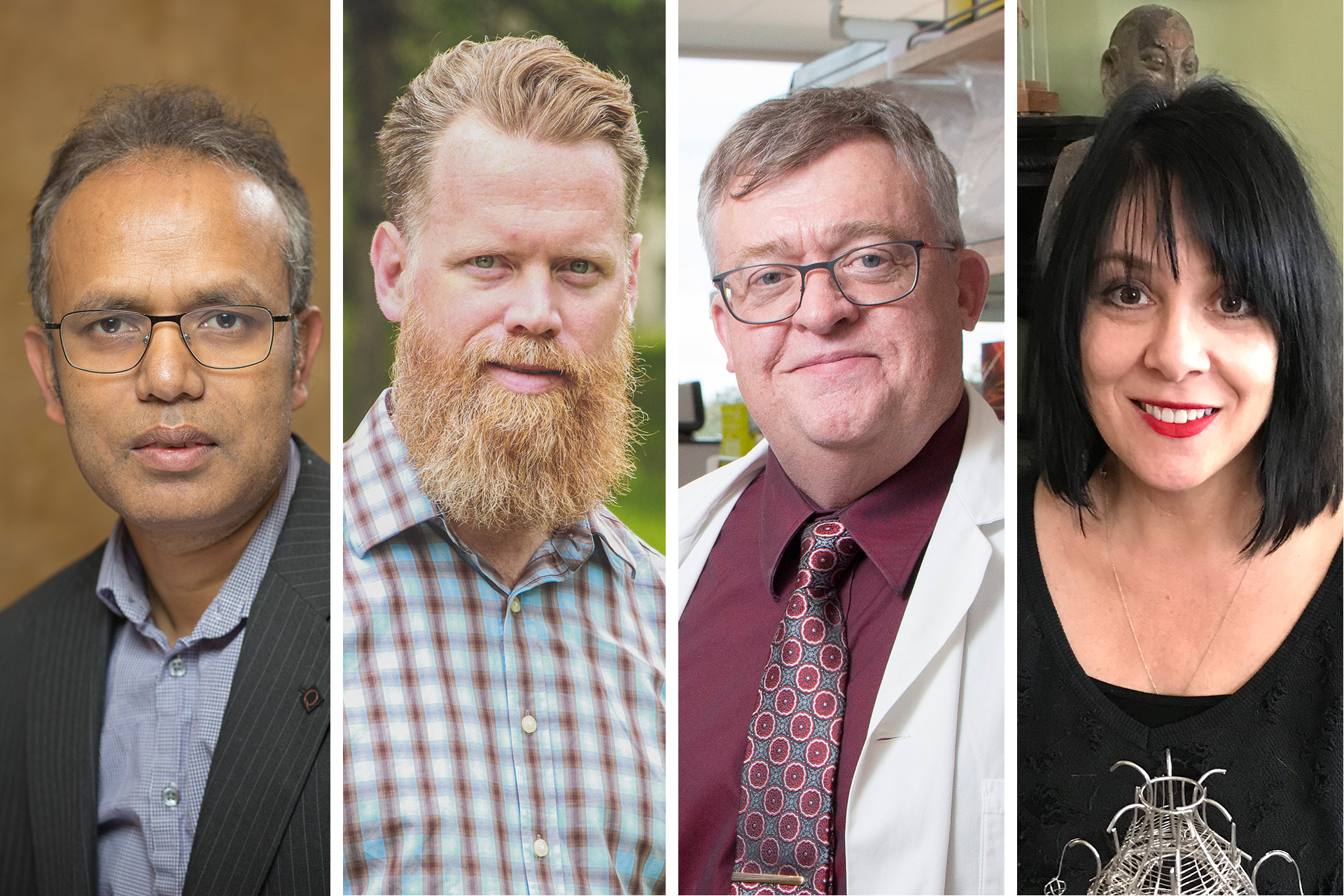 Four faculty members receive college research awards
Chanchal Roy, Jim Clifford, Neil Chilton and Alison Norlen have been recognized for outstanding contributions to science, scholarship and artistic work
By Chris Putnam
College of Arts and Science faculty members are cleaning up computer code, turning history digital, fighting back against ticks and creating "fearless" works of art.
Four of these researchers were recognized this week for their outstanding contributions to science, scholarship and artistic work.
The College of Arts and Science New Research Awards and Distinguished Research Awards are presented annually to faculty members who have had an exceptional impact in their field. The 2018 award winners were named on Oct. 4.
2018 Research Award Winners
New Research Awards
The New Research Awards are reserved for scientists and scholars/artists early in their careers who received their highest degree less than 10 years ago.
Chanchal Roy
Associate Professor, Department of Computer Science
New Scientist Research Award
Chanchal Roy is a world leader in the field of software clone detection and management. Software clones—duplicated fragments of code that can make up a large portion of a software system—are an important issue in modern software because they can lead to increased errors and maintenance costs. Roy is responsible for breakthrough research in software clone detection and analysis that has been credited with rejuvenating this field over the past decade. His seminal 2009 paper on the topic has over 700 citations and is considered to be the definitive reference on software clone detection. This year, Roy has been the recipient of two "most influential paper" awards from major conferences—an extremely rare achievement for a researcher early in his career. Additionally, Roy has significant Big Data-focused roles on two major research projects funded by Canada First Research Excellence Fund grants—one with Global Water Futures and another with the Plant Phenotyping and Imaging Research Centre.
Jim Clifford
Associate Professor, Department of History
New Scholar/Artist Research Award
Jim Clifford is an accomplished scholar in in the field of digital history who is particularly recognized for applying digital tools to topics in urban environmental history. By experimenting with digital methods of historical research, Clifford stimulates new areas of inquiry. His 2017 book West Ham and the River Lea: A Social and Environmental History of London's Industrialized Marshland, 1839-1914 was well-received for its use of historical geographic data to link environmental degeneration with the rise of social democracy in London. Clifford is part of the Trading Consequences project, an international collaboration that uses software to pull relevant information from millions of pages of historical documents. Additionally, he has contributed to several initiatives aimed at making historical data accessible to the general public, and is a founding member of ActiveHistory.ca. Clifford's honours include the international Rachel Carson Centre Fellowship.
Distinguished Research Awards
The Distinguished Research Awards celebrate highly accomplished researchers who received their highest degree more than 10 years ago.
Neil Chilton
Professor, Department of Biology
Distinguished Scientist Research Award
Neil Chilton is a celebrated expert in the field of parasitology whose research on parasites such as ticks, fleas and bedbugs and the diseases they carry is of significant importance to human and animal health. Chilton's work has helped determine the movement and size of parasite populations amid a changing climate, leading to new strategies for assessing and controlling the risk posed by these creatures. He has also developed new detection and diagnostic tools to screen parasites for harmful bacteria. Chilton's expertise makes him a sought-after speaker at international scientific conferences and a regular subject of media interviews. His recent honours include a prestigious Doctor of Agricultural Sciences (Honoris causa) from the University of Melbourne in 2017. As an educator, he has received teaching awards from the University of Saskatchewan, the College of Arts and Science and the University of Saskatchewan Students' Union.
Alison Norlen
Professor, Department of Art and Art History
Distinguished Scholar/Artist Research Award
Alison Norlen's ambitious and compelling artwork has made her widely known across Canada and internationally. Since joining the Department of Art and Art History in 1999, her work has been featured in 28 solo exhibitions and more than 50 group exhibitions. Described as "fearless" in her approach to art making by cultural journalist Robert Enright, Norlen is known for her exceptionally large-scale drawings and complex sculptural installations. Her work is held by the National Gallery of Canada and other public collections, and she has created numerous commissioned works. Norlen sits on the executive board of the Remai Modern gallery and has been invited as a juror for many Canadian arts grants. She is a previous recipient of a Teaching Excellence Award and a Distinguished Researcher Award from the College of Arts and Science, and was shortlisted for a Saskatchewan Arts Board Lieutenant Governor's Award for a Saskatchewan artist.
---
Related Articles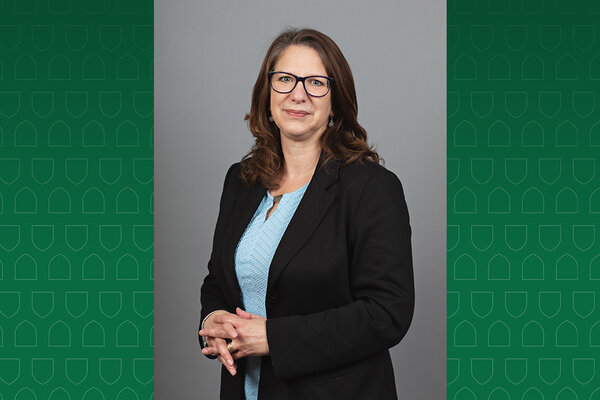 Department of Anthropology professor will serve a 13-month term on the College of Arts and Science leadership team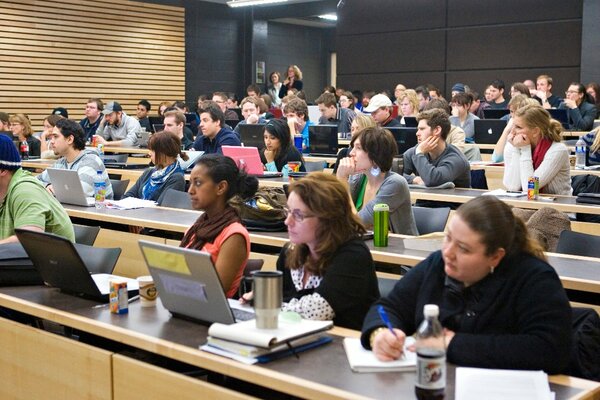 Dr. Loleen Berdahl (PhD), Dr. Simonne Horwitz (D. Phil), and Dr. Cheryl Troupe (PhD) are inaugural recipients of the new award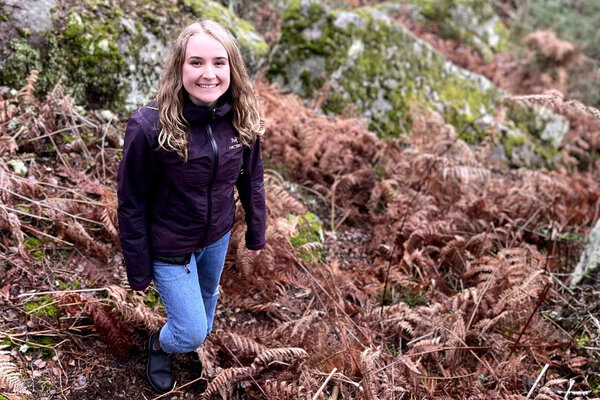 USask biology student Rachel Andres is making plans to continue her love of plant science research at the University of Oxford