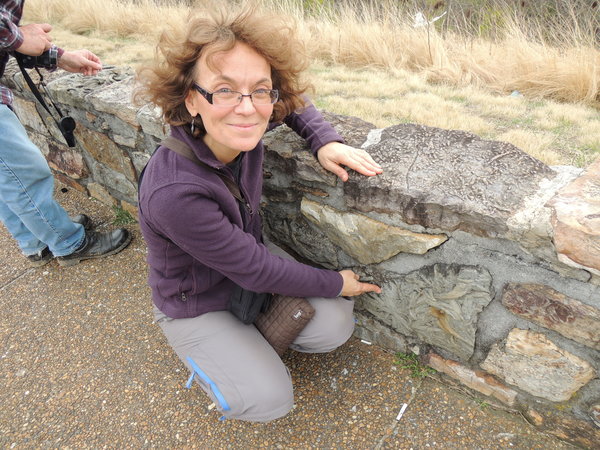 Professor M. Gabriela Mángano points to Arthrophycus, an emblematic Paleozoic trace fossil, during field work in Paleozoic rock outcrops in Alabama in 2016.
By Shannon Boklaschuk
A faculty member in the College of Arts and Science's Department of Geological Sciences is being recognized for her contributions as an educator and a mentor.
Professor M. Gabriela Mángano is the recipient of the 2018 Outstanding Educator Award from the Association for Women Geoscientists (AWG). She will receive the award at the 130th annual meeting of the Geological Society of America (GSA), which runs from Nov. 4-7, 2018, in Indianapolis, Indiana.
Mángano is originally from Argentina and came to the University of Saskatchewan in 2004. She said she was "completely shocked" and "certainly very honoured" when she learned she was chosen for the award.
"It's hard to believe, considering the wealth of amazing geoscientists around the globe," she said. "As a scientist educated in the 'deep south' of South America and a new Canadian, I felt really proud to represent my colleagues and mentors in Argentina and in Canada. It was really a wonderful surprise—unexpected, refreshing and so welcomed."
Each year, AWG gives the Outstanding Educator Award to honour "well-established women college or university teachers who have played a significant role in the education and support of geoscientists within and beyond the classroom, in advancing the persistence of females and underrepresented minorities in geoscience careers and in raising the profile of the geosciences by teaching to and for the broadest audience of students."
The committee nominating Mángano emphasized her role in mentoring both graduate and undergraduate students, including Indigenous and refugee students.
When asked about her mentorship role, Mángano noted "it is hard to know what makes a person a good mentor."
"I do not intend to be a mentor; it is more on how you are perceived by those who interact with you. I am happy with the idea that I can inspire those who I work with or teach to, even if they may not necessarily share my own perspective or interests," she said.
"I am simply teaching a class or doing some research project with my graduate students. However, I think I have learned a lot about how to interact in a positive way and how to be attentive to signs in my students. I have learned to be patient and wait for them; we need to see our students as what they are: human beings with lives—and, many times, complicated ones. In my role as an Aboriginal Student Achievement Program (ASAP) instructor, I was so many times challenged and inspired by my students and how they could deal with so much. They inspired me enormously."
In addition to receiving the AWG award, Mángano was recently elected to the position of representative-at-large with the Paleontological Society (PS). Mángano became a member of the PS while still a student in Argentina and focuses her research on animal-substrate interactions through geologic time.
"I am interested in the deep history of life," she said. "In particular, I work with a group of fossils called trace fossils—not the dead remains of organisms but any evidence of their activities, such as a nest, a burrow or a trackway—and focus on how their study can illuminate our understanding of the early metazoan evolution. I have always been fascinated by our natural world and our amazing planet Earth. I think there is so, so much still to be discovered."
As an educator, Mángano said the best part of her job is spending time with "exciting, brilliant people" and enjoying their successes.
"I would like to use this opportunity to thank each of my students, from the 100 to 800 level, past and present, for the great opportunity to interact with them personally and share my interests and passions," she said.
"In my encounters with students in and outside the classroom, they have been invited to think not only about geology, but also about human rights and the global refugee crisis. I think we need to understand the university space as a fertile ground to expand our students' world view and move away from narrow compartments of knowledge, see the interconnections and take the huge responsibility as intelligent human beings."