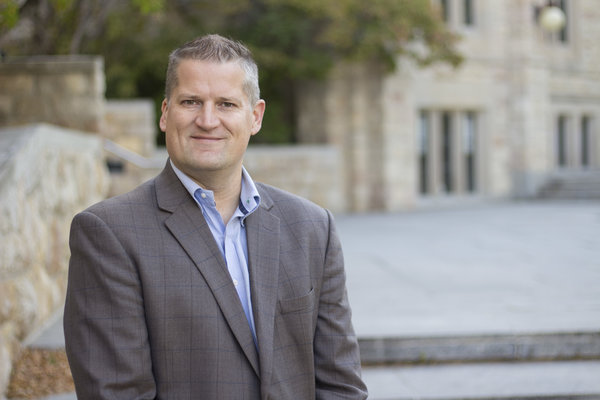 Mark Matthews, who worked at DreamWorks Animation for a decade, poses for a photo outside the Thorvaldson Building on the University of Saskatchewan campus. (Photo by Chris Putnam)
By Shannon Boklaschuk
The hustle and bustle of the Hollywood movie industry may feel far away from Saskatoon, but Mark Matthews got there from here.
The University of Saskatchewan alumnus earned two degrees in 1999—a Bachelor of Science degree in computer science through the College of Arts and Science and a Bachelor of Engineering in engineering physics through the College of Engineering—before landing a job as a software engineer at DreamWorks Animation.
Born and raised in Saskatoon, Matthews spent a decade at DreamWorks before taking another software engineering job in Google's research and machine intelligence division, working in artificial intelligence. His previous work in the visual effects industry has resulted in numerous feature film credits to his name—including Kung Fu Panda, Monsters vs. Aliens, Rise of the Guardians, How to Train Your Dragon, Mr. Peabody & Sherman and many others.
Matthews' time in the U of S computer science program provided him with the important knowledge and tools to succeed in the film industry, allowing him to feel at ease among his co-workers who graduated from high-profile U.S. institutions such as the Massachusetts Institute of Technology (MIT) and Carnegie Mellon University.
"It's not like they're smarter than you are or anything; it's like you're at the same level as them," said Matthews, describing his U of S computer science training as a "high-quality academic program" with excellent professors and instructors.
"Getting into Google, all they care about is, 'Do you know your stuff?' "
Matthews, who continues to live in Los Angeles, is back in Saskatoon for a visit while on sabbatical from Google. He has been spending time on the U of S campus and is still awed by its beauty. He also plans to attend the Department of Computer Science's upcoming 50th anniversary activities—the department first opened at the U of S in July 1968—which are scheduled to run from Sept. 21-23, 2018. Anniversary speakers include fellow computer science alumni Darwyn Peachey and Byron Bashforth, from Pixar Animation Studios, and Russ Muzzolini, who has also worked in the movie industry as well as with Shutterfly, Spire Global Inc. and YourMechanic.
Matthews said working in the visual effects industry can often result in being overworked and underpaid, but DreamWorks was a "fantastic place to work" and promoted work-life balance. Then there were the other job perks, such as interesting projects, great co-workers, visits from celebrities and fun parties.
"They trucked in a whole ton of snow for us one day in the middle of summer just so we could go tobogganing," he said. "For the afternoon, we got in a good snowball fight and people went tobogganing down and everything—this is right in L.A."
Matthews admits he experienced some culture shock upon moving to L.A. after growing up in a much smaller Canadian Prairie city. However, he has found time to pursue various artistic ventures—such as cinematography and improv acting—in his new home.
Seeing his name on movie credits is also a satisfying experience.
"It's kind of cool," he said. "If anyone ever says like, 'Oh I saw your name in the credits,' I'm like, 'Wow—thank you for sitting through all thousand names before I get on there.' But it's always neat to see—'Wow, I worked on that, you know?' And it's funny, too, because sometimes you'll work on something for like six months and the shot will go by in two seconds. And you're like, 'Wow, we spent six months on those two seconds of the film.' "
Matthews said what he is most proud of during his time at DreamWorks was being the sole developer of Amorphous, an OpenGL sparse volume-rendering library giving look equivalency with CPU renders.
"Basically it's for doing clouds and fire. It's basically a tool that allows the artists to get a very quick real-time preview of what their clouds or fire are going to look like before they have to send it off for the multi-hour render," he said. "So the artists really liked it; it was kind of a good example of working closely with the artists, seeing what they wanted, what they desired."
Matthews said the skills he learned by studying computer science and engineering at the U of S have been "foundational" to his career. He said high-profile companies such as Apple, DreamWorks and Google care about more than just learning to code, and his education prepared him for that.
"It's kind of like knowing a language, but can you write a story in that language? So just learning the language is just one small step. So there was a very strong algorithm—which is that learning to tell a story kind of an aspect to it. That's really important."
Matthews has advice for prospective and current computer science students who may want to follow in his footsteps: study hard and "know your fundamentals inside and out." He noted Google tests its employees on the equivalent of undergraduate computer science concepts, but employees are expected to be very familiar with the material and to be able to apply the principles practically.
"If they're actually interested in doing something like computer graphics, study the math as well, too," Matthews added. "You really need the math and the physics behind it if you really want to pursue it and go far with it."
More information about the Department of Computer Science and its 50th anniversary can be found on the department's website.