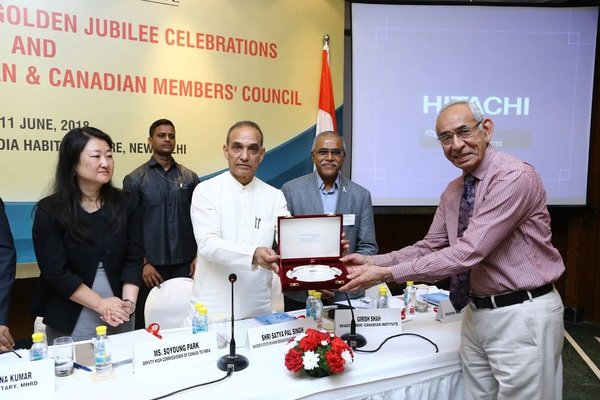 Government of India State Minister of Higher Education Satya Pal Singh (centre) presents the Shastri Golden Jubilee Award to Professor Braj Sinha (right). (Submitted)
By Chris Putnam
Braj Sinha, professor of religious studies in the College of Arts and Science, has been honoured by the government of India's state minister of higher education for his work in fostering educational cooperation between Canada and India.
Sinha was presented with the Shastri Golden Jubilee Award by Minister Satya Pal Singh at the recent Golden Jubilee Celebrations of the Shastri Indo Canadian Institute (SICI) in Delhi, India.
"It certainly makes me feel proud and gives me immense satisfaction to see this labour of love yield valuable results for our faculty, students and other stakeholders," said Sinha.
Sinha is a past president and strategic advisor of SICI, a consortium of more than 90 academic institutions in India and Canada. He has served in numerous leadership roles with the institute since its founding and has worked closely with universities in both countries to develop collaborative programs and activities, including the Engaging India–Engaging Canada Program and a 2010 India-Canada education summit at Carleton University.
A recipient of the University of Saskatchewan's George Ivany Internationalization Award, Sinha has been especially successful in fostering academic engagement between the U of S and India. He has mentored faculty from various U of S colleges in their collaborations with India while developing close institutional ties with institutions of higher learning in India.
"The University of Saskatchewan has played an important role in the binational Shastri Institute, and whatever I have succeeded in accomplishing for SICI … has been possible on account of the tremendous help and support I have received from all quarters of the university, including our support staff, faculty colleagues and senior academic leadership," said Sinha.