Saskatoon Express: Group art exhibition showcases figurative work
Posted on 2018-06-27 in Arts & Culture, Alumni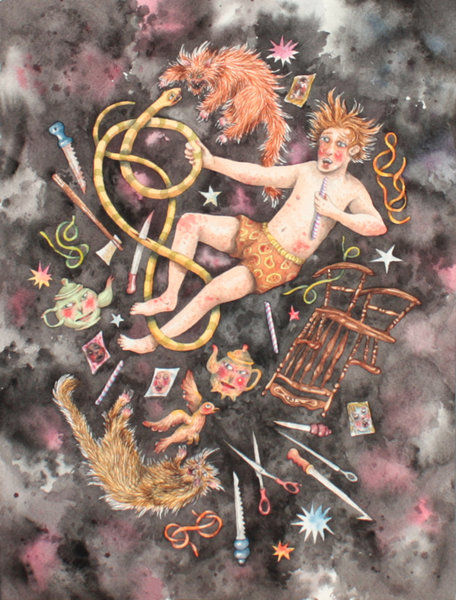 Joseph Anderson, "A Curious Tea Time," 2018, Watercolour on paper, 12" x 9"
(This article was originally published in the Saskatoon Express weekly newspaper.)
By Shannon Boklaschuk
Joseph Anderson's artistic practice draws from his interest in literature, illustration and childhood memories.
It's fitting, then, that four new paintings created by the Saskatoon resident allude to Lewis Carroll's classic book Alice's Adventures in Wonderland – specifically the introductory scene where the title character tumbles down the rabbit hole.
"Like Alice, my figures also witness curious objects as they fall to an unknown fate. The title of one of the paintings – Down, Down, Down! – is a direct quote from the book," said Anderson, who has a Master of Fine Arts degree from the University of Saskatchewan.
Anderson aims to reveal connections between fairy tales, cautionary stories and religious parables through his work. He said he tries to be a storyteller by using subject matter, narrative elements and a medium – watercolour – that is reminiscent of the pictures in children's books.
"I always try to combine a sense of fun and humour with an element of danger," he said.
"A common presence in my work are snakes. I think they have an interesting symbolic connection to both the religious and secular world. I actually have a bad phobia of snakes, but I usually let the viewer decide if these reptiles are deadly or helpful. The rather small size of my work again alludes to the size of an image in a book for children."
Anderson's unique paintings are part of a new group exhibition of figurative work called figureground. The show is currently on view at Art Placement, a commercial art gallery located in the city's downtown. The work of the 12 artists featured in figureground – many are current or former Saskatoon residents with ties to the U of S – highlight numerous ways of working with the human form.
"We decided to mount this exhibition looking at local artists working in the figurative tradition for a few reasons. As a student of art and even now as a gallerist and collector, I have always been drawn to figurative work," Levi Nicholat, Art Placement's gallery director, said in an email sent to the Saskatoon Express.
"The human form is a dynamic subject that can communicate on so many levels – personally, psychologically, socially, metaphorically and symbolically," he said.
"From an evolutionary perspective, we are pre-programmed to identify the human form in our environment; it's why people have a tendency to 'find' faces or representations of the human form in nature – in clouds or rock formations, for instance."
When studying the history of art, it is striking how prevalent the human figure is throughout, from prehistoric times to the present, said Nicholat. Some of the earliest examples of art are figurative, such as the Venus of Willendorf, while Renaissance painting was dominated by the figure. Even some of the best-known modern painters, such as Picasso, were "figurative artists through and through," noted Nicholat, who also completed his Master of Fine Arts degree at the U of S.
"Bringing that back to the local context, Art Placement has been known primarily for showcasing landscapes and abstract painting, which is what a lot of the notable painters from this region have focused on and are known for. All the while, however, the figurative tradition has carried on, sustained by a relatively small but dedicated group of painters," he said.
"The University of Saskatchewan has played an important role in that, turning out some very significant figurative artists. Often those artists leave the city following their studies, as is the case with a few who are included in the exhibition. But a connection to the university art department is certainly common to the majority. We thought it was time to give it a little more focus and public presence to some of the artists working with that tradition."
Anderson said he had never thought of himself as a figurative artist, but he recognizes that the majority of his work has a connection to the body. In some cases, however, it may only be a portion of the figure, such as a floating head, he said.
"When I do paint the human form, my interest lies in how it relates to the narrative of the image. I like to focus on how and why the figure became entangled in their unusual environments," said Anderson.
"When working on the figure, I like to include the irregularities of our skin – flushed cheeks and spotty flesh. I also tend to be somewhat flexible with proper anatomical proportions."
In addition to Anderson, the group exhibition includes pieces by Kristin Bjornerud, Riisa Gundesen, Iris Hauser, Dane More, Dawna Rose, Betsy Rosenwald, Paul Sisetski and Carol Wylie. Like Anderson, many of the artists are U of S alumni and most live in Saskatoon.
There is also a small selection of historical works featured in the exhibition, including paintings by the late Dmytro Stryjek and a drawing by the late Ernest Lindner. As well, a rare, early work by Lorna Russell – who, like Lindner, is best known as a landscape painter – is on display.
Nicholat noted that the exhibition highlights the diversity that exists in terms of artistic approaches to representing the figure. Each artist has a different intention for his or her work, and the decisions that each artist makes in terms of how they choose to represent the figure produces a unique result.
"These works demonstrate that the figurative tradition is something that has always been there, sometimes quietly in the background – but something that most artists at least dabble in at one time or another," he said.
The group exhibition runs until Aug. 2 at Art Placement, which is located at 238 Third Ave. South. The gallery's hours are Tuesday to Saturday from 9 a.m. to 5:30 p.m. For more information, go online to artplacement.com.