Historical association recognizes book on Weyburn Mental Hospital
Posted on 2018-06-12 in Politics & Society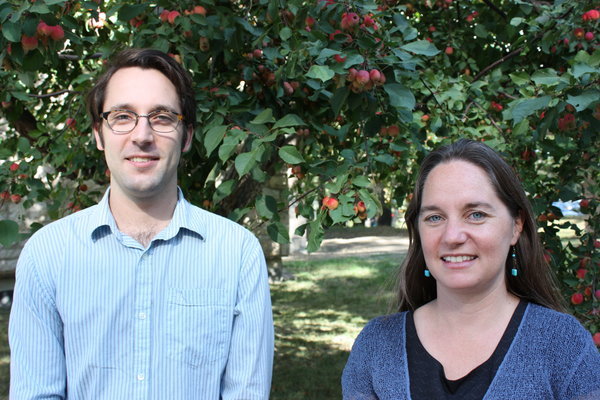 Alex Deighton (left) and Erika Dyck
By Shannon Boklaschuk
A University of Saskatchewan history professor and a U of S graduate have been honoured by the Canadian Historical Association for their book about the Weyburn Mental Hospital.
Professor Erika Dyck and College of Arts and Science alumnus Alex Deighton (BA'13, MA'16) recently received the Clio Prize for the Prairies for their book Managing Madness: Weyburn Mental Hospital and the Transformation of Psychiatric Care in Canada. Published by University of Manitoba Press in 2017, Managing Madness traces the history of the Saskatchewan institution from a large Victorian-styled asylum to its focus on care in the community.
The Canadian Historical Association is a not-for-profit and charitable association devoted to fostering the scholarly study and communication of history in Canada. The annual Clio Prizes are given for meritorious publications or for exceptional contributions by individuals or organizations to regional history.
Dyck said Managing Madness was a product of community engagement—there were six other contributors to the book—and she was proud to share news of the award with all involved.
"This book was an experiment in historical writing. With eight authors, we attempted to write as a team—perhaps like a care team, even," she said.
"Our authors had a wide variety of experiences with mental health services—from superintendent of the Sask. Mental Hospital, to civil servant in the Saskatchewan government, to peer-support counsellor, psychiatry resident, psychologists and historians. We wanted to honour our differences of opinion while harmonizing our professional strengths to help draw critical attention to different parts of this past.
"Everyone played an important role in guiding this historical process and I am very proud of this approach to community-engaged scholarship."
Dyck said Managing Madness asks the questions "why did we historically put people in large institutions when they were considered mentally ill, and what changed to allow for a completely different system of care in the second half of the 20th century?" Weyburn Mental Hospital, which opened in 1921, was allegedly one of the last Victorian-styled asylums built in the British Commonwealth and it soon became overcrowded and caught up in political corruption, she said.
"We look at conditions for patients during the first three decades as the mental hospital became an important economic driver in the local community, while patients languished behind the walls," said Dyck.
"In 1963, that same facility became one of the first mental hospitals on the continent to close its doors and embrace 'care in the community.' We asked, however, what had changed to make the community care? Tracing this significant shift in medical as well as public policy, we then considered how patients and staff experienced this transition into out-patient care, through emergency room visits, and into a new era of psychopharmaceutical management.
"Overall, we found a very consistent and overwhelming relationship between poverty and mental illness that took on new meanings in the era of deinstitutionalization and care in the community."
Dyck said the feedback to Managing Madness has been positive, both in Saskatchewan and beyond. While the book was written for the local community, Dyck noted the themes are universal and connect with broader studies elsewhere in North America.
"We wanted to write about this topic because it represents a fundamental shift in how we imagine caring for people with mental illnesses. The mental hospital has since disappeared from the physical landscape, as it has in many places, and we wanted to write something that would help us remember the hospital and what it represented, but also to critically assess the state of mental health services," she said.
"People celebrated the dismantling of the asylum, and we understand why. But transferring responsibility to an amorphous set of community services has not happened smoothly; we might argue it has not happened at all. So-called 'care' in the community has provided opportunities to de-fund mental health services and to transfer responsibility back to families and under-funded services that are not designed to support people with mental illnesses, per se. Further cuts to public libraries, bus service and public infrastructure more generally continues to degrade the notion of a 'caring community.'
"By studying this transition over the past 100 years in Saskatchewan, we aimed to bring attention to the experiences of people who encountered these changes directly, and to emphasise that despite the rhetoric of progress, people with mental illnesses continue to be treated as sub-citizens."