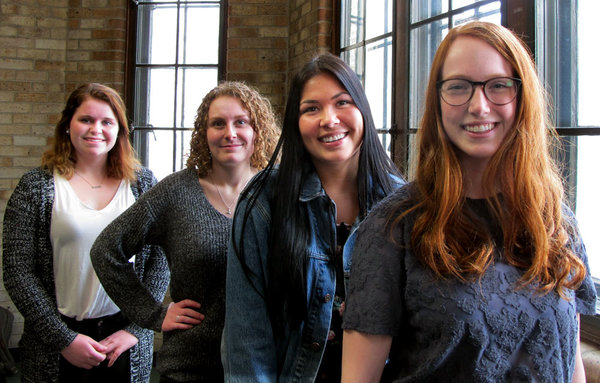 English 110 FYRE participants Bayley Farr, Mae McDonald, Bailee Brewster and Lauryn Andrew.
By Eden Friesen
Conducting original research and communicating the results: these are the backbone of all academic practice. Though these skills can take a lifetime to perfect, first-year students in the College of Arts & Science are getting a head start.
"As a first-year, research is such an intimidating thing," says Lauryn Andrew, a student participant of the First Year Research Experience (FYRE) program.
Rather than the typical coursework of an English 110 class, Andrew and her group members (Bailee Brewster, Bayley Farr and Mae McDonald) had the experience of proposing and researching their own original ideas through the FYRE program this semester. This meant diving head-first into the research process in a way usually only found in upper-year classes.
"Reading and writing go on in a lot of humanities and social sciences and a lot of other classes," says Professor David Parkinson, the group's English 110 instructor, "but this is more about awakening the possibility that one would have something important to say outside of this class."
Brewster was pleased to find that her group's proposed topic of research—that gender in Shakespeare's Twelfth Night is a spectrum rather than a binary—was "respected and encouraged even though it was a maybe a little bit controversial." Despite the intensity of the hands-on work, Farr was pleased to find that "you get the sense that you really can do it."
According to Kara Loy, coordinator of the U of S Undergraduate Research Initiative, the goal of the FYRE program is to "equip students with skills and opportunity to make it possible for them to make an original contribution" to scholarly discourse from the very beginning of their academic careers.
"FYRE moves what students are researching into a public space, bumping up the risk, the reward and the engagement," says Loy. Part of the goal of the program, she adds, is to make university more engaging and effective for a changing market of millennial students. To this end, the 2018 winter term saw research elements integrated into first-year course offerings in astronomy, geography, history, Indigenous studies and others.
Loy says that "FYRE teaches the value of original thought, the necessity of community interaction and the critical analysis of outside knowledge," and McDonald's English 110 experience seems to agree. She found that the benefits went beyond just "writing, speaking, researching and being able to put it together." Though "it was good to get walked through the research process," to her the most valuable lesson was the "eye-opening experience of being able to work as a group."
Eden Friesen is an English student intern in the College of Arts & Science communications office and research coach for David Parkinson's English 110 class.