Saskatoon Express: Sask. naval hero will be namesake of new ship
Posted on 2018-03-27 in Alumni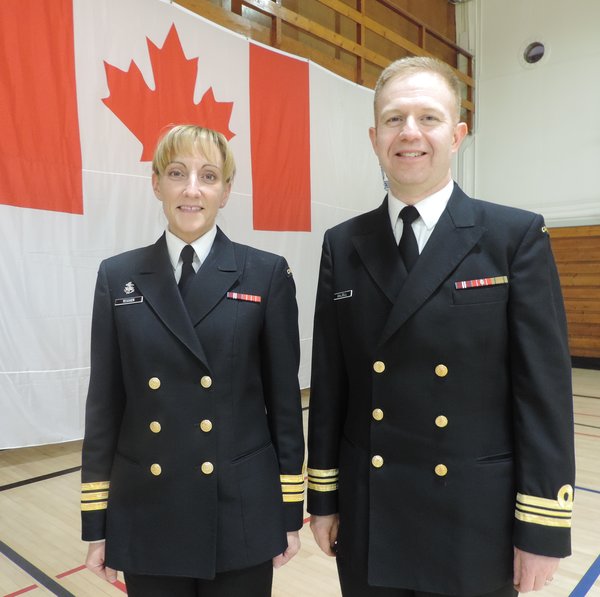 Michele Tessier, left, will become the commanding officer of the HMCS Margaret Brooke. Matthew Dalzell is commanding officer of the HMCS Unicorn in Saskatoon. (Photo by Joanne Paulson)
(This article was first published in the March 26, 2018, edition of the Saskatoon Express.)
By Joanne Paulson
At the Irving Shipyards in Halifax, they are building Her Majesty's Canadian Ship Margaret Brooke.
Not only does she represent a milestone in the Royal Canadian Navy's history, she has a powerful Saskatchewan connection. The warship is the first to be named for a woman; and that woman was a decorated Second World War hero from Ardath, Sask.
The Margaret Brooke warship will be part of the Arctic and Offshore Patrol Vessel (AOPV) fleet. She is second of the class; the Navy is building five and possibly six of the new ships, all named, for the first time, after prominent figures in our naval history. The first has been completed.
Commander Michele Tessier will take command of the ship, which will be launched in summer, 2019, and delivered to the Navy in the spring of 2020. There's a great coincidence there: Ardath is just south of Tessier, Sask.
"Margaret Brooke was a nursing sister in the Navy in World War Two," said Tessier in an interview at HMCS Unicorn in Saskatoon. "She was a dietician by qualification.
"She was onboard the ferry SS Caribou, which was making a crossing between Sydney (N.S.) and Port aux Basques, Newfoundland, when it was torpedoed by a German U-boat.
"The vessel sunk, and a number of people perished that night. Margaret was in the water, basically clinging to an overturned lifeboat with one hand and holding on to one of her fellow nursing sisters with the other hand. She stayed that way the entire night, trying to save the life of this friend of hers. Her name was Agnes Wilkie.
"Unfortunately, Agnes did die that night, but for her actions and her heroism, Margaret was bestowed an honour: she was made a member of the Order of the British Empire," the only Canadian woman from the Second World War to be so honoured, Tessier added.
Brooke continued on with her career in the navy and retired as a lieutenant-commander. She received a degree at the U of S before her naval career, and then went back after it to get a PhD in geology.
"She worked at the university here for a while, as well," said Tessier. "When the navy decided they were going to name a class of ship after people, they decided they would name one after a woman, and Margaret was the one they selected."
Brooke was informed by the commander of Canadian Fleet Atlantic on her 99th birthday. She died about a year later, in 2016.
"She was obviously floored. She was humbled. Everything I've heard about her, everyone who knows her, said what a humble person she was. She didn't talk about her accolades or her awards or what happened during the war," said Tessier. "Later that same year, I learned I would become the CO of the ship."
Tessier is from Grand Bank, Nfld., and attended Memorial University in St. John's. There, as she was finishing her degree, she met people in the regular forces going through a program at the Marine Institute, now part of Memorial, who suggested she also attend. Afterward, she joined the reserves at Cabot, the equivalent of Unicorn in St. John's, and hasn't looked back.
"Here I am 22 years later. I've travelled the world, I've had command of a warship, and all that came from just giving it a try and seeing if I was going to like it."
Presently, Tessier is Deputy Chief of Staff, Current Operations and Intelligence Fusion in Victoria, B.C. But she will take command of a warship for the second time when she boards the Margaret Brooke; she previously commanded the Nanaimo, a sister ship to the Saskatoon.
She remembers being completely floored when asked to serve as commander of a warship for the second time.
"To have command at sea of a ship once is not something that happens to everybody. To have command of a sea-going ship twice is almost impossible in our navy these days. We have folks that are getting qualified and need the experience, so it tends to be you have a command and then you move on.
"There was a part of that which was the ability to have a ship named after a female with a female commanding officer. I was a reservist for 20 of my 22 years. She was a reservist. There was that Newfoundland connection that we have; the area that (the Caribou) was sunk was off of Port aux Basques, where I lived for a brief time as a child.
"As this new class of ship is coming on, it's one thing to have command of a ship; to have the command of a new ship, to be the first commanding officer of a ship, part of what we call the commission crew or 'plank owners,' I mean that's unbelievable. It's still a little bit surreal."
But when she went to Halifax for the keel-laying ceremony last May, part of the ship was intact.
"You lay a coin for the good luck of the ship. To touch her for the first time, it became a little more real that this is actually happening."
HMCS Margaret Brooke will take on Arctic adventures, but since the area is ice much of the year, she will also be called on to engage in, for example, counter-narcotic missions, such as the one underway with the U.S. Coast Guard, and in the Obangame Express, a mission off the coast of Africa involved in training and humanitarian efforts. She will likely be part of other humanitarian aid missions, search and rescue and fishery patrols.
The ship measures 105 metres long and 20 metres wide — about twice the size of the Saskatoon, and significantly heavier at 6,400 tonnes, because it requires ice capabilities such as a heavier hull. It will have a crew of 65, but can "bunk" 67 plus 20 guests, such as special forces teams, scientists, helicopter detachments, or trainees. It's the second-largest class of warship after the Halifax Class frigate.
Matthew Dalzell, commanding officer of HMCS Unicorn, said Margaret Brooke is a remarkable "Prairie Sailor" story. When he learned the warship would be named for her, he began to research her story and realized she must have joined the navy in Saskatoon.
"My dad did some digging and sure enough she joined the navy here in 1942. We would have just had our name changed from Saskatoon Half Company of the Royal Canadian Navy Volunteer Reserve to HMCS Unicorn," said Dalzell.
There are more "prairie sailors" than people may think, he said — "people who come from walks of life and from rural Saskatchewan. You wouldn't think people from rural Saskatchewan would become sailors, but they do. The connection is going to be great.
"We're working with Michele trying to cement that connection between HMCS Margaret Brooke and HMCS Unicorn and Saskatoon, because they're all part of this story."