Artist Adrian Stimson receives Governor General's Award
Posted on 2018-02-20 in Arts & Culture, Alumni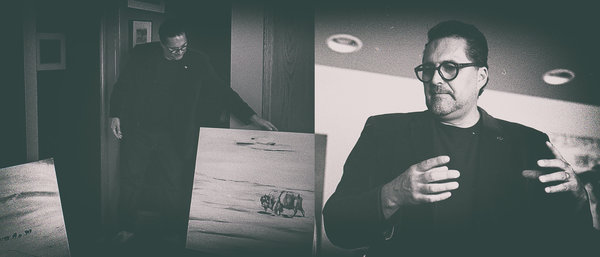 Adrian Stimson is one of the 2018 winners of the Governor General's Awards in Visual and Media Arts.
Adrian Stimson (MFA'06) is one of the 2018 winners of the Governor General's Awards in Visual and Media Arts.
The awards, which were created by Canada's governor general and the Canada Council for the Arts in 1999, recognize remarkable careers in the visual and media arts. Winners receive a medallion and $25,000.
Stimson, a visual and performance artist and member of the Siksika (Blackfoot) Nation in Alberta, often embodies interdisciplinarity in performances that break down barriers and defy conventions. For example, he uses his persona of Buffalo Boy—a character who is constantly shifting identities, from shapeshifter to powwow dancer to a gay cowboy—to satirize stereotypes of race, gender and sexuality.
The Interdisciplinary Centre for Culture and Creativity (ICCC) in the College of Arts & Science funded Stimson's participation at the 2016 Nuit Blanche Saskatoon, where he performed as Buffalo Boy in a performance that blended visual arts with the culinary arts. Inspired by the festival's theme "Creative Cuisine as Agent of Change," Stimson led an interactive cooking class, preparing a traditional bison pie and sharing it with audience members.
In 2017, Stimson had a solo exhibition at Wanuskewin Heritage Park called School Days, in which he took a critical look at the residential school system and its longstanding effects on Indigenous people in Canada. Stimson's work is currently on display at the Saskatoon artist-run centre AKA, as part of the AKA and Tribe Inc. collaboration She is spitting a mouthful of stars.
Stimson was previously honoured with the Queen Elizabeth II Golden Jubilee Medal (2003), the Alberta Centennial Medal (2005) and the Blackfoot Visual Arts Award (2009). His work can be found in the collections of the Mackenzie Art Gallery, Canadian Art Bank and the British Museum.
The Governor General's Awards in Visual and Media Arts honour up to seven artists per year for their artistic achievements and one person for her or his outstanding contribution to contemporary visual and/or media arts.
In addition to Stimson, the other 2018 winners include photographer Sandra Semchuk (BFA'70), curator/director Glenn Alteen, visual artist Bruce Eves, media artist Wyn Geleynse, visual artist Spring Hurlbut, media artist Midi Onodera and Regina, Sask.-based ceramic artist Jack Sures, who received the Saidye Bronfman Award.