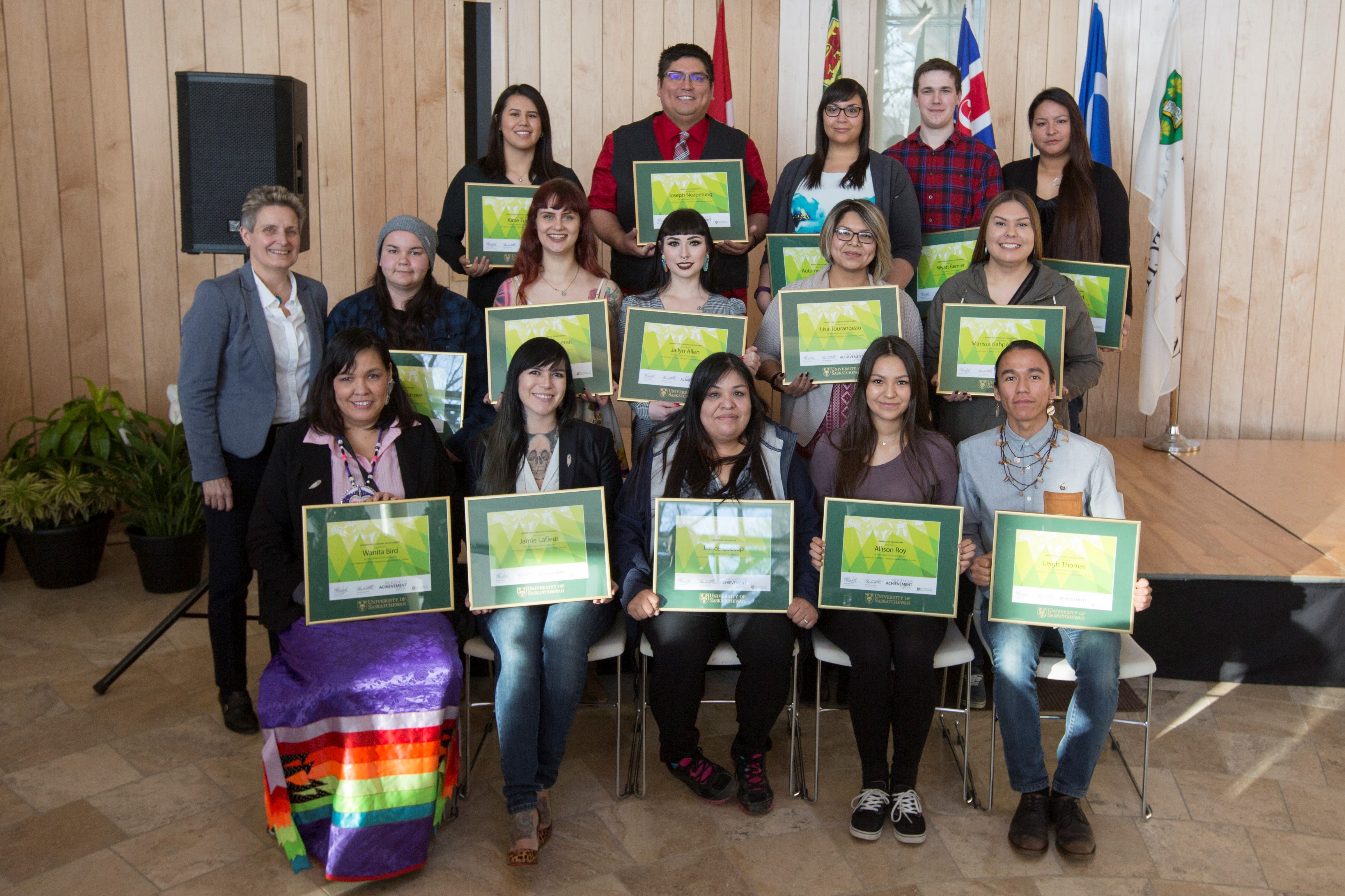 College of Arts & Science students receive Indigenous Student Achievement Awards
More than a dozen students in the College of Arts & Science have been honoured with Indigenous Student Achievement Awards
On Feb. 8, 44 Indigenous students at the University of Saskatchewan received Indigenous Student Achievement Awards. A ceremony at the Gordon Oakes Red Bear Student Centre recognized them for their academic, leadership and community outreach accomplishments.
Fifteen students from the College of Arts & Science were among the recipients.
Joseph Neapetung
AWARD FOR LEADERSHIP
Yellow Quill First Nation
Joseph Neapetung is a third-year student from Yellow Quill First Nation pursuing an honours B.Sc. in physiology and pharmacology. He is a strong advocate of Indigenous student achievement, committed to student success and creating an environment that ensures a sense of belonging and inclusive community. Joseph hopes to pursue a career in medicine.
Danielle Bird
AWARD FOR RESEARCH EXCELLENCE
Saddle Lake Cree Nation
Danielle Bird is a second-year Indigenous Studies MA student and a member of Saddle Lake Cree Nation. She has completed her coursework and excelled. Danielle is now completing her thesis research, a community-engaged oral interview study of resilience amongst formerly incarcerated Indigenous women. Her innovative scholarship has already attracted significant attention.
Ben Gould
AWARD FOR RESEARCH EXCELLENCE
Scotchfort community, PEI
Ben Gould is a fourth-year clinical psychology PhD student from the Scotchfort community in Prince Edward Island. Ben has been assisting First Nations communities in PEI to identify, develop and implement culturally appropriate and relevant mental health services. Ben's career path has been guided by his passion for Aboriginal mental health and a love for his First Nation community in PEI, Abegweit First Nation, where he hopes to return after the completion of the PhD.
Leigh Thomas
AWARD FOR ACADEMIC ACHIEVEMENT
Chitek Lake
Leigh Thomas is a third-year regional and urban planning student from Chitek Lake. He is particularly interested in Indigenous planning in the 21st century through community-led initiatives, traditional Indigenous governance systems and integrating Indigenous ways of knowing into planning practices.
Jailyn Allen
AWARD FOR ACADEMIC ACHIEVEMENT
Mikisew Cree First Nation
Jailyn Allen is a fourth-year sociology student from Mikisew Cree First Nation. Jailyn attributes her current high GPA to her dedication to study and self-improvement. Her humility, confidence and desire to contribute positively to society is inspiring to witness in our sociology classrooms. Jailyn is planning to attend law school.
Wyatt Bernier
AWARD FOR ACADEMIC ACHIEVEMENT
Métis
Wyatt Bernier is a Métis second-year student studying physics. Outside of class, Wyatt is known to engage with fellow students in discussions about physics and astronomy-related topics, demonstrating an interest in the subjects that extends beyond course requirements. He hopes to pursue a career in criminal law or become a high school physics teacher.
Allison Roy
AWARD FOR LEADERSHIP
Pelican Lake First Nation
Allison Roy, from Pelican Lake First Nation, is a first-year science student. In her first term at the University of Saskatchewan, she has strengthened the fabric of her learning community with a consistently positive, supportive and encouraging commitment to learning. She is a quiet leader among her classmates, taking initiative to bring forward questions and clarifications on assignments, and taking responsibility to keep group assignments focused and on track.
Janice Osecap
AWARD FOR LEADERSHIP
Moosomin First Nation
Janice Osecap, from Moosomin First Nation, is a first-year student who participates in the Medicine Wheel Learning Community with the Aboriginal Student Achievement Program. She leads by example, overcomes obstacles and perseveres. She is a role model, first, for her children – balancing family, school and general life in the most efficient of ways. Janice exemplifies student leadership, both academically and as a peer to her fellow students.
Marissa Kahpeaysewat
AWARD FOR RESEARCH EXCELLENCE
Moosomin First Nation
Marissa Kahpeaysewat is a motivated pre-health science student who, in her first year of courses, engaged in a group research project focusing on understanding the impacts of stereotype threat on male nurses working in a female-dominated profession. Marissa, from Moosomin First Nation, is passionate about deconstructing stereotype threat as a source of systemic discrimination—both for men in the nursing professions, but also for other underrepresented groups, including Indigenous women studying in the sciences.
Jamie Lafleur
AWARD FOR RESEARCH EXCELLENCE
Lac La Ronge Indian Band
Jamie Lafleur is a fourth-year anthropology major from the Lac La Ronge Indian Band. Jamie has been involved in various Indigenous health initiatives at the University of Saskatchewan, including being a coordinator with the Building Bridges program in 2016-2017. She has participated in two study abroad exchange programs, studying Indigenous health and healing practices in Tromso, Norway, and Bangkok, Thailand. She is hoping to pursue a Master's degree in community and population health sciences.
Lisa Tourangeau
AWARD FOR ACADEMIC ACHIEVEMENT
Cote First Nation
Lisa Tourangeau is a first-year College of Arts & Science student from Cote First Nation. Coming to the University of Saskatchewan with 10 years of experience as a licensed practical nurse, Lisa returned to school to further her nursing education. She has been nominated for her dedication, hard work and commitment to the Aboriginal Student Achievement Program.
Katie Turner
AWARD FOR ACADEMIC ACHIEVEMENT
Sturgeon Lake First Nation
Katie Turner is a first-year College of Arts & Science student from Sturgeon Lake First Nation. A student in the Aboriginal Student Achievement Program, Katie recently moved to Saskatoon and has demonstrated a positive and success-oriented attitude. She is working on an undergraduate degree to prepare academically for the College of Dentistry and an orthodontic career.
Wanita Bird
AWARD FOR ACADEMIC ACHIEVEMENT
Ahtahkakoop Cree Nation
Wanita Bird, from Ahtahkakoop Cree Nation, recently completed the wîcêhtowin Aboriginal Theatre Program Certificate of Proficiency. For the final production, the capstone of the ATP certificate, Wanita contributed much of the scripted material and the original music, in addition to acting in multiple scenes. Since completing the certificate, Wanita has been approached by film producers to compose music for feature films.
Brigette Demerais
AWARD FOR ACADEMIC ACHIEVEMENT
Métis
Brigette Demerais is a Métis fourth-year international studies student. Brigette is meritorious based on her outstanding academic record and her leadership in the community to better conditions for the disadvantaged. She hopes to contribute to research gaps in gender and development after completing her undergraduate degree.
Autumn Tuttroen & Victory Harper
AWARD FOR LEADERSHIP
Skownan First Nation & Onion Lake First Nation
Autumn Tuttroen, from Skownan First Nation, and Victory Harper, from Onion Lake First Nation, were peer mentors with the Aboriginal Student Achievement Program. Autumn is pursuing a career in the humanities as a social worker. Victory has an aptitude for the sciences with the goal of becoming a science teacher. The differences in backgrounds brought a wealth of knowledge and skill to their roles as peer mentors. Both were able to navigate these differences to provide a great experience for their students. Autumn and Victory exemplified true team work, where the skill set of both was recognized and utilized, always cognizant of the students' best interests.
---
Related Articles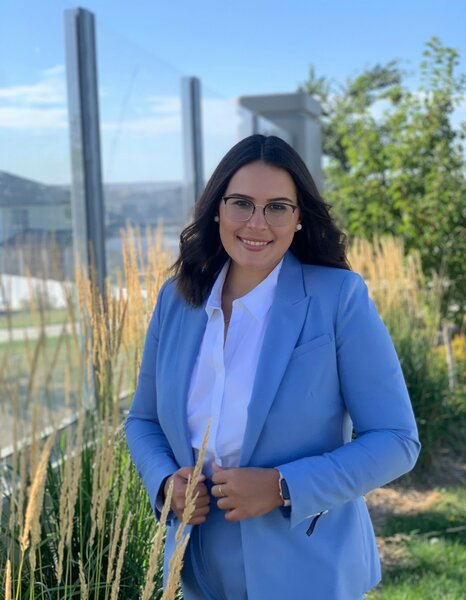 Iryna Kutska will receive her four-year Bachelor of Arts degree in political studies during USask's 2021 Fall Convocation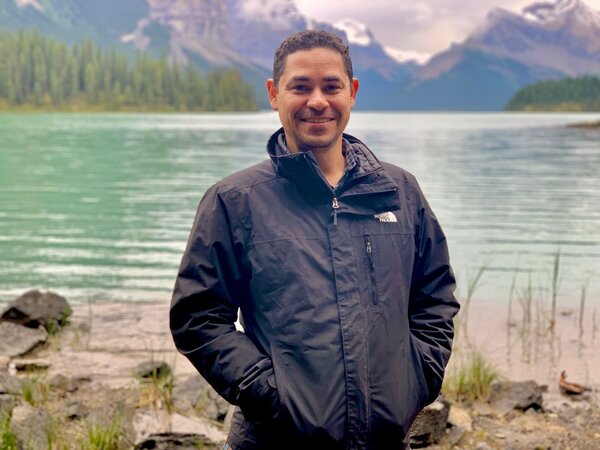 Ricardo Martins will receive a Bachelor of Music (BMus) individualized degree during USask's 2021 Fall Convocation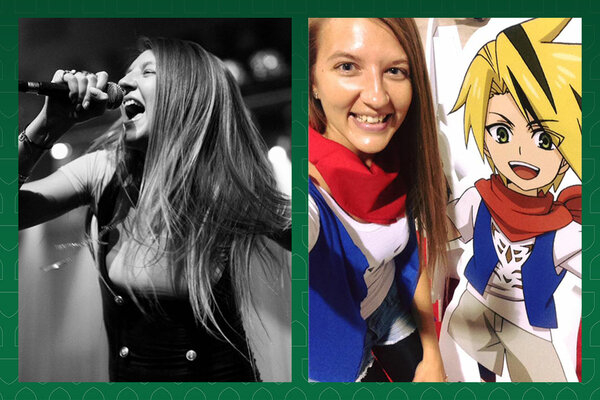 ZHE the Free—aka Zoe Slusar—wants young people of all backgrounds and identities to share their passions with the world