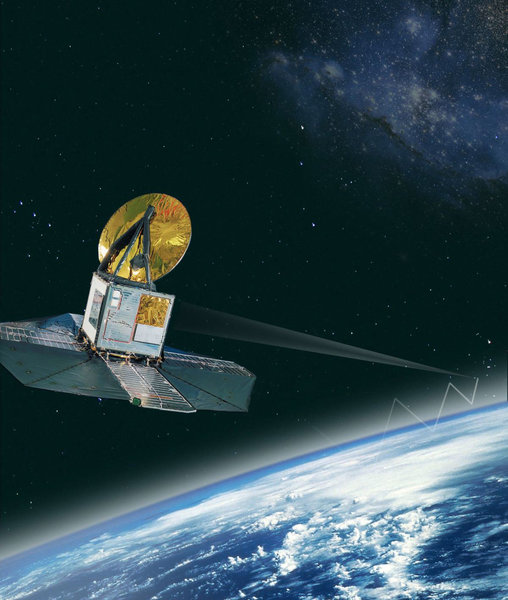 Illustration of the Odin satellite, which carries the OSIRIS instrument used in the study.
By Chris Putnam
Amid hopeful signs of a recovery, a crucial part of Earth's protective ozone layer continues to decline.
That is the conclusion of an international team of scientists, including Doug Degenstein and Adam Bourassa of the College of Arts & Science's Department of Physics and Engineering Physics, whose new study has shown that ozone in the Earth's lower stratosphere is still thinning.
Several recent studies have found signs that ozone levels in parts of the atmosphere have stopped declining or begun to recover. This welcome change is credited to the Montreal Protocol, the 1987 international agreement to phase out the use of ozone-depleting chemicals.
But the research published on Tuesday shows a more complicated picture. Although a recovery was seen in the upper stratosphere, this improvement was offset by an unexpected decrease of ozone in the lower stratosphere. The researchers found an overall decrease in stratospheric ozone above the planet's lower latitudes—the region where most humans live.
"The Montreal Protocol was highly successful, but this study highlights the need for continued and detailed global observations of the atmosphere as it evolves in a changing climate," said Bourassa.
The reason for the continuing ozone decline is uncertain. Since ozone protects life on Earth from ultraviolet radiation from the sun, the causes of the trend "urgently need to be established," the paper says.
The study made use of measurements from the Canadian OSIRIS satellite instrument. The OSIRIS science team is led by Degenstein and Bourassa, who helped collect and interpret data for the project. They are co-authors on the paper, published in Atmospheric Chemistry and Physics.
"OSIRIS data have played a key role in quantifying the clear recovery of the ozone layer at upper altitudes, while hints of this decline have been observed in the measurements for a few years," said Degenstein.
The paper caught international attention, with coverage in The Wall Street Journal, Scientific American, The Washington Post and other news outlets.