Living Language Wall
Posted in Arts & Culture
Feb 5, 2018 to Feb 9, 2018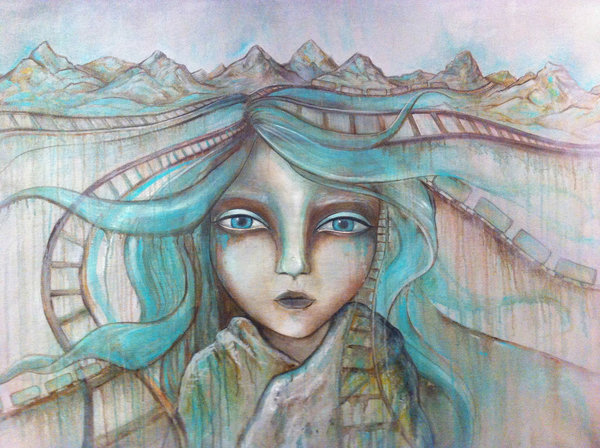 Train Hair by April Doepker
Living Language Wall
Participatory art creation with artist April Doepker
Feb. 5–9
11:30 am–3:30 pm
Top of the arts ramp
April is a Métis artist born and raised in Saskatchewan. She was born in La Ronge Saskatchewan in 1979, but has lived most of her life in Saskatoon. From an early age April expressed herself through painting and art. She was always drawn to the arts and gained an appreciation and respect for street art while studying fashion design in Montreal. She has over 15 years of experience doing stencil art and graffiti art, and using spray paint as her main medium. But more recently over the past few years getting back to painting more with acrylics, watercolors, and using ink, pastels and other mediums. More recently expressing her interest in trains and abstract dreamy landscapes, sometimes mixed with portraits, that sort of become part of the landscape. This is a style that she wants to continue working on.
April is currently working at SCYAP where she uses her skill to provide, customers and clients with graphic design services, sign making and mural design. She has recently designed 3 new murals on Broadway in Saskatoon, that were painted by SCYAP artists this summer. One of April's designs/paintings have become a new mural painted by SCYAP last September in Downtown Saskatoon on 2nd Avenue and 24th Street.
April uses her creativity to help other artists showcase their art and to inspire people to appreciate graffiti/ street art with her annual "We Needi Graffiti" art exhibit. It is a group show open to everyone, meant to give the artists a more professional setting to show their artwork and give the community a chance to appreciate it in a gallery setting. She has been curating and organizing this show for the last 10 years.
April hopes that her art will expand horizons and open minds. she wants people to embrace urban street art (a.k.a graffiti) and appreciate it because if it is channelled respectfully in can be a positive force in our communities. She would love to see more communities create spaces where urban artists can express themselves legally and freely.