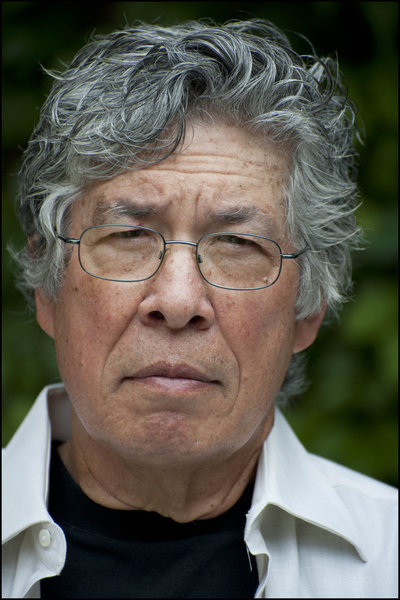 Author Thomas King (photo by Hartley Goodweather)
By Colleen MacPherson
Thomas King doesn't particularly like writing non-fiction—he says it's like herding porcupines with your elbows—so with his celebrated 2013 book The Inconvenient Indian: A Curious Account of Native People in North America, the author chose to approach it like he does all of his work—as a story that needed to be told.
"I started writing it as a straight history but I bored myself to tears," King said in an interview from his home in Guelph. "I wanted to demonstrate that I'm an intellectual, but I'm not. I'm a story teller… and everybody likes a story."
The resulting book, which was six years in the writing, is King's personal reflections on being "Indian" in North America, on the relationship between Natives and non-Natives over the centuries, and on how understanding the events of the past can change the story in the future. Although the subject matter is difficult, King infused his story with sarcasm and humour as a way to keep readers from turning away from the facts in horror.
"If you're going to talk about really serious stuff, I don't think you should let that seriousness permeate the discussion," said King, who will visit campus Jan. 29 for two book club events. "Humour is a way to draw people in. It allows serious information to get closer to you and at the same time, it sharpens the tragedy."
King was born in California in 1943 to a Greek mother and Cherokee father. He completed bachelor's and master's degrees at Chico State University before doing a PhD in English at the University of Utah. After immigrating to Canada in 1980, he taught Native Studies at the University of Lethbridge while also serving as a faculty member in the University of Minnesota's American Indian Studies department. King is a professor emeritus in the School of English and Theatre Studies at the University of Guelph.
His first novel, Medicine River, was published in 1990; it was made into a CBC film and was runner up for the 1991 Commonwealth Writers Prize. King has continued to produce acclaimed works of fiction, including A Coyote Columbus Story (1992), written for children, and Green Grass, Running Water (1993), both of which were nominated for the Governor General's Award. His most recent novel, The Back of the Turtle, received the 2014 Governor General's Award.
From 1993–94, King was story editor for Four Directions, a CBC TV drama series by and about First Nations people. He also wrote and starred in Dead Dog Café Comedy Hour, which aired on CBC Radio from 1997–2000. King was made a member of the Order of Canada in 2004 and received the Queen's Jubilee medal in 2013.
Since it was first published, interest in The Inconvenient Indian has never waned, "much to my great surprise," he said. "The book has had far greater success that I ever would have anticipated." How it affects people's thoughts or actions, however, is often unknown.
"The magical thing about books, and the horrible thing about books, is that it's like sending a child out into the world—you have no idea what they're going to do. And what people do with the story has nothing to do with you (the author)."
Looking ahead to his U of S visit, King said some people attending a book club event may find it to be "just a little interlude," but there may well be a student in the audience destined for a seat in Parliament where their experience with The Inconvenient Indian could be brought to bear on, for example, setting public policy. In either case, the author believes universities can play an important role in shaping the Native/non-Native relationship.
"Universities have the best chance to make changes quickly. There is no mechanism to do that in society as a whole where Native matters are not high on the hierarchy of needs list. The role of a university is to look at new ideas, and students have a chance to consider a whole variety of different ways of thinking. The notion of academic freedom … is one of the reasons why we can have these discussions."
Thomas King will be at the Gordon Oakes Red Bear Student Centre Jan. 29 from 2–3:30 pm for a reading and discussion of The Inconvenient Indian: A Curious Account of Native People in North America. At 7 pm in Convocation Hall, he will be in conversation with Saskatoon StarPhoenix journalist Betty Ann Adam for My Writing Life: A Conversation with Thomas King.
Colleen MacPherson is a Saskatoon-based freelance writer.
Learn more about the Arts & Science Book Club with Thomas King: artsandscience.usask.ca/bookclub