Raene Poisson: Materials used by artists and their archival stability
Posted in Events
Oct 26, 2017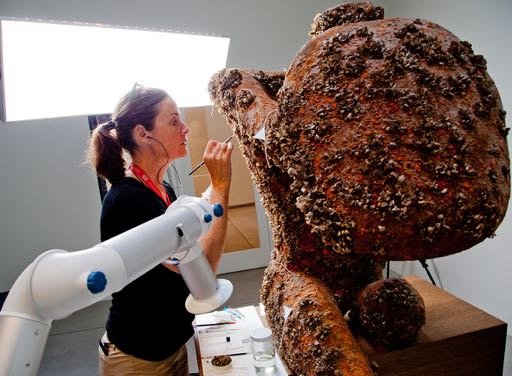 Contemporary art conservator Sherry Phillips at work on Simon Starling's Infestation Piece.
Raene Poisson (BFA, U of S, 2014) has returned to Saskatoon and is completing coursework for the Cultural Heritage Conservation and Management program at Fleming College, Peterborough ON. She is currently interning at the Western Development Museum Curatorial Centre in the Conservation Department.
Raene will discuss a range of materials used by artists, their long-term stability and the challenges they pose for conservationists and those in the museum/gallery field. This talk will cover a wide range of materials including traditional art materials, digital, and composite materials in modern art.
Talk starts at 12 noon – in the Snelgrove
FREE AND OPEN TO THE PUBLIC