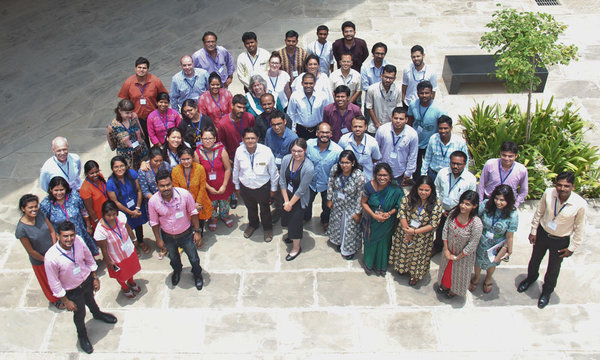 Group photo of participants in the 2017 summer institute at the Indian Institute of Technology Gandhinagar, including delegates from the College of Arts & Science. (Submitted photo)
By Chris Putnam
During the next two weeks, nine delegates from the University of Saskatchewan's College of Arts & Science will lend their expertise at an intensive summer workshop in India to help the next generation of researchers there advance social justice.
Titled Social Justice: Practice and Research, the June 19 – 30 workshop is jointly organized by the College of Arts & Science and the host university, the Indian Institute of Technology Gandhinagar (IITGN) in Gujarat, India. Social sciences and humanities experts from both universities, along with guest speakers, will lead sessions attended by about 60 participants from India.
The workshop is the latest in a series of efforts at building international "collaborative activities" between the U of S and IITGN, said Raj Srinivasan, head of the college's Department of Mathematics & Statistics and one of the local coordinators—along with Professor of English David Parkinson—of the event. IIGTN and the college worked together on a similar summer institute on the theme of global health in 2015, and faculty and students from IITGN have made several visits to the U of S.
This year's summer institute is based on the premise that teaching key research skills can be "a powerful tool to understand and address issues of inequality and injustice and to bring in social change," said Ambika Aiyadurai, an assistant professor of anthropology at IITGN and a coordinator of the workshop.
The College of Arts & Science's relationship with IITGN and its experience in this research area made it an ideal partner for the summer institute, said Aiyadurai. "[The U of S's] mission of commitment to community and valuing diversity, equality and human respect and dignity connects with IITGN's goal of achieving academic excellence while continuing its contribution to the development of humanity at large."
Young researchers from across India—most of them graduate students—competed for spots at the workshop. They will study the methods, tools and communication skills needed to carry out research that promotes progress in areas such as health, education and social/economic mobility.
Delegates from the College of Arts & Science include faculty, staff and graduate students from the English, political studies and sociology departments as well as the Social Sciences Research Laboratories.
Professor of English Lisa Vargo, who will teach writing at the workshop, said she is eager to return to India after her experience living there for a month as a delegate at the 2015 summer institute. "There were some really exciting and fulfilling things that happened at the workshop. Meeting these students and talking to them and seeing what their lives were like was quite inspiring."
Like many of the delegates to the previous summer institute, Vargo has kept in touch with students and colleagues she met in India.
Relationships such as these will be key to building further links between the U of S and India, said Srinivasan. Future plans might include recruiting students to pursue joint PhDs between the U of S and IITGN, and establishing study abroad opportunities in India for College of Arts & Science students.