Arts and culture are fundamental to Canada's economic growth: Tommy Banks
Posted on 2016-06-22 in News, Community Fellowships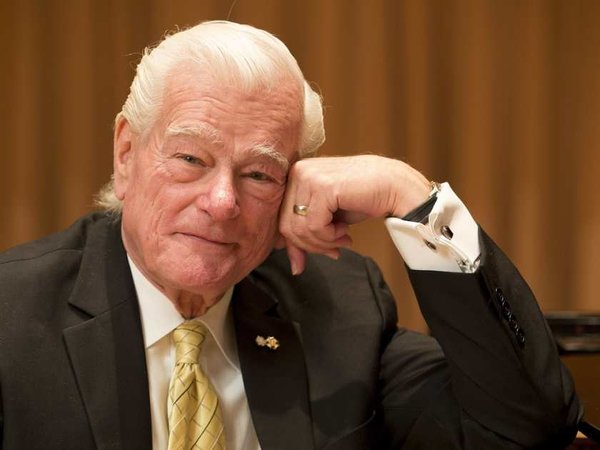 Tommy Banks
Arts and culture are fundamental to Canada's economic growth: Tommy Banks
By Justine Gieni
As the saying goes, there's no business like show business, and Tommy Banks knows show business.
With an illustrious career spanning more than 60 years—including work as a jazz pianist, conductor, composer, actor, producer, television personality and politician—Banks is an authority on the arts and culture industry in Canada.
"Arts and culture are a major player in our economy and a serious participant in our future," said Banks during a public lecture in Saskatoon delivered as part of a community fellowship with the Interdisciplinary Centre for Culture and Creativity. "It's a real growth industry from which every dollar invested is returned to our economy doubled, tripled and quadrupled."
Backed with evidence from Statistics Canada, Banks identified how Canada's economic growth hinges on its thriving arts and cultural industries: "According to the Conference Board of Canada, arts and cultural industries contributed $46 billion to our economy in 2007 . . . more than the insurance industry, more than the hotel and restaurant industry, more than agriculture, forestry, hunting and fishing combined."
The Department of Canadian Heritage supports these statistics, reporting that culture and arts industries contributed three per cent to Canada's GDP—that was $54.6 billion dollars in 2014.
Such statistics counter misconceptions that arts and culture programs are "a sinkhole for government and corporate funds." As Banks argues, it's just the opposite. "The arts are not secondary, superfluous and outside of Canada's economic mainstream, but rather a major player in our economy and a serious participant in our future."
For his audience, which included Department of Music faculty members Dean McNeill and Darrin Oehlerking, Banks' speech struck a chord. Oehlerking wrote his doctoral dissertation on the now-defunct RCMP band, which was originally formed in 1873. In 1994, following funding cuts by the federal government, the RCMP band was cancelled.
To quote Jack Kopstein, author of Heritage of Canadian Military Music, this decision was "perhaps one of the most unbelievable and absurd decisions ever made by a standing Canadian government when in 1994 they decided to break up this band."
During his fellowship in Saskatoon, Banks joined McNeill and Oehlerking in concert, along with the Saskatoon Jazz Orchestra and Shelley Ewing, the last singer to perform with the RCMP band. Together they commemorated the RCMP band in a bittersweet celebration of Canada's musical heritage.
For McNeill, who serves as Artistic Director of the Saskatoon Jazz Orchestra, it's clear how arts and cultural industries boost Saskatchewan's economy. The upcoming Saskatchewan Jazz Festival is case in point. "It attracts over 85,000 people to its activities per year. This is an organization with 2.5 full time paid employees," said McNeill. "Those 85,000 people will spend millions in our local economy . . . talk about a return for your investment!"
Back to News Listing
Related Articles