Meaghan Hackinen (MFA'16) knows something about determination. In less than one year, the writer and cyclist from British Columbia set two ultra-endurance cycling records and published her debut book.
In November 2019, Hackinen—a graduate of the College of Arts and Science's MFA in Writing Program—set a world record at the World Time Trial Championships in California, cycling nearly nonstop for 24 hours to a distance of 460.8 miles.
Two weeks earlier, she launched South Away: The Pacific Coast on Two Wheels, a travel memoir about her adventure on a bicycle from Canada to the tip of the Baja Peninsula. South Away was shortlisted for a 2020 Kobo Emerging Writer Prize and a 2020 Alberta Book Publishing Award.
In June 2020, Hackinen become the first woman to complete a 10,000-metre "Everest" of Knox Mountain in Kelowna, B.C.—a challenge that involved pedaling up and down the mountain for 19 hours until she'd climbed a greater height than Mount Everest.
Arts&Science asked Hackinen for her advice on staying motivated, whether on a bike or at a keyboard.
Meaghan's tips
Have a plan. "I write out my training calendar with my coach weeks or months in advance." Even if you don't follow the plan to the letter, it will help keep you committed.
Break down the task. "For the 24-hour time trial, I broke my training down into a week-by-week schedule." When writing her book, Hackinen focused "on shorter segments that eventually built into a coherent whole."
Celebrate accomplishments. "After a big training ride, I celebrate by making myself a giant scrambled egg breakfast, with peanut butter and jam toast—even if I finish at 10 pm."
Keep it positive. "I talk to myself more than I'd like to admit on the bike.… 'You can do this, Meaghan!' 'You've got this, only six hours to go (gulp!)' "
Pick the right music. "When I'm cycling, I enjoy listening to tunes that are upbeat and catchy. When I'm writing, I prefer music without lyrics."
Remind yourself of the why. "I compete in ultra-distance cycling events to test my limits, and to discover how far I can go. I am driven by curiosity, and the thrill of riding longer, harder and farther than I ever imagined possible."
Meaghan's pump-up tracks
Personal playlist from the 24-hour world championship ride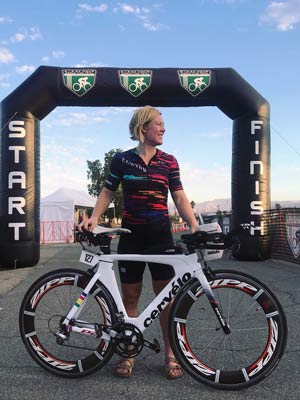 1.  "Sunny" by Boney M.
2.  "Little L" by Jamiroquai
3.  "Body Funk" by Purple Disco Machine
4.  "A Fifth of Beethoven (Soulwax Edit)" by Walter Murphy
5.  "Better at Making Time" by De Lux
6.  "Lift Me Up" by Moby
7.  "You Make Me" by Avicii
8.  "Dougou Badia (feat. Santigold)" by Amadou & Mariam
9.  "Sisters (feat. Northern Voice)" by A Tribe Called Red
10.  "Home" by LCD Soundsystem