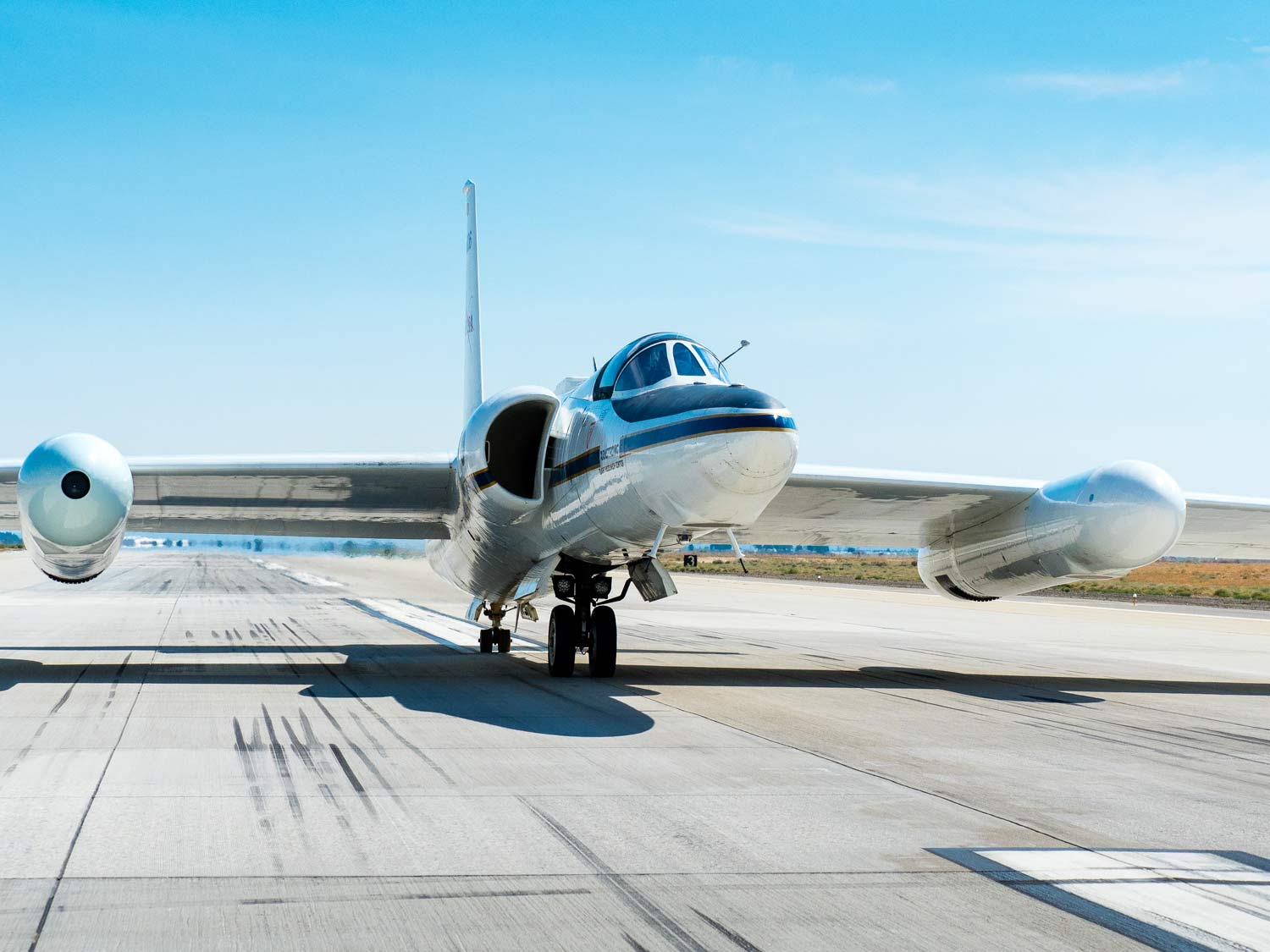 Team works with NASA to test vapour tracking instrument
A RESEARCH TEAM from the College of Arts & Science's Institute of Space and Atmospheric Studies (ISAS) spent nine days in the summer of 2017 at NASA's Armstrong Flight Research Centre in California.
With the help of NASA pilots flying one-seater aircraft at 70,000 feet, the seven-member team successfully tested a satellite instrument prototype that will track the distribution of water vapour, which is the most prevalent greenhouse gas in Earth's upper atmosphere.
Taking measurements from the aircraft was an interesting experiment, said Adam Bourassa (BSc'01, BE'01, MSc'04, PhD'07), an associate professor in the Department of Physics & Engineering Physics, but the goal is to get the instrument into space on a satellite tracking the measurements globally every day.
"That's where it becomes really scientifically valuable," said Bourassa. "When you are modelling climate and trying to understand how climate changes, you need to know how the atmosphere is working and changing."
In the upper atmosphere, water vapour, while totally natural, is a strong greenhouse gas that plays a role in climate change. As other non-natural greenhouse gases grow in concentration and heat up the surface of the atmosphere, the amount of water vapour it holds becomes greater.
"Because water vapour tends to be really variable, as you go up in altitude its concentration changes a lot and at pretty fine levels," Bourassa said. "That's the part that's not measured very well with the satellites that we have right now, and so we've designed this instrument to fill that gap."
The project was a collaboration between the University of Saskatchewan, NASA, the Canadian Space Agency (CSA) and the technology company ABB.
The instrument, a highly specialized spectrometer coupled with a telescope the size of a large shoebox, was built according to the researchers' specifications. It will eventually attach to a satellite to provide consistent detailed data on the vertical distribution of water vapour in the atmosphere.
---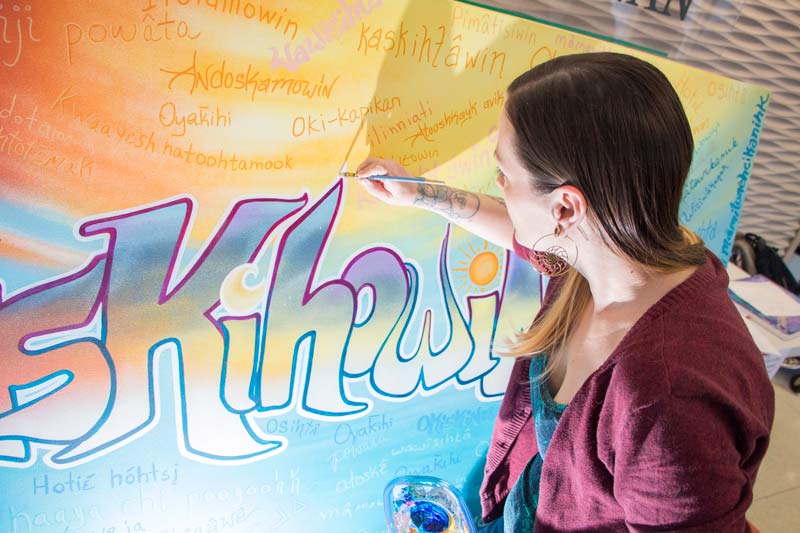 Indigenous language mural unveiled in Arts Building
A MURAL CELEBRATING Indigenous languages was unveiled near the bottom of the Arts Building ramp on March 21, 2018.
The painting, created by Métis artist April Doepker, is called Kaskihowin, which means "achievement" in the Plains Cree language. The artwork will remain on display on the first floor of the Arts Building—one of the busiest locations on the University of Saskatchewan campus.
Doepker's Living Language Wall participatory project took shape during Indigenous Achievement Week, held at the U of S from Feb. 5–9, when she created the mural at the top of the Arts Building ramp. Passersby were encouraged to use graffiti paint markers to add words to the canvas related to the achievement theme, choosing from 64 words representing eight Indigenous languages: Inuktitut, Plains Cree, Dene, Dakota/Lakota, Nakota, Michif and Saulteaux.
"Part of the point of the project was getting all sorts of people involved and teaching them a bit about these different languages we have in Saskatchewan—but doing it in a fun, kind of cool, way that is interesting to people," said Doepker.
Doepker, who was born in La Ronge, Sask., gained an appreciation for street art while studying fashion design in Montreal. She currently works at Saskatoon Community Youth Arts Programming (SCYAP), where she helps other artists showcase their work with the annual We Needi Graffiti art exhibition.
---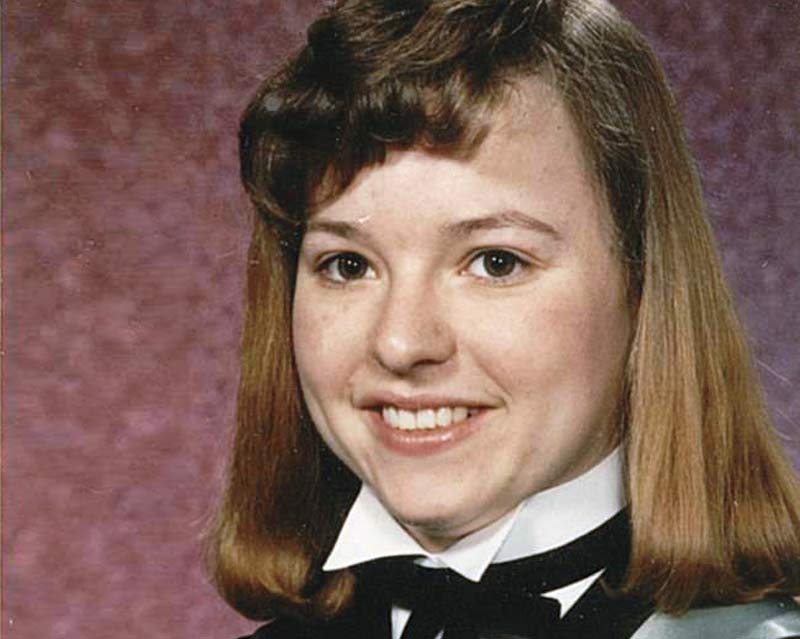 Class photos go online
THE COLLEGE OF Arts & Science has joined a campus-wide University of Saskatchewan initiative to scan class photos in an effort to preserve them and make them available online. The project launched in May 2018 with 11 departments in the College of Arts & Science. More departments are set to follow in the coming months.
Alumni and class photos can now be viewed online at artsandscience.usask.ca/alumni
---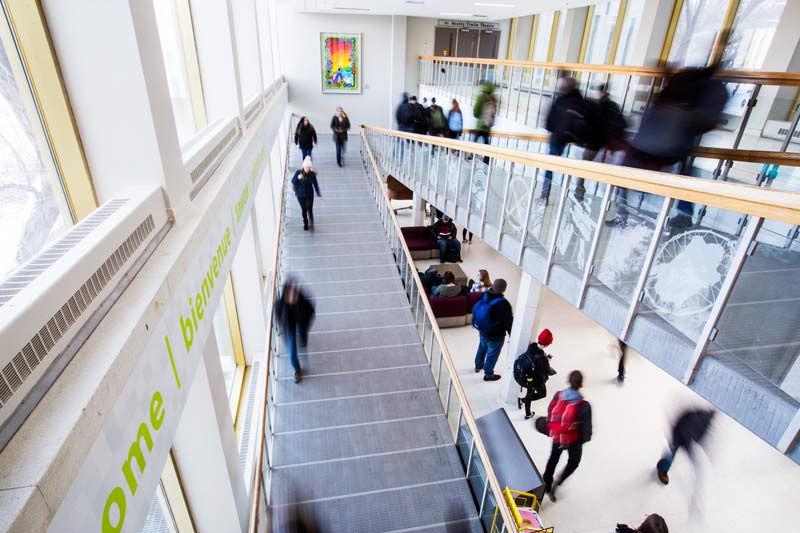 College seeks to increase number of Indigenous faculty
THE COLLEGE OF Arts & Science recently implemented the first year of its plan to recruit more emerging and established Indigenous scholars.
Over the next 10 years, the college aims to transform its existing faculty complement by each year allocating up to three faculty appointments to Indigenous scholars. The resulting new hires will raise the proportion of Indigenous arts and science faculty members to nearly 15 per cent, which is on par with the current Indigenous population in Saskatchewan.
"We think it's important that our college reflects the society we live in, but it's not just a matter of numbers," said Kristina Bidwell, who helped design the strategy as the college's associate dean Aboriginal affairs. "By being more inclusive, we become more successful. We grow our knowledge base and we connect more to our world."
Of the nearly 300 current College of Arts & Science faculty, just four per cent self-declare as Indigenous. That signalled to the college that a new hiring approach was needed.
Rather than advertise positions in specific departments, the college chose to make its postings open to scholars of all disciplines to ensure a large pool of candidates and representation across all corners of the college. To be sustainable over the long term, the strategy uses existing resources instead of creating positions through special funding.
"We hope that in a couple of years, this is no big deal; it's just what we do," said Lawrence Martz (PhD'87), vice-dean faculty relations. "If we get there, I think we'll have made some real headway."
---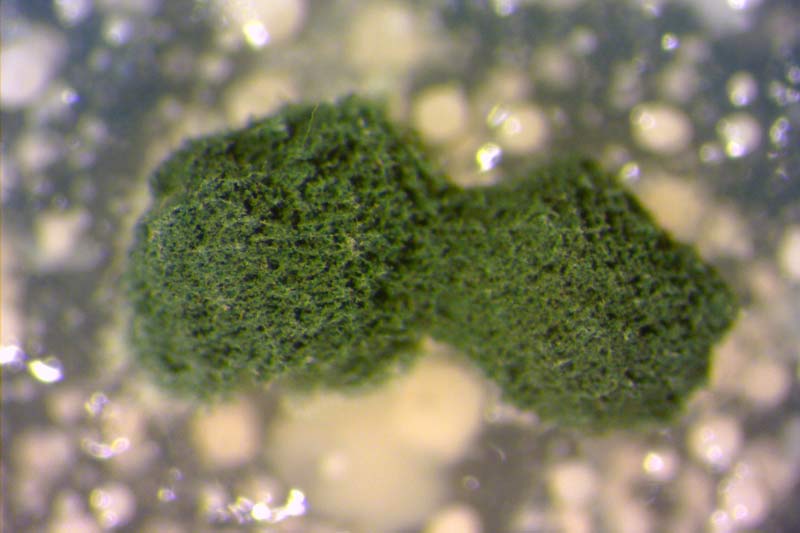 Oil-eating fungus could clean polluted landscapes
A NATURAL STRAIN of fungus discovered by University of Saskatchewan researchers could clean oil spills and return life to Alberta's oilsands.
"The current methods of restoring these sites are not as cost-efficient or energy-efficient as they could be, and can cause more environmental disruption," said Susan Kaminskyj, a professor in the Department of Biology. "Our biotech innovation should help to solve this type of problem faster and with less additional disturbance."
From the roots of a dandelion, Kaminskyj's research team isolated a unique strain of fungus with a remarkable property. When the spores of the fungus—which they named TSTh20-1—are applied to plants, those plants grow and thrive in environments where other plants wither and die.
About 800 square kilometres of Alberta's Athabasca oilsands are covered in coarse tailings. Contaminated with an oily residue, lacking nutrients and resistant to absorbing water, coarse tailings are a hostile environment to both plants and soil microbes.
But in Kaminskyj's laboratory, more than 90 per cent of seeds treated with TSTh20-1 sprouted on coarse tailings, while none of the untreated seeds sprouted. Tomato seedlings treated with the fungus flourished on tailings even without fertilizer and grew to produce tomatoes.
As the plants grew, they also cleaned the soil beneath them. Petrochemical residues in the tailings were broken down, creating a healthier growth environment.
Results from the team's work, funded by the Natural Sciences and Engineering Research Council of Canada, were published in the journal PLOS ONE.
---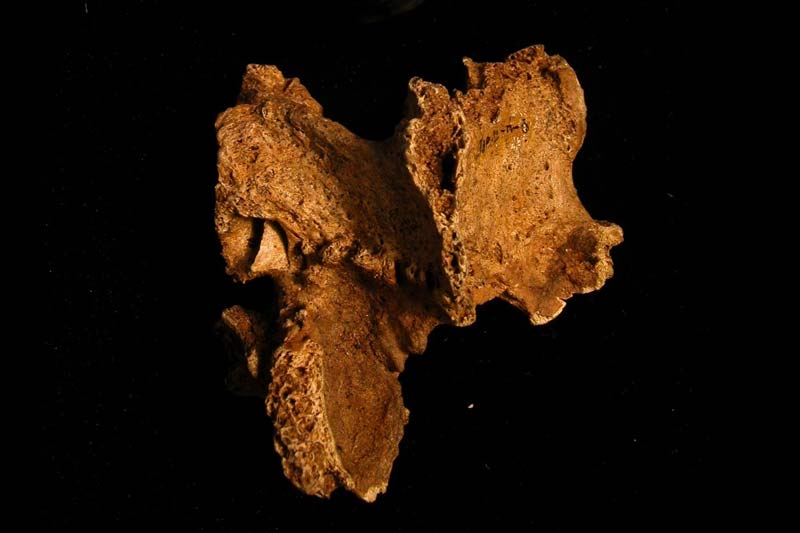 Ancient spinal injury tells story of survival
IT WAS A single fragment of bone, but to Angela Lieverse, it told an 8,000-year-old tale of violence and survival.
In an issue of the International Journal of Osteoarchaeology, Lieverse and her co-authors reported the first recorded archaeological case of an individual surviving a penetrating spinal injury.
"This injury would be pretty much a death sentence if it happened today and you couldn't get to a hospital," said Lieverse, a faculty member and head of the Department of Archaeology & Anthropology. "So if we go back in time 8,000 years, which is when this individual lived, it's nothing short of remarkable that he didn't die immediately."
During a trip to Russia, Lieverse encountered a piece of a vertebra from the lower back of a 25-to-35-year-old man, a member of an Early Neolithic hunter-gatherer community in what is now Siberia. It had been excavated years earlier from an ancient cemetery, along with the rest of the man's incomplete remains, by one of Lieverse's collaborators from Russia.
Embedded deep within the vertebra was a stone arrowhead. It seemed the man had been shot in the back while fleeing an assailant.
Similar injuries have been documented in the past by archaeologists, but the bone in this case had almost entirely healed around the projectile. Lieverse, who specializes in human remains, recognized the significance immediately: the man must have survived for months after his catastrophic injury.