Public Lecture: Gender and Ethnicity in the Memoirs of Penny Petrone
Posted on 2019-03-19 in Events
Mar 25, 2019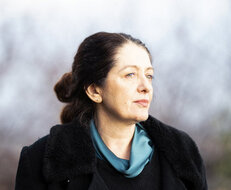 Professor Margherita Ganeri will give a lecture at the University of Saskatchewan on March 25.
Gender and Ethnicity in the Memoirs of Penny Petrone
by Professor Margherita Ganeri
Università della Calabria (Italy)
March 25
4 pm
Arts 202
All are welcome.

Penny Petrone (1925-2005) was one of the first authors of Italian Canadian literature. Her two memoirs, Breaking the Mould (1995) and Embracing Serafina (2000), focus on the internal conflicts generated by her heritage. Gender issues and ethnic struggles present the reader with a painful journey into the Italian/Canadian diasporic background.
This talk is sponsored by the College of Arts and Science Role Model Speaker Fund, the Department of History, the Department of English, the Department of Languages, Literatures and Cultural Studies, the program in Women's and Gender Studies and St. Thomas More College.