Science Ambassador Program Celebrates Continued Growth, Success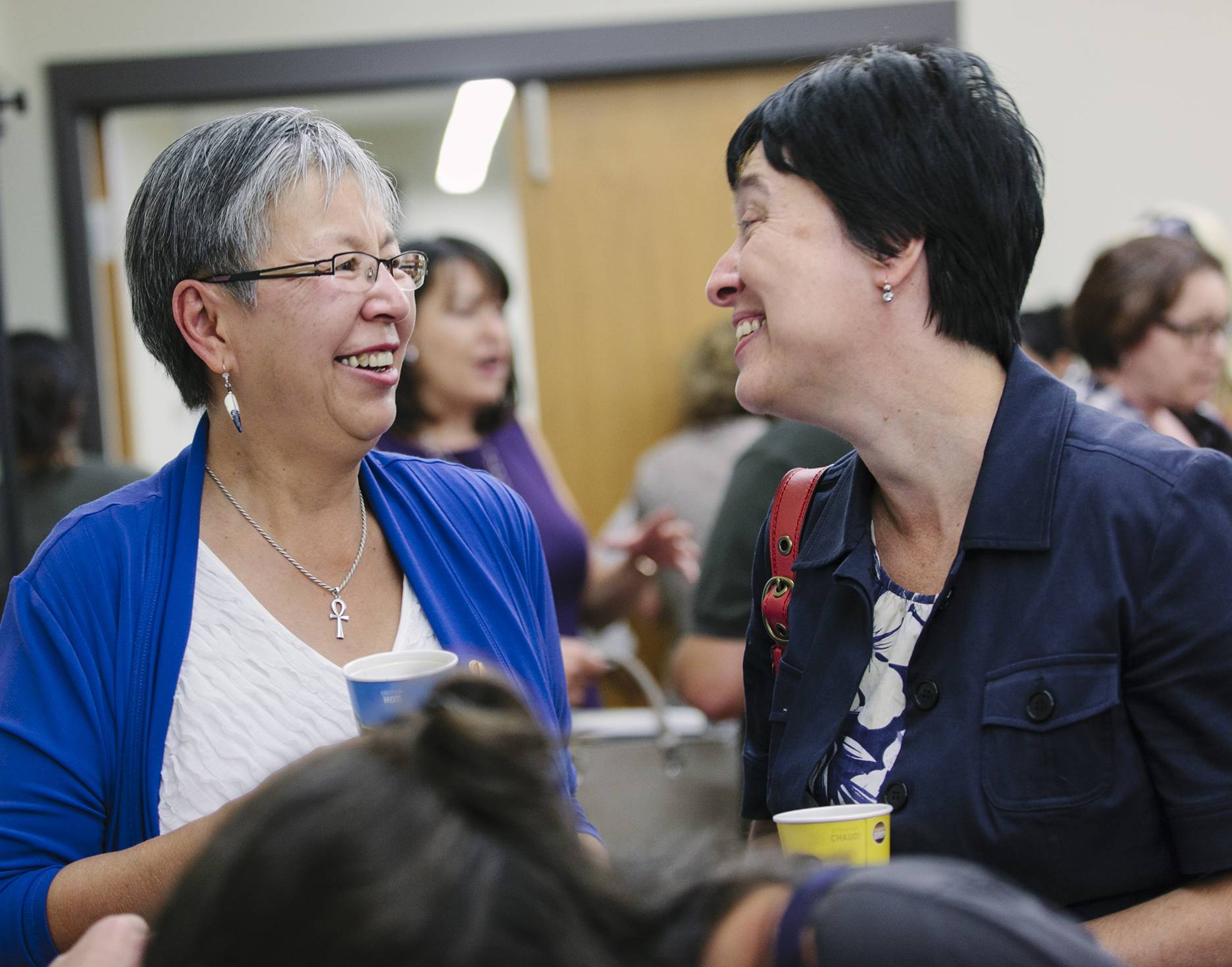 By Sandy Bonny
Science Ambassador Program Coordinator
Photo: Her Honourable Senator Lillian Dyck (left) and Science Ambassador Program founder, Julita Vassileva (Cameco/NSERC Prairie Women in Science and Engineering Chair 2006-2011) at the SAP 2013 celebration event.


A gathering Aug. 22 at the Diefenbaker Canada Centre celebrated the achievements of the 2013 Science Ambassador Program.
In an introductory address, Peta Bonham-Smith (vice-dean for the Division of Science in the College of Arts & Science) congratulated the program's strong contribution to the University of Saskatchewan's commitment to engaging with Saskatchewan's Aboriginal community, priorities "which emphatically include promoting the best possible experience of teaching and learning among Saskatchewan's growing population of Aboriginal youth."
This year, the Science Ambassador Program sent 17 senior undergraduate and graduate students from science, engineering, agriculture and health science colleges out to deliver creative and culturally-relevant support to science teaching and learning during four-to-six, week-long placements (April-June) in 10 remote Aboriginal community schools across northern Saskatchewan (Fond du Lac, Wollaston Lake, Black Lake, Stony Rapids, Green Lake, Pinehouse Lake and Beauval, SK; The Pas, Flin Flon, Opaskwayak Cree Nation, MB).
The Science Ambassador Program was initiated by Julita Vassileva (Cameco/NSERC Prairie Women in Science and Engineering Chair) in 2007, and since 2011 has been offered through the Division of Science, College of Arts & Science.
Reaching 135 teachers and 2,841 students (80 per cent of whom have Aboriginal ancestry), 2013 marked the program's biggest year yet.
A well-represented audience came out to learn about the 2013 program from the Science Ambassadors first hand, including U of S President Dr. Ilene Busch-Vishniac, Jim Basinger (associate vice-president, research), USSU President Max Fineday, MP Kelly Block, MLAs Don Morgan and Rob Norris, and leadership from the science, engineering, education and health science colleges, as well as representatives from industry partners.
MLA Don Morgan, Minister of Advanced Education, opened the celebration, congratulating the University for taking this role in supporting community educators, and in creating an equitable and inspiring future for Saskatchewan's graduates.
The Honourable Senator Dr. Lillian Dyck gave a keynote talk, highlighting the important role community engagement by scientists can play in overcoming the endemic underrepresentation of Aboriginal peoples and perspectives in science and engineering. She said a relational approach, supported by the two-way cultural learning that characterize the Science Ambassador Program, goes a long way to addressing the distrust of Western science in many First Nations communities.
U of S students Amir Abolhassani, Sara Mansouri, Davida Bentham, Kai Ni and Mohamed Kassem gave dynamic presentations about the specific activities they undertook in their roles as Science Ambassadors. From organizing hands-on science activities across the north, to a full-fledged science fair in Green Lake, the Science Ambassadors worked hard to support teachers in making science fun and engaging, and to connect with community priorities for youth.
Program highlights for 2013 included studying physics with balance eagles, making polymeric slime, sampling and analyzing soils and waters, getting crafty with soil paints, and engineering challenges to design hydraulic powered boats, bridges, shelters, and biomechanical arms.
Green Lake School Principal Jordan Kolbeck joined the celebration remotely to share his view of the program—the benefits his students and teachers experienced ranged from exposure to creative pedagogies and exciting experiments, to perspective-broadening contact with authentic and inspiring youth mentors, Science Ambassadors Kai Ni and Neil Patel.
Science Ambassadors share their knowledge and enthusiasms with Aboriginal students during their placements, and they learn a lot too: "In this program is, we learn as much as we teach," said masters of physics student Mohamed Kassem. 2013 Science Ambassadors learned about Indigenous and community-based teaching practices, shared in cultural events and land-based activities, and in many cases picked up some Dene, Michif or Cree vocabulary.
"This program has been very beneficial to me," says computer science masters student Sara Mansouri, "It is a great way to learn about the geography (physical and social) of Saskatchewan, and I have grown as a person in my ability to interact with a diversity of people, to trouble shoot, problem solve, and use and share skills and knowledge outside of the classroom. Also, we had so much fun!"
Year-by-year, the Science Ambassador Program is having a positive impact on the attitudes and awareness of math, science, and engineering in Aboriginal community schools. In The Pas, Man., hosting Science Ambassadors for six continuous years has contributed to a 40 per cent increase in high school science enrollment.
As program coordinator Sandy Bonny shared feedback from participating students and teachers, she noted that all participating communities have requested Science Ambassadors to return in spring 2014, and some communities have requested modest extensions in placement length.
By supporting science education in the K-12 system, and providing youth mentors who can share the realities of university student life, the Science Ambassador Program aims to support successful transitions for Aboriginal students interested in pursuing careers and continuing education in science and related fields by, "Making science fun and relevant, One community at a time!'
The 2014 Science Ambassador Program will return to all 10 participating communities if full funding is secured, and may have capacity to expand to as many as three new communities.
Though offered through the Division of Science, College of Arts & Science, this program has received intercollegial cooperation as the University of Saskatchewan's STEM colleges joined resources to meet Aboriginal community priorities.
To learn more about the program, and how you can support or participate, contact program coordinator Sandy Bonny (sandy.bonny@usask.ca; 306-966-1448).
Recruitment of 2014 Science Ambassadors will begin in November 2013, and applications will be accepted on an ongoing basis.