Shannon McAvoy wins 3M National Student Fellowship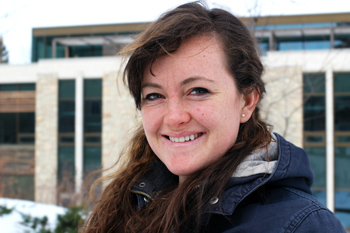 Shannon McAvoy has become the second-ever U of S student to receive the prestigious 3M National Student Fellowship.
McAvoy, a third-year Regional and Urban Planning student, is one of ten students across Canada to be awarded a 2014 fellowship, which recognizes outstanding leadership in the academic sphere.
The Society for Teaching and Learning in Higher Education (STLHE), which administers the awards, cited McAvoy's extensive volunteer experience as well as her "self-direction, maturity, passion and engagement" in choosing her for a 2014 fellowship.
McAvoy volunteers as a peer mentor for the University Learning Centre, sits on the executive of the Planning Students Association and volunteers for prison outreach activities through St. Thomas More College's Service & Justice Project. She has been part of the Huskies track and cross-country teams, organized the 2013 Catholic Students Association Conference and worked for the summer performing cultural history mapping for the city.
"I'm really honoured," says McAvoy, who credits the many volunteer opportunities available on campus and the support she received during the application process as contributors to her success.
McAvoy met the university's previous 3M Fellowship recipient, Victoria Cowan, through the University Learning Centre where they both volunteer as peer mentors. Cowan helped guide her through the application process.
McAvoy says she would be happy to pass on the favor to applicants for next year's 3M Student Fellowships.
Fellowship recipients are given $5,000 and an invitation to the annual STLHE conference in June, where they will collaborate on a project aimed at enhancing post-secondary teaching and learning.
"I'm really excited to get to know the nine other students," says McAvoy.
More information on the 3M National Student Fellowship