ICCC Visiting Fellow, Maurice Labelle: Lecture March 7th at 1:30
The Interdisciplinary Centre for Culture and Creativity is pleased to present a lecture by ICCC Creative Space Visiting Fellow, Maurice Labelle:
De-Coca-Colonizing Egypt: Globalization, Decolonization, and the Egyptian Boycott of Coca-Cola, 1966-68.
Maurice Labelle
Thursday, March 7, 1:30pm
Digital Research Centre (DRC), Room 145 Arts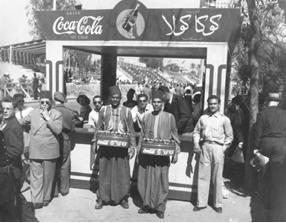 By the mid-way point of the twentieth century, many Egyptians made Coca-Cola their beverage of choice. Much like elsewhere in Africa, Asia, Europe, and the Americas, 'the pause that refreshes' became not only a glaring component of Egyptian society, but also a staple in local Muslim households and a symbol of the fruits of globalization.
Yet Egyptian thirst for "Cacoola"--as it was locally known--drastically fizzled when, in April 1966, the firm consented to the opening of a bottling franchise in Israel.
This presentation explores the de-coca-colonization of post-independence Egypt and, in the process, highlights the interplay between economic globalization and political decolonization. Believing that Coke's expansion into the Holy Land buttressed Israeli militarism and settler colonialism as well as Western imperialism, Egyptians at this time revisited the meaning of Coca-Cola and its association with their national modernity. The Coca-Cola Company's reluctance to revoke its commercial extension into Israel obliged the Egyptian government to reject the multi-national corporation's exceptionalist discourse of development, view Coke as a political threat, and vote in favor of an Arab League boycott. Ultimately, Cairo enforced the latter through national legislation in April 1967 and permanently closed its borders to Coca-Cola on 1 August 1968.