uSing uSask Choral
uSing uSask is a non-competitive festival designed to celebrate the successes of choirs and inspire them with feedback to challenge them to greater musical heights. All choirs at every age and stage of development are welcome. 
From Thursday October 26th to Saturday October 28th, 2023
Featuring clinician Dr. Rachel Rensink-Hoff, Brock University
For more information, contact Dr. Jennifer Lang at jennifer.lang@usask.ca.
Festival Information
Clinics
Performances and clinics will be held in the afternoon and evening on Thursday October 26 and in the morning and afternoon on Friday and Saturday.  Each ensemble will have up to 20 minutes of performance time, followed by a 30-minute workshop with the guest clinician.  All performances and clinics will be held in Convocation Hall at the University of Saskatchewan.
Choral Celebration Concert
In addition to a personalized clinic your choir is invited to perform one song (or 2 depending on numbers of participating choirs) with your choir in the audience showcase and to also participate in a mass choir collaboration that will include the Greystone Singers.  The clinician will choose 3 pieces: SATB, treble voices, and lower voices.  You are welcome to have singers in all 3 pieces.  Original scores will be provided to you and your singers.  Your singers must be present at the Friday evening rehearsal to participate in the Choral Celebration Concert.
The rehearsal for the mass choir will be on Friday evening at 6 pm. and the celebration showcase will be on Saturday at 3 pm in Convocation Hall.  Participating choirs will perform one (or two) songs in the showcase and we will conclude the program with three mass choral selections chosen and directed by our guest choral clinician.
Directors' Dinner
This will be a welcome opportunity for choral directors to greet each other and converse in an informal and collegial environment.  Appetizers will be provided at the Scarlet Lounge (Sheraton on Spadina Crescent E).  Beverages and dinner will be available for purchase. 
Clinician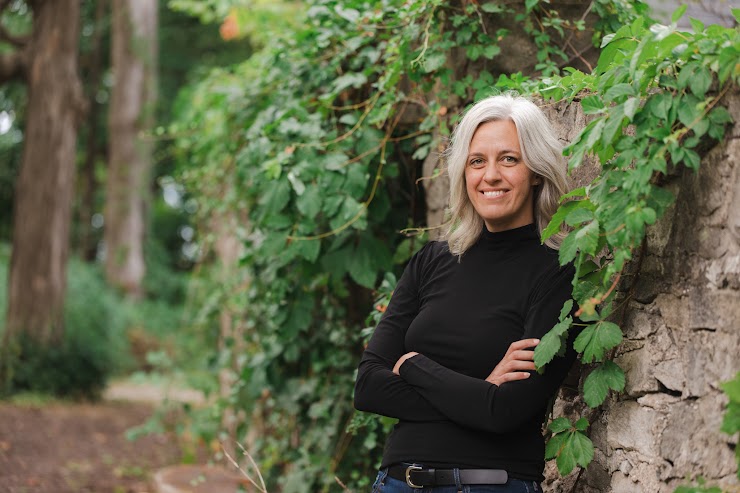 Dr. Rachel Rensink-Hoff is Associate Professor of Music at the Brock University Marilyn I. Walker School of Fine & Performing Arts, Conductor of the Brock University Choir and Sora Singers and Artistic Director of the Avanti Chamber Singers. Prior to her appointment at Brock University, she spent eight years on faculty at McMaster University.
2014 winner of the Leslie Bell Prize for Choral Conducting of the Ontario Arts Council, Rachel and choirs under her direction have been the recipients of numerous honours and awards. Her university women's choir earned first prize in their category of the 2015 National Choral Competition for Amateur Choirs and in 2019 the Avanti Chamber Singers was named "Most Promising New Adult Ensemble." In 2022, she received the Arts in Education Award by the City of St. Catharines.
Past Vice-President of Programming for Choral Canada and Past-President of Choirs Ontario, Rachel maintains an active career as adjudicator, clinician, workshop presenter, and juror both locally and across Canada. She has served as guest conductor of the Nova Scotia Youth Choir (2017), the Alberta Youth Choir (2022) and the Ontario Youth Choir (2023).
Recipient of the 2010 Choral Canada National Choral Award for Outstanding Dissertation, Rachel has published numerous articles on choral pedagogy and repertoire in the Choral Journal, Anacrusis, and the Canadian Music Educator. She has presented at conferences for Choral Canada, the Ontario Music Educators' Association and Choirs Ontario and internationally with the American Choral Director's Association and the International Federation for Choral Music World Symposium on Choral Music. She is also founder and leader of Brock's Niagara Choral Workshop program for choral teachers and conductors. Her ongoing research focuses on conductor training and mentorship, singing and wellbeing, and artistic creativity as it relates to choral rehearsal techniques and concert programming.
Rachel holds Master of Music and Doctoral degrees in choral conducting and music education from Western University. She has also completed additional choral studies as Conducting Fellow in the Chorus America Conducting Academy and participant in the Eastman School of Music Summer Conducting Institute, the Voice Care Network of St. John's University, Minnesota, and at the University of Toronto.