About the series...
The Music Education in Action Series is an outreach initiative within the Department of Music for Music Education students, educators and musicians to collectively explore various music education contexts. 
We host one workshop per term and invite students from all over the campus (particularly music and education students), teachers, and community members to experience intersections of music education as they occur in schools, communities, and beyond.
Denise Gagne - Saturday, April 2nd
The USASK Department of Music welcomes verteran music educator Denise Gagne for an exciting series of workshops!
Denise Gagne is a music specialist with 40+ years of experience teaching band, choir and classroom music from pre-school to College levels. Her choirs and bands won many awards at Music Festivals and performed for local and national sporting events, on national radio and even for the Queen. Denise has a Bachelor of Music from the University of Victoria, a Bachelor of Education from the University of Saskatchewan, a Diploma in Music from the University of Auckland (pending), and a Post Graduate Diploma in Fine Arts (Kodàly Level 3) from the University of Calgary with Lois Choksy. She has completed Orff Level 3 and additional Orff training with Cindy Hall, Jay Broeker, Jos Wuytack and Donna Otto.
Denise has served on the boards of the Saskatchewan Music Educators Association, the Saskatchewan Band Association, and served for eight years on the board of the Kodàly Society of Canada. Denise is currently managing editor of Themes & Variations, preschool music teacher and frequent visitor to elementary school music classrooms.
Denise is the author or editor of more than 100 publications for K- 6 music teachers including the Musicplay and Musicplayonline curriculum. She has been a workshop presenter in every Canadian province and territory and all 50 states. She presents regularly for Orff and Kodaly workshops, preschool and kindergarten conferences in Canada, the USA, Asia, and Australia! Her workshops are fun, practical, and activity based! 
The workshops with Denise will all take place on Saturday, April 2 2022 in Quance Theatre. The workshops offered are:
9:00AM-10:30AM Moovin and Groovin:  In this session, we will sing, move, dance and play no-touch or adapted games and dances.  We'll have fun reading, writing, improvising and creating because all of these games teach many concepts.
10:30AM-12:00PM Buckets of Fun:  In this session, Denise will share a sequence for teaching students to play bucket drums or desk drums. Tips for teaching, a sequence of skills, and fun pop song play along options will be included
1:00PM-2:30pm Music Theory That's Fun:  Children who are musically literate are given the tools to become life-long music makers.  In this session we'll explore fun ways to teach theory:  games, ball bouncing, bean bags and many activities!
2:30PM-4:00PM Singing Games for Spring:  In this session Denise will share singing games for spring that will have your students singing, moving and learning many musical concepts!  These lesson ideas will be great for spring – or for any time of year!   Learn some new games, movement activities, and get many ideas for engaging ways to teach kids music reading, writing, and listening.
Entry to all workshops is free of charge! Interested individuals can register to attend sessions here.
Episode 1
Tools for Remote Instruction
Past Events
2021: Taste of Orff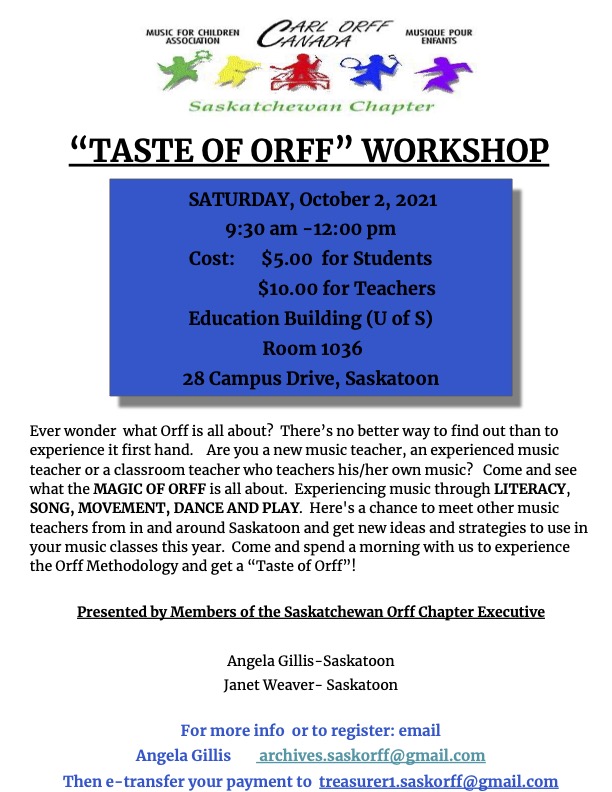 2019: First Nations Drum and Rattle Songs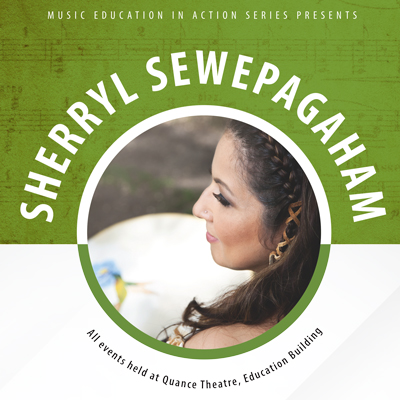 Sherryl Sewepagaham (Cree-Dene) is from the Little Red River Cree Nation in northern Alberta. She received her Bachelor of Education (BED) in 2000 and her Bachelor of Music Therapy (BMT) in 2017. She has worked for the Edmonton Public School Board and the Edmonton Catholic School District as an elementary music teacher, teacher consultant, and cultural presenter for 18 years and is a founding member of the 2006 Juno-nominated trio, Asani. Sherryl is currently working as a music therapist at the Royal Alexandra Hospital in Edmonton and provides music therapy to adult patients at their bedside and in group settings in the areas of palliative care, geriatrics, dementias, and addictions. Sherryl still works as a presenter in schools, creates Indigenous teaching resources, and provides professional development workshops to teachers on her "Education Fridays." Sherryl is also continuously composing new songs for students, film projects, documentaries, choirs, and her own solo performances.
2018: Music in Action Modern Band Workshop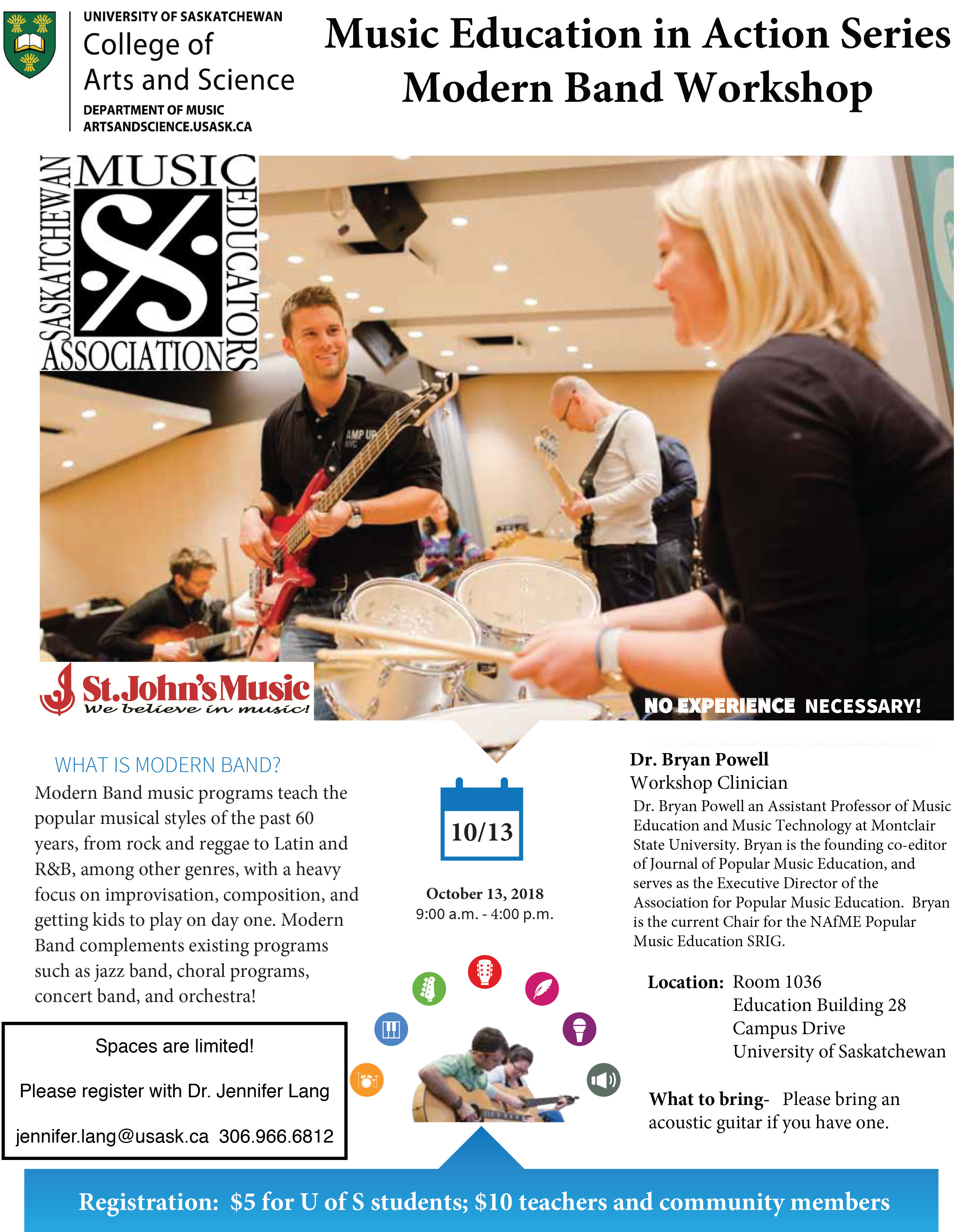 What is Modern Band?
Modern Band music programs teach the popular musical styles of the past 60 years, from rock and reggae to Latin and R&B, among other genres, with a heavy focus on improvisation, composition, and getting kids to play on day one. Modern Band complements existing programs such as jazz band, choral programs, concert band, and orchestra.