Special Seminar - Dr. Joe B. Gilroy
Posted on 2019-01-21 in Events
Jan 28, 2019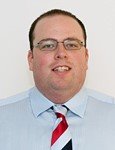 Title:
Molecular and Macromolecular Materials Derived from
Boron Difluoride Formazanates
Abstract:
Boron difluoride (BF2) complexes of N-donor ligands represent a diverse class of molecular materials that have shown utility as sensors, light-harvesting materials, and cell-imaging agents.[1] Given their application, there is a need for the discovery of new examples that can be produced by straightforward synthetic methods from low cost starting materials. BF2 formazanates, derived from formazans (R1-NH-N=CR3-N=N-R5), are readily accessible heterocycles that exhibit tuneable absorbtion, emission, and redox properties and potentially address this need. This presentation will highlight our recent work surrounding the chemical functionalization of BF2 formazanates en route to examples that show utility as cell-imaging agents (e.g., 1),[2] as precursors to a range of unusual BN heterocycles (e.g., 2)[3] and p-conjugated metallopolymers (e.g., 3),[4] and near-IR photoluminescent dyes.[5]
REFERENCES
[1]. Frath, D.; Massue, J.; Ulrich, G.; Ziessel, R. Angew. Chem. Int. Ed. 2014, 53, 2290.
[2]. Maar, R. R.; Barbon, S. M.; Sharma, N.; Groom, H.; Luyt, L. G.; Gilroy, J.B. Chem. Eur.
J. 2015, 21, 15589.
[3]. Barbon, S. M.; Staroverov, V. N.; Gilroy, J. B. Angew. Chem. Int. Ed. 2017, 56, 8173.
[4]. Dhindsa, J. S.; Maar, R. R.; Barbon, S. M.; Olivia Avilés, M.; Powell, Z.K.; Lagugné-
Labarthet, F.; Gilroy, J.B. Chem. Commun. 2018, 54, 6899.
[5]. Maar, R.R.; Zhang, R.; Stephens, D.G.; Ding, Z.; Gilroy, J. B. Angew. Chem. Int. Ed. 2019,
58, In Press.