Science Ambassadors Program Celebrates Success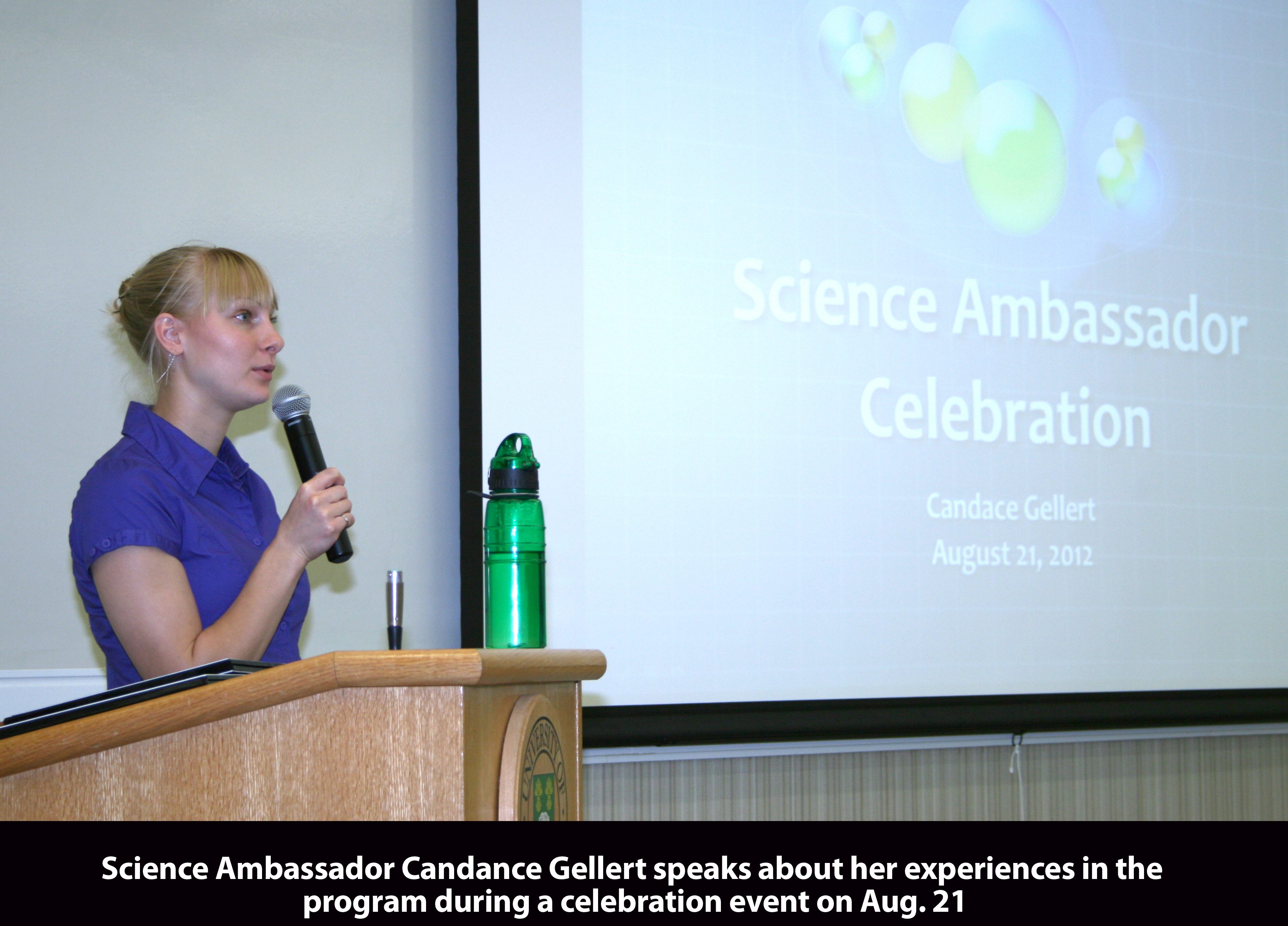 Submitted by Sandra Bonny
The '2012 Science Ambassador Celebration' at the Diefenbaker Canada Centre on Aug. 22 provided a forum for the program to share its success with the campus community.
In an opening address, Peta Bonham-Smith, vice dean for the Division of Science, acknowledged the broad support the Science Ambassador Program has received from university's science, engineering, and health science colleges. She also thanked industry and provincial partners, and NSERC's PromoScience program, all of which share a commitment to providing the "best possible experience of science-learning" to students in Saskatchewan, including a growing proportion of Aboriginal youth.
Founded in 2007 by NSERC/Cameco Prairie WISE (Women In Science and Engineering) chair Julita Vassileva (computer science), the Science Ambassador Program provides hands-on support to teachers and students in remote Aboriginal community schools by pairing them with university Science Ambassadors for four-to-six week placements. In 2012, with the completion of Vassileva's chair, the program has relocated to the Division of Science under the supervision of Bonham-Smith.
Building on prior success, the 2012 Science Ambassador Program placed 12 Science Ambassadors in seven communities across Northern Saskatchewan and Manitoba where they worked with a total of 59 teachers and support staff, and 1,070 elementary and high school students. It is all done under the program's motto: "Making Science Fun & Relevant, One Community at a Time!"
At the Aug. 22 celebration, Science Ambassadors shared their experiences in remote communities this past spring: they acted as 'science contacts' for teachers, provided demonstrations and hands-on science experiences to students, participated in extra-curricular science-related activities, mentored students about opportunities for continuing education, and learned about Aboriginal culture and community first-hand.
The best thing about being a Science Ambassador for engineering graduate Candace Gellert was "helping kids to connect what they learn in science to their everyday lives." For International Applied Biology student Sanjie Jiang, it was learning about traditional Dene foods, being a role model, and showing kids that success in school can lead to opportunities "of every kind."
Manitoba's Kelsey School Division administrator Kathi McConnell-Hore joined the celebration to emphasize that schools in The Pas and Opaskwayak Cree Nation have come to value Science Ambassadors as positive mentors for their young people and professional development resources for their science teachers. Sponsorship of Science Ambassadors in the Athabasca Basin is provided, in part, by Cameco and AREVA. Cameco's Northern Community Liaison, retired school principal James Andrews, also presented at the celebration event, sharing his perspectives on the importance of providing educational support to Northern schools, as well as Cameco's commitment to continued sponsorship of the program for 2013.
The event was well represented, with leadership from diverse university colleges. Other guests included Senator Lillian Dyck, Saskatoon MLA Cam Broten, Federation of Saskatchewan Indian Nations science and technology coordinator Garry Sibley, pioneering Indigenous science educator Glen Aikenhead, past NSERC Women in Science and Engineering chairs Ann Condon and Val Davidson, and the University of Alberta's pioneering champion of science outreach, Margaret-Ann Armour.
At a follow-up dinner, Science Ambassadors received certificates of appreciation from the office of the vice-dean, Division of Science, awarded by MLA Cam Broten who spoke to the importance of equalizing educational opportunities for all Saskatchewan residents. The Honourable Lillian Dyck also congratulated the Science Ambassador Program, and awarded a certificate of achievement from the Senate Office of Canada to program founder Julita Vassileva. A great show of support for a growing program!
In 2013, the Science Ambassador Program will return to all seven communities that participated in 2012, and, pending funds, introduce as many as three additional communities to fun, culturally-relevant science programming.
Contact:
Science Ambassador Program
c/o Coordinator, Dr. Sandy Bonny
176 Thorvaldson Bldg.
P. 306.966.1448
Fx. 306.966.4884
Email. sandy.bonny@usask.ca