Mohsen Ahi Andy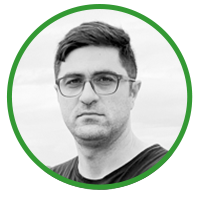 MFA 2021
"Participating in the MFA program at the University of Saskatchewan was an incredible experience. One of the things I loved most about it was the level of support I received as an international student and a newcomer, and how everyone cared about my progress and success."
Mohsen Ahi Andy's subject matter includes critical responses toward social and cultural norms, his personal perception of identity, and the imaging of issues such as displacement, the notion of memory, and alienation. He investigates memories that are vividly present but not real enough to cause joy or fear anymore. He is interested in exploring the alienated sense of detachment and displacement not only from a physical and cultural sense of place but from the perspective of his own body. He has participated in several solo and group exhibitions in Iran, as well as installed permanent and temporary public sculptures there.
MFA exhibition: Mohsen AhiAndy: Total Fact - Total Factitious - Art Galleries - University of Saskatchewan (usask.ca) 
Breanne Bandur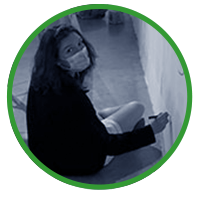 MFA 2021
"The MFA program at the University of Saskatchewan allowed me to dedicate two years to my artistic practice; this time was fundamental to key developments within my work. This was possible in part due to the quality of guidance and encouragement from faculty, which I believe the U of S's small program size cultivates. The creative liberty I felt working in an independent studio also contributed to this. Valuable, first-hand teaching opportunities remain a highlight of my MFA experience."
My practice is rooted in my understanding of drawing as a process-based medium with strong ties to intuition, as well as ways of knowing, feeling, and being that are experienced on emotive, cognitive, and physical levels. I consider drawing as a channel through which I can access these ways of knowing by engaging in dialogue with the immersive power of mark making. 
While drawing, I aim to collaborate with process rather than being directed by a particular result. This process is reflective, material, embodied, and attempts to engage in the "here and now." While drawing, I understand my body to be in dialogue with presence, physicality, action, intuition, memory, the subconscious, and as close to my own subjective "inner world" of thought and feeling that I know how to be. This dialogue is the most direct access I have to these large and open-ended aspects of being, which I attempt to extend and bring clarity to, through drawing.
MFA exhibition: Breanne Bandur: Ebb and Flow - Art Galleries - University of Saskatchewan (usask.ca) 
Jasmin Fookes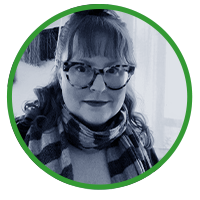 MFA 2021
"My time in the MFA program was an important investment in experimentation. It signalled a transition from being a printmaker working with a method that produced a "series" to an artist who works with collections. As well, I hadn't anticipated enjoying research and writing so much."
My intuition is the catalyst for the diverse assortment of materials I collect and organize trusting that a deeper camaraderie will emerge over time. I am energized by natural materials such as bygone blossoms and foliage, seed pods, and fallen nests spotted in urban green spaces by virtue of chance encounters. Additionally, I have amassed a collection of commonly undervalued, mass-produced objects reminiscent of my own everyday experiences, and wonderings such as antiquated nails, springs, deconstructed boxes, and glass bottles. I wish to cultivate a sense of wonder through the installation of these collections and excite new ideations by shifting the commonly accepted contexts a viewer may have. What is it that makes one thing ordinary and another extraordinary? This work revitalises in me a sense of wonder for the world we live in, its beauty, fragility, and complexity and the urgency of caring for it.
MFA exhibition: Jasmin Fookes: Forage - Art Galleries - University of Saskatchewan (usask.ca) 
Artist's website: www.jasminfookes.com
Adrian Golban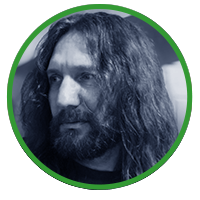 MFA 2021
"During the MFA program at the University of Saskatchewan, I had the chance to rediscover myself as an artist. The studio became my laboratory for experiments and meditation. The seminars with amiable conversations with my committee members, along with the theoretical classes, equally contributed to my redefinition as an artist. The strategy of 'letting myself get lost' in experimentation with unfamiliar things outside of my comfort zone, had a significant role to play in 'freeing me from myself', from art historical influences, and opening a path to my new self."
Adrian Golban is a Romanian – Canadian artist working predominantly in the medium of sculpture, but his practice also includes painting, photography, video installation and performance. He trained in Romania in figurative and technical traditions with wood, stone and bronze. Since arriving in Saskatoon in 2012, he has adapted his working methods and now primarily expresses himself with found and everyday materials as well as clay. This transition has posed many challenges and opportunities; increasingly, he is referencing his diasporic identity, often working with memories and experiences specific to his life in Romania. Adrian holds a MFA from the University of Saskatchewan, a MA in Educational Management from University of Oradea and a BFA from the Academy of Visual Arts, Cluj-Napoca, Romania. His award-winning artworks have been exhibited across Europe and are in many private collections.
MFA exhibition: Adrian Golban: Interstice - Art Galleries - University of Saskatchewan (usask.ca) 
Artist's website: http://www.artgolban.com
Nicole Leroy
MFA 2021
"My time in the University of Saskatchewan's MFA program was characterized by a genuine sense of safety and excitement. The work that I conducted both on and off campus was experimental and invigorating, and was supported by passionate, sincere, and incredibly generous instructors. In addition to my creative development, the program also granted me with the opportunity to develop my teaching practice, which has been a source of joy and empowerment for myself."
Nicole Leroy is a French-born American artist, whose practice and research focuses on commercial culture. Her work predominantly incorporates found objects and children's entertainment media, which form multimedia electronic sculptures. Reinforcing this practice, her research revolves around visual and popular culture, as well as the autonomy of readily-available consumer objects. This culminates in a multimedia project known as Fuzztopia, a fictional world of abandoned and familiar things given new life. Within this mythos, its denizens cooperate and treat each other with kindness—in the same way that humans should.
MFA Exhibition: Welcome to Fuzztopia - Art Galleries - University of Saskatchewan (usask.ca) 
Blackflash article: https://blackflash.ca/2021/06/09/dreams-of-ghosts-a-failing-grasp-on-the-past/
Fatemeh Ebrahimnejadnamini
MFA 2020
"Although I came to this program with a closed mind and thought I knew exactly what I wanted and what I was going to get from the program, I'm so glad that I was very open to new ideas and experiences. Grad school taught me to be open to new opportunities and new ideas. And in the end, I am a much stronger person and better equipped to handle things in the real world, both in my artistic and professional future careers. I am confident to say that I value the education that I was fortunate enough to have received."
Fatemeh Ebrahimnejadnamini received her MFA from University of Saskatchewan in 2020. Her artwork has a focus on contesting the division between the realm of memory of her home country Iran and the realm of experience of being in Canada. She seduces the viewer into a world of ongoing equilibrium and the interval that articulates the stream of daily events.
MFA exhibition: Architecture of a Moment - Art Galleries - University of Saskatchewan (usask.ca) 
Gabriela Garcia-Luna
MFA 2020
"One of the best things I experienced during my time studying at the University of Saskatchewan was having wide access to the different studios and areas of learning, which provided valuable tools for my artistic practice. The small scale of the MFA program also made it possible to have close and constant contact with my committee, other faculty, and my peers, resulting in nourishing and long-lasting professional and personal relationships."
Gabriela García-Luna is a visual artist born in Mexico who has lived and worked in Mexico, India and Canada. She works with multiple mediums including photography, print, drawing, video and installation. In her practice Garcia-Luna departs from immersive explorations in the natural environment to develop a visual language that investigates concepts of place, identity and ways of seeing – conveying realities of hybrid nature.
 Garcia-Luna's work has been exhibited in Mexico, Canada, India and the UK. Her work has received awards from FONCA- CONACULTA Mexico, the Saskatchewan Arts Board and the Canada Council for the Arts and is part of public and private collections including MacKenzie Art Gallery and Global Affairs Canada.
She holds an MFA in Studio Arts from the University of Saskatchewan and a BDes from the Autonomous Metropolitan University (UAM) in Mexico City. Her work is represented by Slate Fine Art Gallery in Regina, Saskatchewan.
MFA exhibition: Traces - Art Galleries - University of Saskatchewan (usask.ca) 
Artist's website: GABRIELA GARCIA-LUNA (gabrielagarcialuna.com) 
Gale Hagblom
MFA 2020
"I often speculate that being a graduate student in my earlier years may have been more suitable. That said, I delighted in the opportunity to refine my practice and insight about what I want to express and determine in my art. The MFA program provided this opportunity and how marvelous it was."
I am Saskatchewan born and raised. The prairie landscape is part of my heritage, my DNA. I walked and played in the fields that define the geography of the southern region of the Canadian prairies. The scenic views are vast and they celebrate the sparse and quiet beauty that underpins my aesthetic.

In my paintings, I employ a variety of techniques that are underpinned with translucent or opaque layers of paint that propose to reveal hints of what lies beneath. I occasionally insert expressive drawing and brush marks to animate the work. I embrace a minimalist and impressionistic aesthetic while embodying stillness and the illusion of quiet. My work is large in scale, subtle in form and composition, and often distinguished by highly saturated colours. The paintings incorporate an expansive palette accessing a mixture of abstracted and conceptually-imagined patterns.
MFA exhibition: Choreographed Space - Art Galleries - University of Saskatchewan (usask.ca)
Artist's website: http://gale-hagblom.squarespace.com/ 
Zoë Schneider

MFA 2018
"One of the best things about the MFA program at the University of Saskatchewan are the studios; located at the top floor of a historic building, the MFA studios are private, spacious, and bright with large angled windows. Thanks to Teaching Fellowships, the MFA's are able to gain classroom experience and financial help with tuition and living expenses. The student gallery on campus offers plenty of opportunities to exhibit ones' work and build connections with the larger arts community."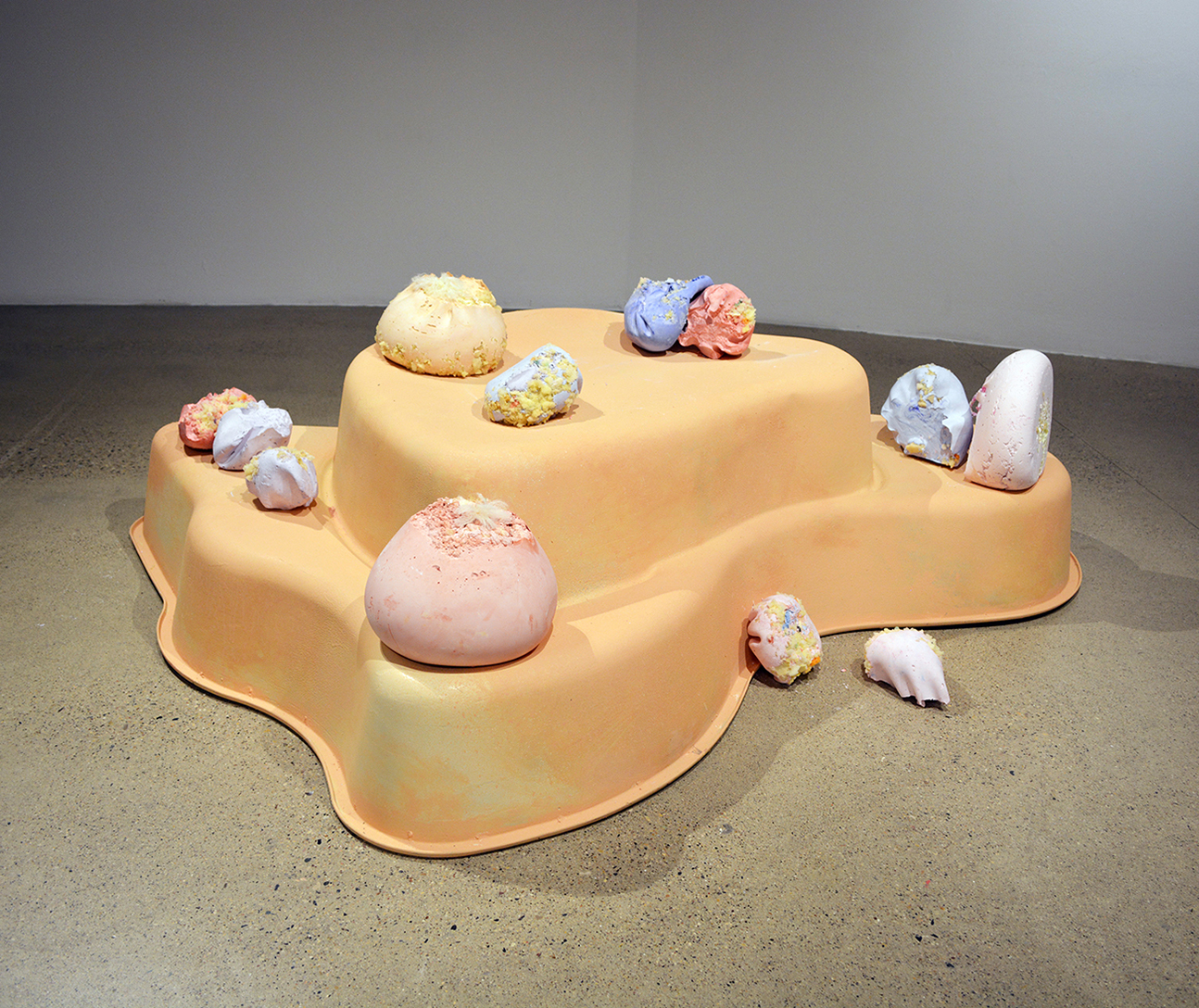 Zoë Schneider works mainly in sculpture and installation to critically examine the complexity of fat identity; investigating topics including the expanding body, the body under restriction, obsession in diet culture, fat utopias, the medical industry and the fat body, inherited food values, and societal confusion around food. Schneider has exhibited nationally and has had video work screened in the United States, Germany, and Denmark. She has participated in group exhibitions at the Art Gallery of Guelph, 621 Gallery (Tallahassee, FL), Blackwood Gallery, Neutral Ground, along with others and has a solo exhibition at the Estevan Art Gallery in 2020. Well-rounded and active as an artist, curator, and arts administrator, she is based in Treaty 4 Lands, Regina, Saskatchewan. She is the Visual & Media Arts Coordinator at the Organization of Saskatchewan Arts Councils.
Artist's website: http://www.zoeschneider.net/
Anahita Akhavan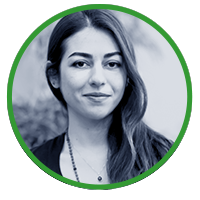 MFA 2016
" I can say studying the MFA program at the University of Saskatchewan was one of the most important stepping stones that I have taken towards my professional practice as an artist. Not only I was fortunate enough to receive an international graduate student fellowships that I got to practice and develop my teaching practice, but also I was able to apply for other fine art grants within the art department to participate as a production artist and a curator with my supervisor Allyson Glenn. This experience has allowed me to experience my first artist in residence experience in a world-class museum in Athens".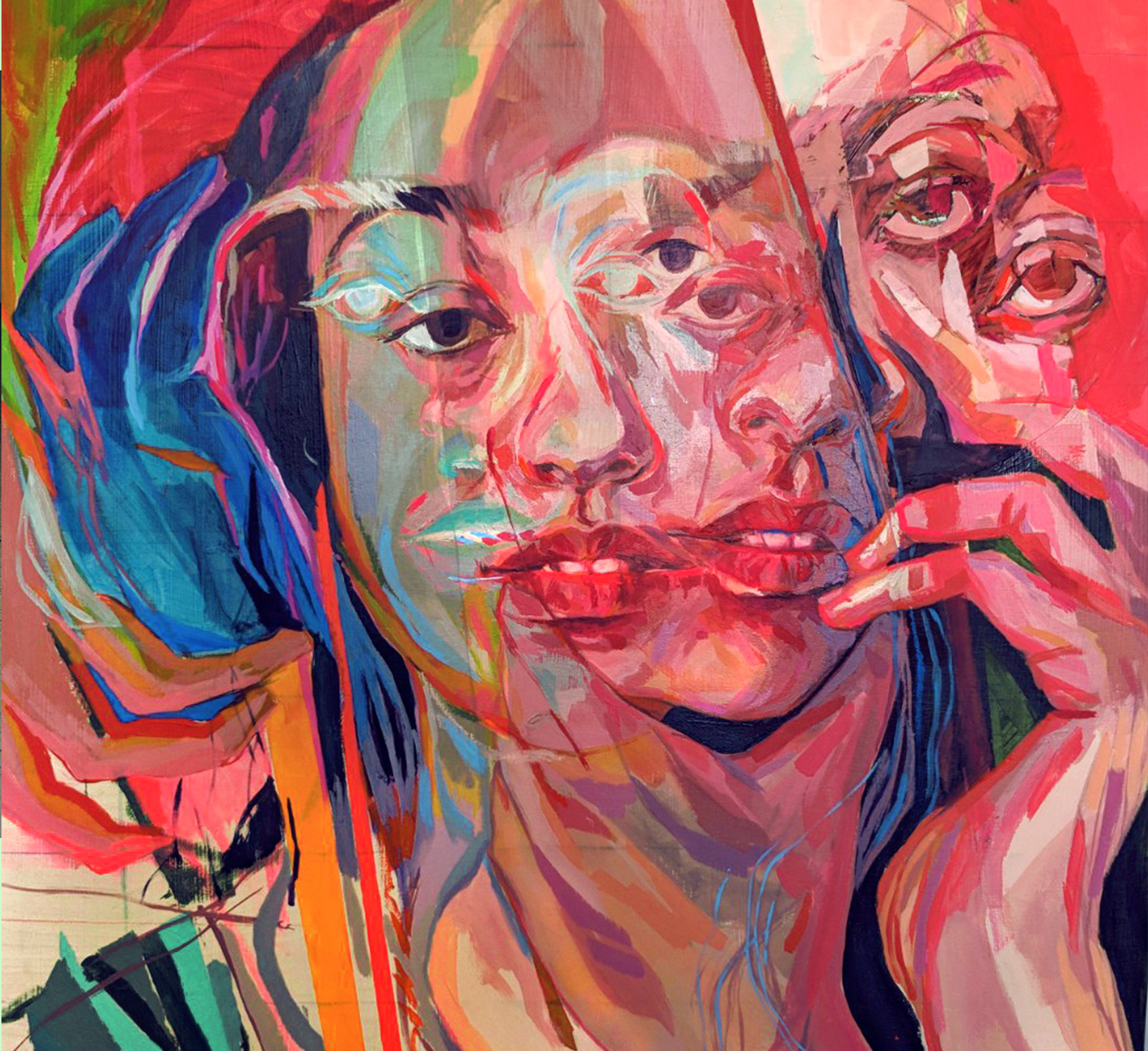 Anahita Akhavan's practice investigates the dialogue between personal identity and social reality.  The self-portraits explore a narrative as a response to her migration to Canada, illustrates her inner conflicts and cultural dysphoria in a colonial landscape. Bodies are distorted and fragmented into opposing, mirrored forms, intertwining and abstracting in a constructed, surreal space. This uneasy setting suggests her perplexity and ambivalence to her new "place", and the unsettlement of a self divided. Her fractured features take on a disquieting, eerie cast, viscerally evoking the discomfort of being caught "between". Akhavan has participated in solo and group shows across Canada, Iran, Europe, and the United States. Currently, she is based in Toronto, Ontario and teaches at Toronto School of Art.
Artist's website: www.anahitaakhavan.com
Xiao Han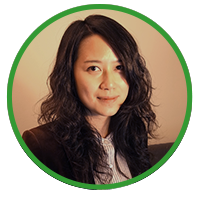 MFA 2016
"I like the art community in this program. It provides me so much inspiration and encouragement."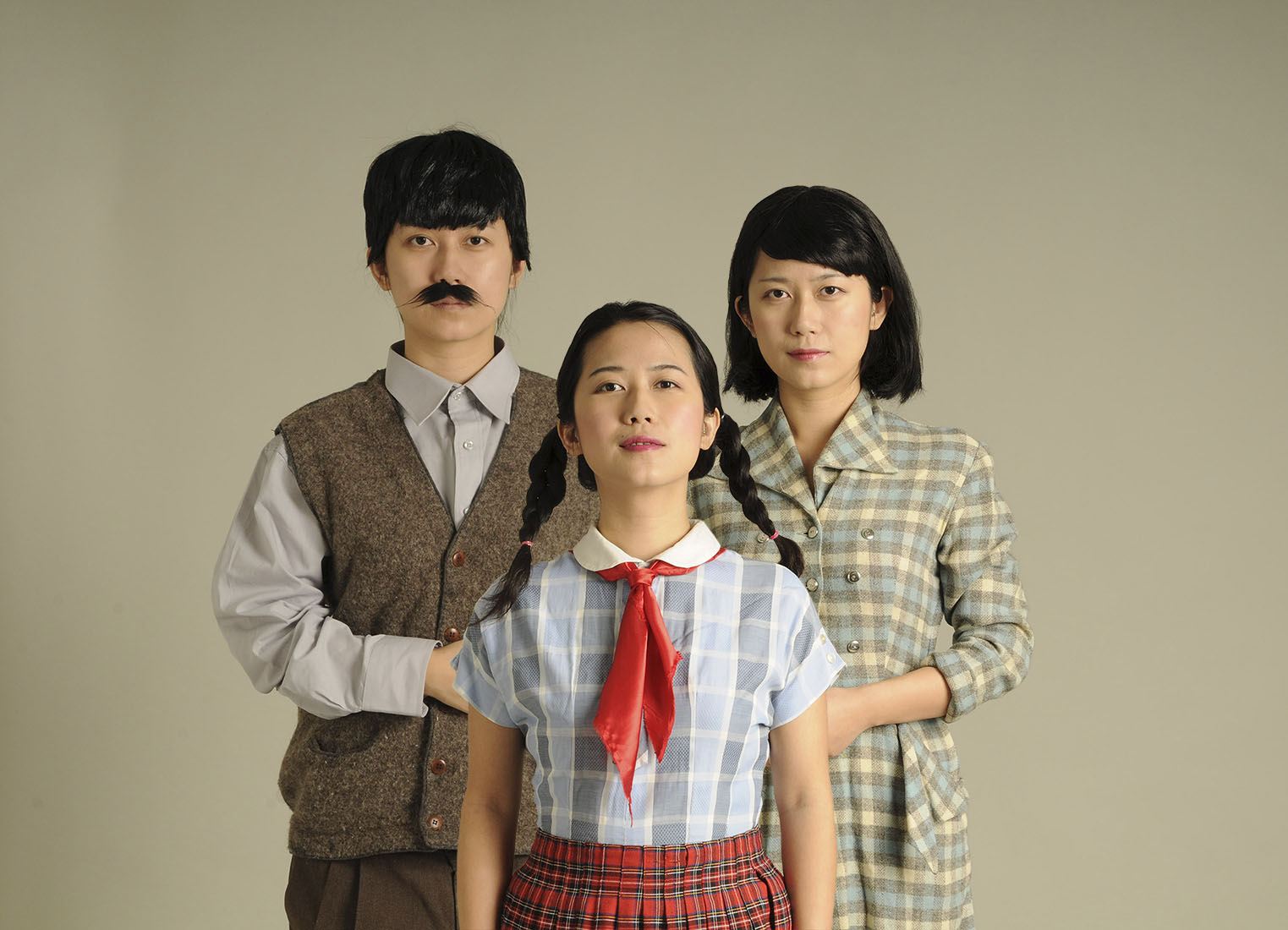 As a newly-minted Canadian citizen, Xiao dissects her identity through role play in impressively staged photographs that are reminiscent of movie stills and iconic painting but that, at their heart, reflect her family history and traditional culture with political undercurrents.  As described in an article on Xiao's work, Marcus Miller's writes, "Her work is seductive and imaginative,  but addresses trauma. She is the actor in photographic genre scenes that work as film stills for movies that haven't been made […]While her beautiful Proustian memories combine with official history to affect her viewers, they never allow for settled conclusions."  Han is a Sessional Instructor of Drawing and Photography and continues to pursue curatorial projects and exchanges. She has had group exhibitions at Design Department Gallery, Wuhan Zall Art Gallery, and Tanhualin, all in Wuhan China, AKA Artist-run Center, Fifth Parallel Gallery (University of Regina), and others, as well as solo exhibitions at Arnica Artist-Run Centre, Kamloops and the Gordon Snelgrove Gallery.  She has a permanent installation of works in Regina's Art Park, commissioned by the Lost Stories Project at Concordia University's Centre for Oral History and Digital Storytelling. An article on this work by Marcus Miller can be found here: http://www.gallerieswest.ca/news/xiao-han-s-remembrance-of-racist-things-past/
Artist's website: Xiao Han Art 
Mackenzie Browning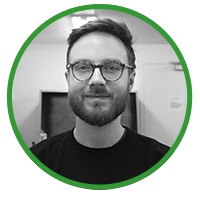 MFA 2014
"During my MFA at the University of Saskatchewan I enjoyed the creative energy of my committee members and the extensive printmaking facilities. The faculty were open to experimentation with new materials, techniques, and concepts."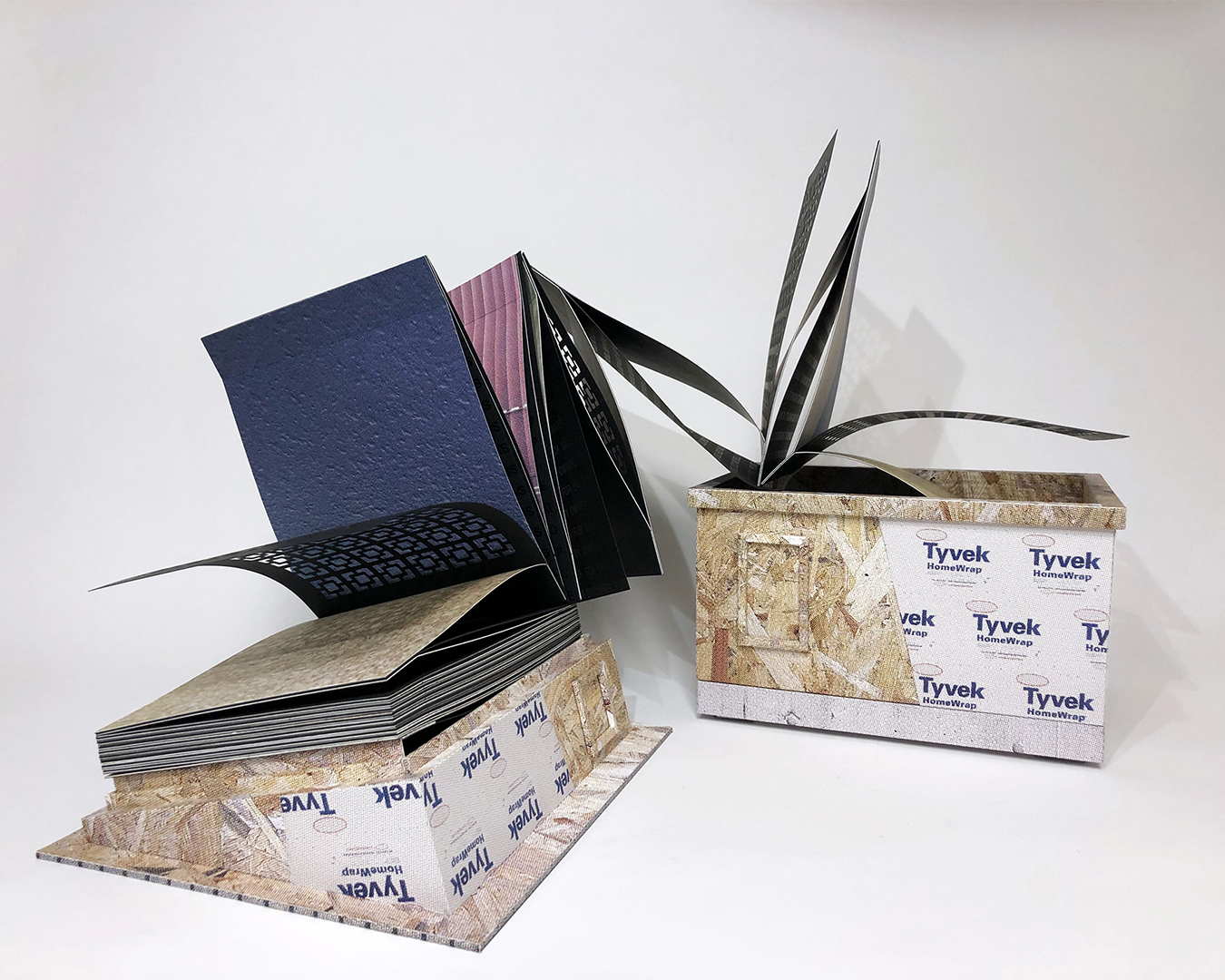 Mackenzie Browning is a Denver-based, artist who works primarily in screen-print, book arts, and print based sculpture. Mackenzie's aesthetic can be described as bold, meticulous, and inventive, often blurring the lines between design, craft and fine art. His artworks are constantly pushing personal technical boundaries, often becoming architectural in nature. Mackenzie's creations and installations reflect both his past and present lived experiences, a personal history that has primarily taken place in the suburban construct. Browning has participated in group exhibitions at John B. Aird Gallery, Modern Fuel Gallery, dc3 Art Projects, College Art Gallery/Kenderdine Gallery, and others, as well as solo/two-person shows at Art Gym Denver Gallery, Gordon Snelgrove Gallery, and Union Gallery (Kingston). He is a recipient of the 2017 Sue Cannon Award for Excellence in Printmaking, CVA (Denver) and a 2016 Vermont Studio Center Artist's Grant, (Johnson).
Artist's website: mackenziebrowning.com
Zachari Logan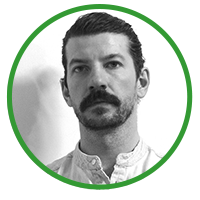 MFA 2008 (with Distinction)
"I think overall, the best part of my time as a student at the University of Saskatchewan was the intimacy. It is a small program with generous, beautiful studios for the MFAs. My committee was wonderful, and I always felt I could access them if I needed to for any reason- this was due in part, I think, to the scale of the program."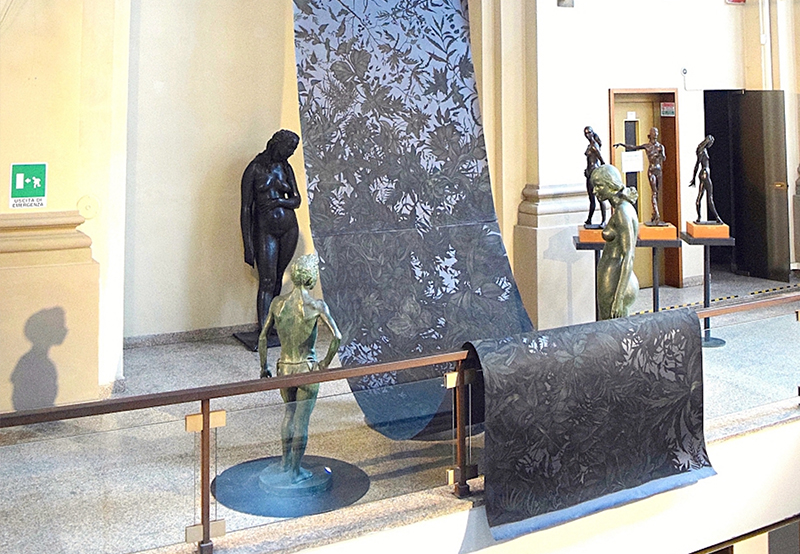 Zachari Logan is a Canadian artist, working mainly with large-scale drawing, ceramics and installation practices. Through a strategy of visual quotation, mined from place and experience, Logan evolves a visual language that explores intersections between identity, memory and place. Engaging empirical explorations of landscape, figuration, and overlapping art-historic motifs, Logan re-wilds his body as an expression of queerness.  Logan's work has been exhibited widely, in group and solo exhibitions throughout North America, Europe and Asia and can be found in public and private collections worldwide, including the National Gallery of Canada, Leslie-Lohman Museum in NYC, Art Gallery of Ontario (AGO), Remai Modern, TD Bank, McMichael Canadian Art Collection and the Scarfone/Hartley Gallery: University of Tampa among others. His work has been featured in exhibitions alongside the likes of Robert Rauschenberg, Betty Tompkins and William Morris.
Artist's website: https://www.zachariloganart.com/
Megan Dickie
MFA 2002
"My time at U of S makes me think of the texture and history of the campus, unfettered time in the top floor studios of the archaeology building, opportunities to teach following the completion of my degree and the uniquely supportive arts community of Saskatoon."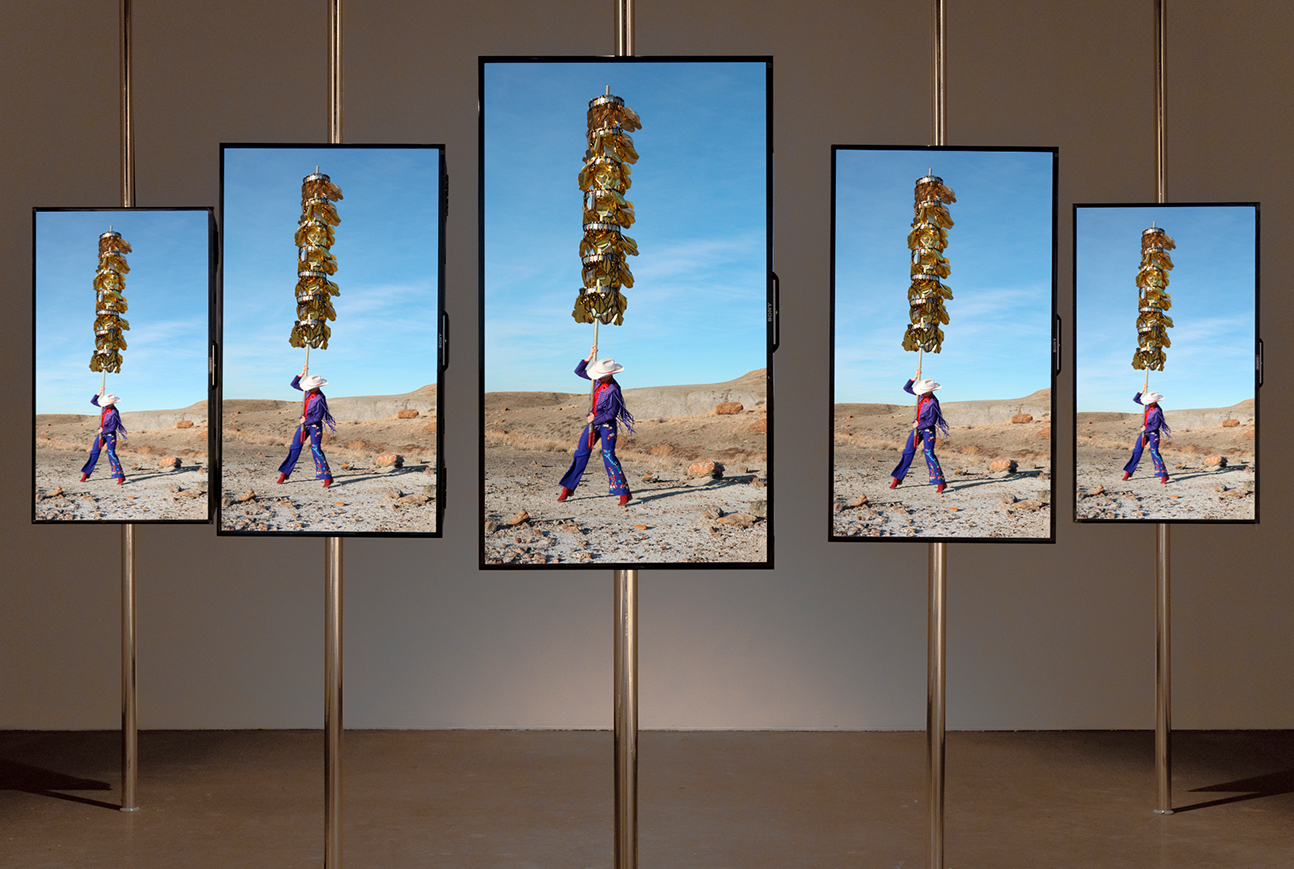 Megan Dickie's practice uses extreme physicality, choreographed set-ups, and fantastic failures as a means to poke at dominant systems and structures. Recent exhibitions include Art Gallery of Greater Victoria, L'OEil de Poisson (Quebec City), Open Space (Victoria), Campbell River Art Gallery, Durham Art Gallery (Durham, ON), Oxygen Art Centre (Nelson), Latitude 53 (Edmonton) Stride (Calgary) and Grunt Gallery, (Vancouver). Video works have been screened at University of Mary Washington Media Wall (Virginia, USA), TUFF (Toronto) BIDDU (Reykjavik) and Eastern Edge (St. John's) She is also the recipient of numerous grants from both the Canada Council for the Arts and the BC Arts Council. Her works are part of the collections of the University of Saskatchewan, Alberta Foundation for the Arts and the Nickel Arts Museum. Megan Dickie resides in Victoria, BC and is an Assistant Professor of Visuals Arts at the University of Victoria.
Artist's website: http://megandickie.com