On Safari
Downtown Saskatoon Tour
With fossils and more!
Are you ready for an adventure?
This guide will help you to find all kinds of surprises in downtown Saskatoon. We will see many animal and plant stone carvings, and there are other animals and plants hiding inside the stones!
Many of the buildings use a special type of limestone known as Tyndall Stone, a sedimentary rock that was built up over time trapping the remains of animals and plants which have been preserved as fossils. Although some of the buildings downtown are already 100 years old, the stones used for these buildings are much older. Tyndall Stone is the remains of an ancient sea floor from 450,000,000 years ago. Now that's history!
To go On Safari, click on any of the buildings below, or start at the Bessborough Hotel and do the whole loop. 
About the tour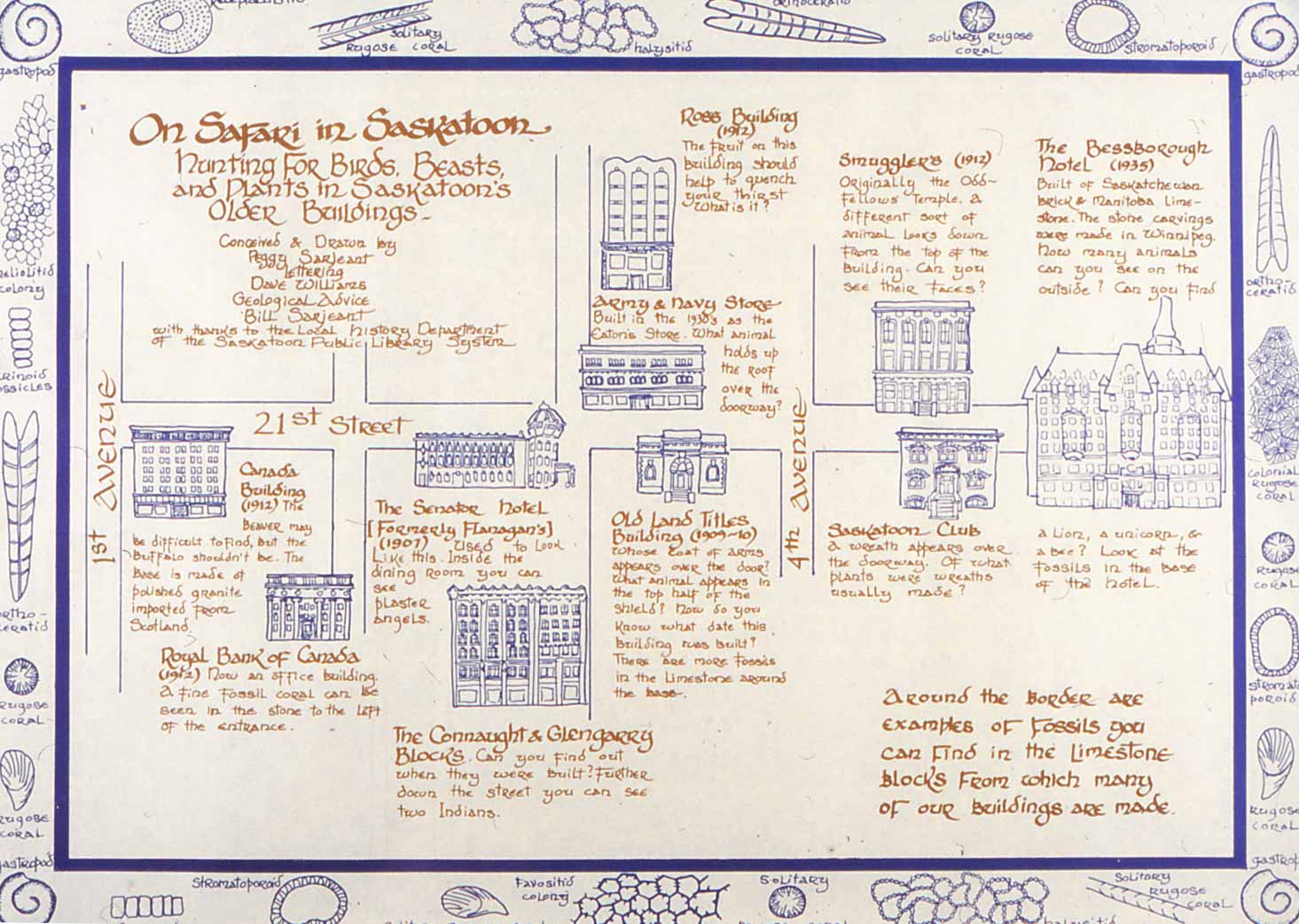 This tour is dedicted to Peggy and William Sarjeant who created the first On Safari Tour, and is a collaboration between the Museum of Natural Sciences and the Saskatoon Heritage Society.
The Saskatoon Heritage Society is a non-profit charitable organization, dedicated to the preservation of buildings, neighbourhoods and sites in Saskatoon that are of historical and aesthetic value. The Society also encourages Saskatonians to take an active interest in the history of our city. The buildings in our city are pretty great. Some have neat exteriors, and some have cool stories. We all live, work, and play in buildings every day, and they take care of us by providing us with shelter. Let's take care of our buildings!
On Safari coordinator: Jody Cason
On Safari artwork: Elaine Will, Ken Davis, and Jody Cason
On Safari geological consultants: Dr. Christopher K. West, Brittany Laing, Dr. Brian Pratt and Dr. Colin Sproat
Saskatoon is situated on Treaty 6 Territory and the Homeland of the Métis. People have lived here for at least 8,000 years, and during the Contact Era after the arrival of Europeans, Plains Cree, Dakota, Nakota (Assiniboine), Dene, Saulteaux, and Blackfoot peoples all lived in the Saskatoon area. You can visit the beautiful Wanuskewin Heritage Park to learn about the Indigenous peoples who live on the Northern Plains. You can also learn more about the traditional lands we live on, the treaties, and the impacts of colonization on Indigenous peoples by visiting the ConnectR website. 
If you prefer a hardcopy version of the tour, you can print off the On Safari Tour Guide and Colouring Book and take it with you.
Thank you!
This tour was made possible thanks to the support of our partners: