Giovanni Gallipoli, Vancouver School of Economics UBC Seminar - March 31, 2017
Posted on 2017-02-21 in News, Events, Upcoming Seminars
Mar 31, 2017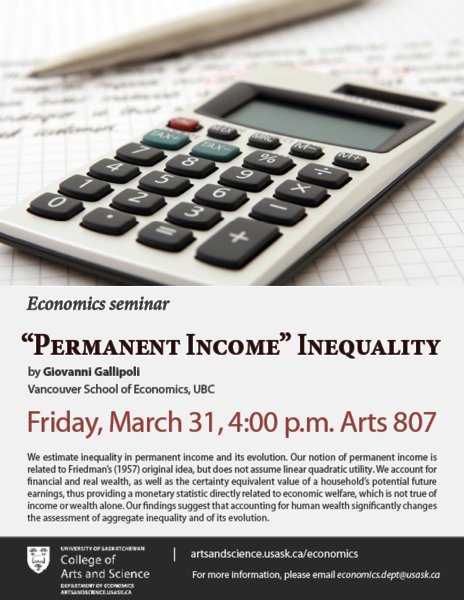 March 31, 2017
Giovanni Gallipoli, Vancouver School of Economics UBC, will present a seminar at 4:00 PM in the Timlin Room, Arts 807.
Seminar Title: "Permanent Income" Inequality
We estimate inequality in permanent income and its evolution. Our notion of permanent income is related to Friedman's (1957) original idea, but does not assume linear quadratic utility. We account for financial and real wealth, as well as the certainty equivalent value of a household's potential future earnings, thus providing a monetary statistic directly related to economic welfare, which is not true of income or wealth alone. Our findings suggest that accounting for human wealth significantly changes the assessment of aggregate inequality and of its evolution.
This seminar is part of the Department of Economics Seminar Series. Everyone is welcome.