Dr. Peter Slade, UofS Department of Agricultural and Resource Economics - February 28, 2018
Posted on 2018-02-15 in News, Events, Upcoming Seminars
Feb 28, 2018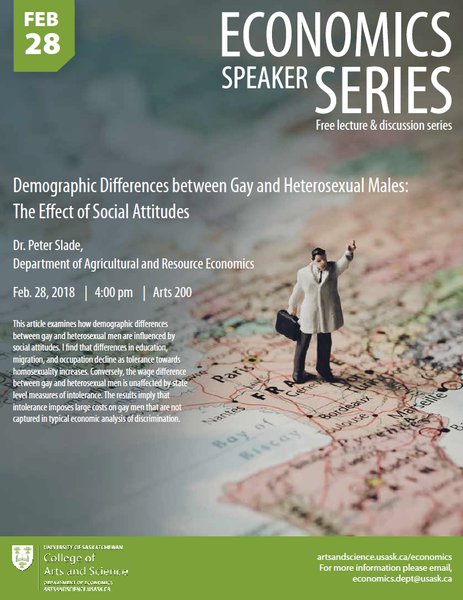 February 28, 2018
Dr. Peter Slade, UofS Department of Agricultural and Resource Economics, will present a seminar at 4:00 PM in Arts 200
Seminar Title: "Demographic Differences between Gay and Heterosexual Males: the Effect of Social Attitudes"
Abstract: This article examines how demographic differences between gay and heterosexual men are influenced by social attitudes. I find that differences in education, migration, and occupation decline as tolerance towards homosexuality increases. Conversely, the wage difference between gay and heterosexual men is unaffected by state level measures of intolerance. The results imply that intolerance imposes large costs on gay men that are not captured in typical economic analysis of discrimination.
This seminar is part of the Department of Economics Seminar Series. Everyone is welcome.