David Freeman, Simon Fraser University Seminar - October 27, 2017
Posted on 2017-10-25 in News, Events, Upcoming Seminars
Oct 27, 2017 to Oct 31, 2017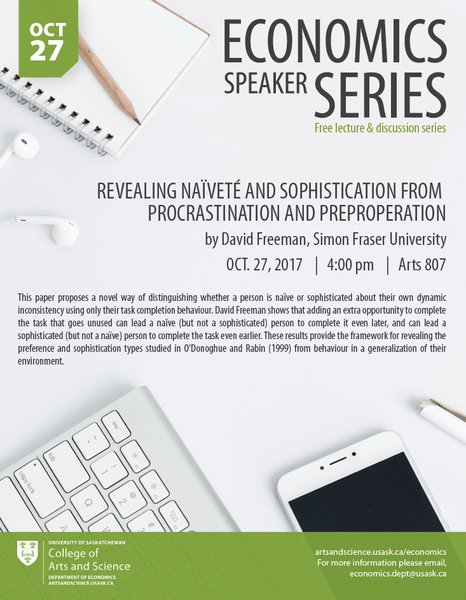 October 27, 2017
David Freeman, Simon Fraser University, will present a seminar at 4:00 PM in Arts 807.
Seminar Title: "Revealing Naïveté and Sophistication from Procrastination and Preproperation"
This paper proposes a novel way of distinguishing whether a person is naïve or sophisticated about their own dynamic inconsistency using only their task completion behaviour. I show that adding an extra opportunity to complete the task that goes unused can lead a naïve (but not a sophisticated) person to complete it even later, and can lead a sophisticated (but not a naïve) person to complete the task even earlier. These results provide the framework for revealing the preference and sophistication types studied in O'Donoghue and Rabin (1999) from behaviour in a generalization of their environment.
This seminar is part of the Department of Economics Seminar Series. Everyone is welcome.