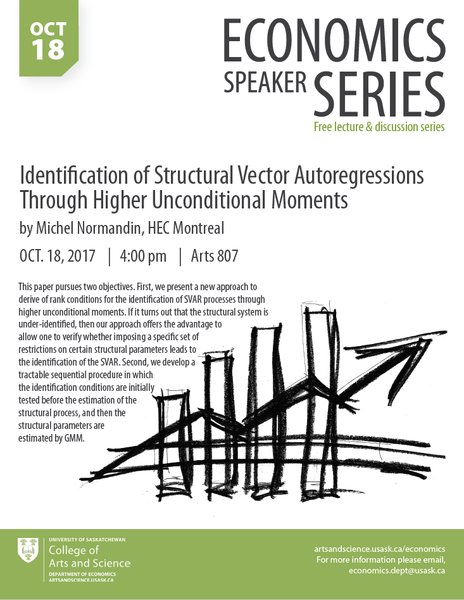 October 18, 2017
Michel Normandin, HEC Montreal, will present a seminar at 4:00 PM in Arts 807.
Seminar Title: "Identification of Structural Vector Autoregressions Through Higher Unconditional Moments"
This paper pursues two objectives. First, we present a new approach to derive of rank conditions for the identification of SVAR processes through higher unconditional moments. If it
turns out that the structural system is under-identified, then our approach offers the advantage to allow one to verify whether imposing a specific set of restrictions on certain structural
parameters leads to the identification of the SVAR. Second, we develop a tractable sequential procedure in which the identification conditions are initially tested before the estimation of the
structural process, and then the structural parameters are estimated by GMM.
This seminar is part of the Department of Economics Seminar Series. Everyone is welcome.