Under Milk Wood by Dylan Thomas
Posted on 2021-02-04 in Events
Feb 11-13, 2021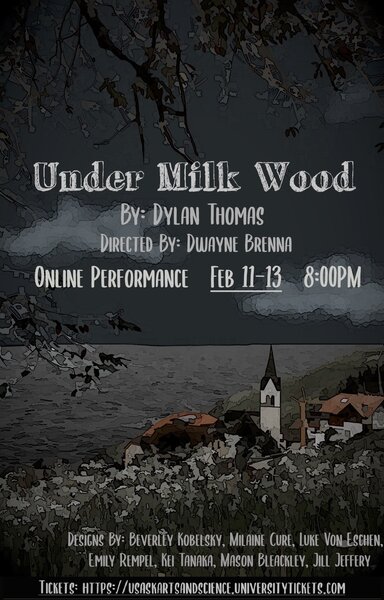 Directed by Dwayne Brenna
Designs by Beverley Kobelsky, Milaine Cure, Luke von Eschen, Emily Rempel, Kei Tanaka, Mason Bleackley, and Jill Jeffrey
Feb 11th-13th, 8pm
Tickets available for purchase here
--------------------------------------------------------------------------------------------------------------------
Under Milk Wood is a meditative romp through the lives of a small fishing village in Wales. Beneath the façade of village respectability lies a cauldron of remorse, longing, passion, and murderousness. That the play ends as it began, with the citizens of Milk Wood retreating to their beds and to the vast seas of their dreams suggests that the play owes a debt to absurd literature.
--------------------------------------------------------------------------------------------------------------------
The Department of Drama presents Greystone Theatre in a virtual online performance of Dylan Thomas's radio drama Under Milk Wood. Due to COVID-19 restrictions we cannot have an audience in our theatre but we can bring our theatre to you. This production involves 26 cast members, 6 designers, and 6 technicians operating the show but it is not complete until we have an audience watching. For more information on the production, visit our virtual lobby.
We have decided to lower ticket prices to $10 per livestream but there is also an option to donate as making virtual theatre still has costs associated with it. After your ticket purchase you will be added to the list of attendees that a private link will be sent out a few hours before the performance. The viewing will take place on YouTube where you can also engage with the chat function that will be moderated.
If you have any questions, please email jessica.klein@usask.ca.