Hours
We are closed Friday, November 10 and Saturday, November 11.
| | |
| --- | --- |
| Monday to Friday | 7am - 10pm |
| Saturday and Sunday | 10am - 10pm |
| Statutory holidays (and university closures in lieu of) | Closed |
| December 25 to January 2 | Closed |
Please note that in the evenings and early mornings, our fish and other animals need to rest and the aquariums and enclosures may not be lit. 
Admission
Admission to the Museum of Natural Sciences is FREE. We are drop-in and you do not need to book a visit. Visits are self-guided unless you are coming through our May and June field trip program. We also have some resources to help you make the most of your visit.
Location
We are located at 114 Science Place at the University of Saskatchewan in Saskatoon.
Getting Here
The easiest access is through the main doors off The Bowl.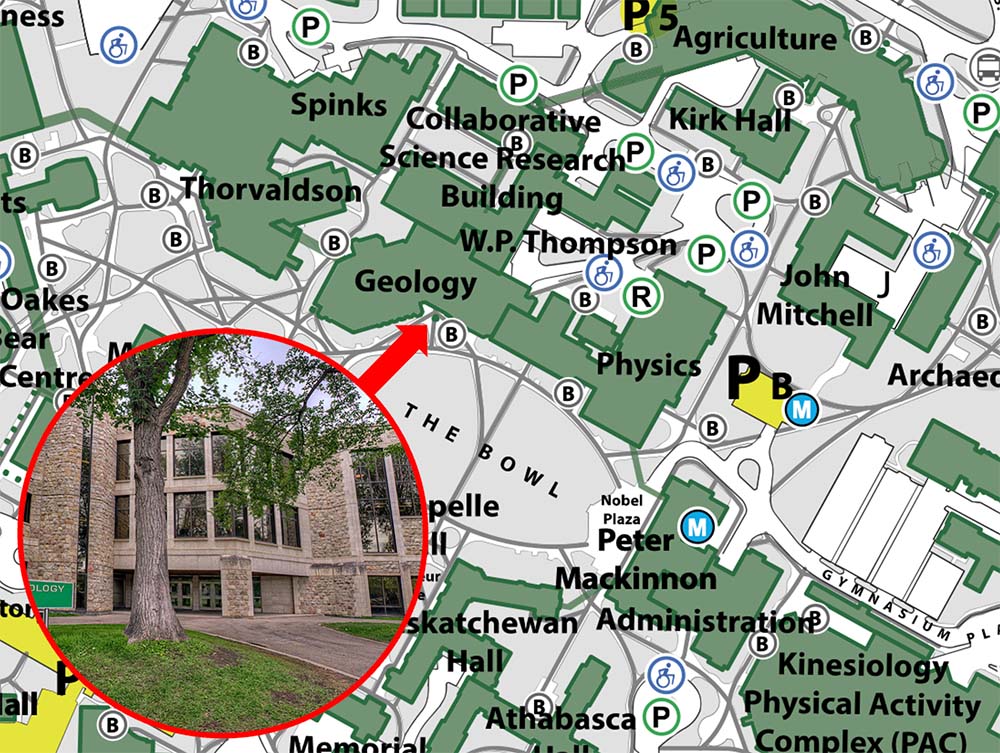 On weekends, only the rightmost power-assisted doors will be unlocked. If you find this door locked, you can get in through the Physics Building adjacent to the Geology Building. If you still can't get in, please call 306-966-5555 and they will come and let you in.
Due to the construction underway adjacent to the museum, there is currently no access through the Collaborative Science Research Building at 112 Science Place. If you coming from that direction, follow the detour signs to the museum.
Parking
There is metered and paid lot parking on campus. An easy option is parking at Place Riel just off Wiggins road, and then walking through Place Riel to the Geological Sciences building.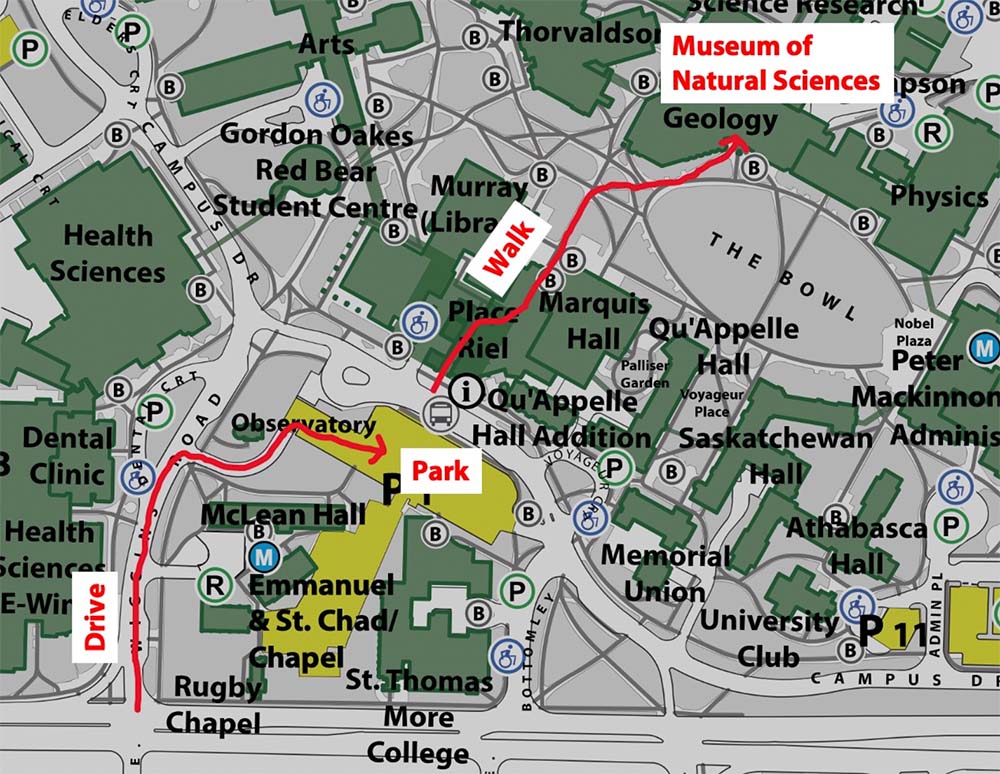 School Visits
Guidelines
To help the animals feel safe and secure in their homes, please do not tap on the glass aquariums and enclosures and do not play in the ponds.
You are welcome and encouraged to take photos of your visit, but do not use flash as it can scare the animals.
The museum is located near working classrooms, labs, offices and study spaces, we have many artifacts that are fragile and valuable, and loud noises can scare the animals. Please do not run or use loud voices.
Children must be supervised by parents, caregivers, or chaperones.
More at USask
The Museum of Antiquities hosts a collection of ancient Greek, Roman, Egyptian, and Near Eastern sculpture in full-scale replica, as well as original pottery, glass, and ancient coinage.
The Kenderdine, College, and Snelgrove Art Galleries showcase work by artists and curators from the university and from the wider local, national, and international community.
In addition to preserving the core collection of John G. Diefenbaker's personal artifacts, the Diefenbaker Canada Centre hosts exhibits and programs that explore citizenship, leadership, and Canada's role in the international community.
The Observatory houses a 3m long refracting telescope with a 6" diameter lens, and a small museum with exhibits on the solar system and astronomy. Public viewing nights are offered throughout the year.
For more to do on campus, check out some other University of Saskatchewan attractions and popular destinations.