Research by the Numbers
58

Academic Journal Papers

8

Edited books and book
chapters

94

Media Interviews

44

Invited Lectures and Presentations

53

Presentations at
conferences and
workshops and
contributed publications

16

Technical reports, conference
proceedings, reviews and
other scholarly publications

$6.4

million in new funding
Research Mission and Values
The Department of Geography and Planning shares the University's mission to achieve excellence in the  cholarly activities of teaching, discovering, preserving, and applying knowledge. Included amongst the values we hold as important in guiding our research are: excellence in scholarship and graduate student mentoring; academic freedom and independence; interdisciplinarity, integration and collaboration.
We are committed to research with impact both within and beyond the scholarly community – research that tackles today's societal and environmental challenges, stimulates public debate on pressing  environmental and community issues, and addresses challenges framed by our sense of place stretching from the local through to international scales.
Research Focus
Research activity in our department exemplifies the spirit of the disciplines of geography and planning and is concentrated in three overlapping domains: Hydrology, earth and environmental systems; Applied and scientific geomatics; Planning and management of the built and natural environment. Much of our research occurs at the boundaries of these domains, is crosscutting, and is focused on integrative  approaches to addressing scholarly and societal challenges and mobilizing knowledge.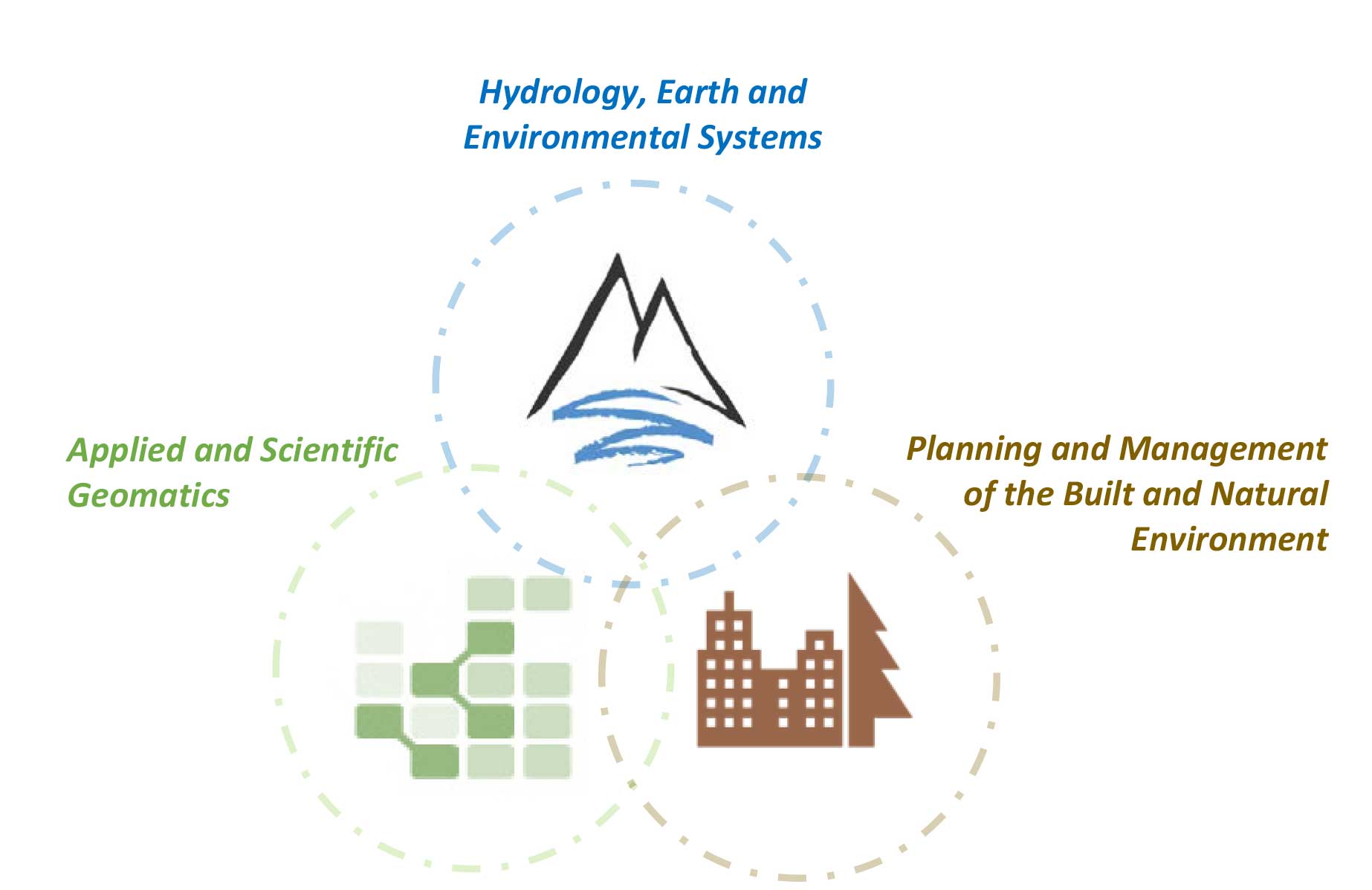 Research Funding Environment
Our research funding provides opportunities for graduate student training at both the Master's (MA, MSc) and PhD level. Our faculty and graduate students have been successful in obtaining Tri-Agency funding from NSERC, SSHRC, and CIHR, with some faculty having received funding from more than one Tri-Agency. Our research is also funded by a variety of other sources, including CFI, SSHRF, Mitacs, ArcticNet; federal, provincial, territorial and municipal government departments and agencies (e.g. Environment and Climate Change Canada, Water Security Agency, Parks Canada, Canadian Environmental Assessment Agency, Government of the Northwest Territories, Nunavut Research Institute, Northern Scientific Training Program, City of Saskatoon); foundations (e.g. Weston Foundation); and centres (e.g., Sylvia Fedoruk Canadian Centre for Nuclear Innovation). Our funding sources reflect the breadth and interdisciplinary nature of research in the Department of Geography and Planning.