The Future of National Myths in an Era of Globalisation - Gérard Bouchard
Posted on 2020-02-18 in Events
Mar 9, 2020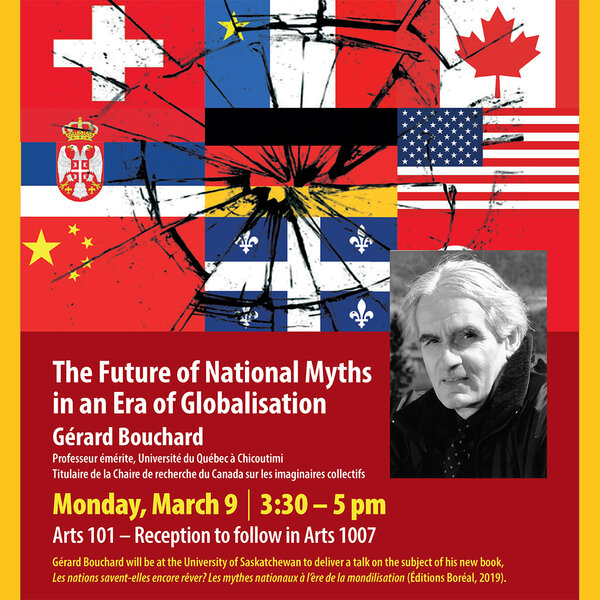 Monday, March 9
3:30 – 5 pm
Arts 101
Reception to follow in Arts 1007
All are welcome.
Gérard Bouchard will be at the University of Saskatchewan to deliver a talk on the subject of his new book, Les nations savent-elles encore rêver? Les mythes nationaux à l'ère de la mondilisation (Éditions Boréal, 2019).
As well, Dr. Bouchard will be a part of a panel discussion the next day, Tues, March 10, following the 7 p.m. screening of Alexandre Chartrand's "And with a Smile, The Revolution!" at the Broadway Theatre.
When he won the Prix Léon-Gerin, the citation read that "among those researchers who have contributed the most to the development of the Humanities and Social Sciences in Quebec, Gérard Bouchard is of the first order." In addition to a long and distinguished career teaching in the Dept. of Sociology at the Université du Québec à Chicoutimi, he is the author of 20 scholarly books and three novels. From 2007–08 he co-chaired Quebec's Commission de consultation sur les pratiques d'accommodement reliées aux différences culturelles, popularly known as the "Bouchard-Taylor Comission." He has twice won the Prix de la Présidence de l'Assemblée nationale du Québec (most recently in 2013 for L'interculturalisme. Un point de vue québécois) and has been a Chevalier in France's Ordre de la Légion d'honneur since 2002.