Indigenous Storytelling Research Presentation by Dr. Suzanne Steele
Posted on 2020-02-18 in Events
Feb 25, 2020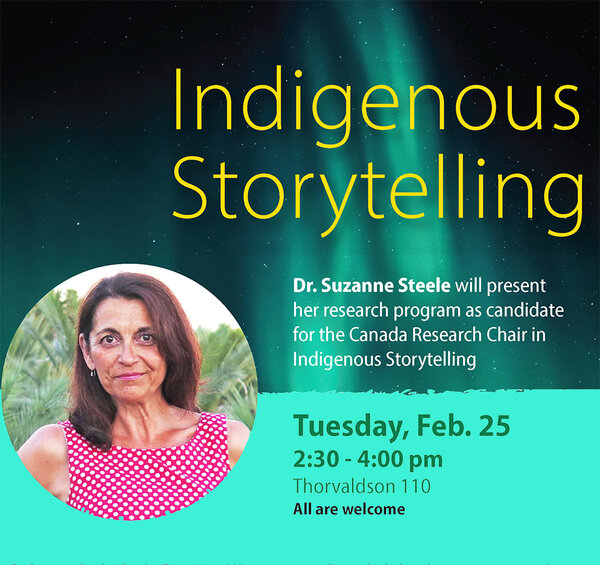 Tuesday, February 25
2:30 to 4:00 p.m.
Thorvaldson 110
All are welcome.
Dr. Suzanne Steele will present her research program as candidate for the Canada Research Chair in Indigenous Storytelling.
Biographical information courtesy of rielheartofthenorth.com:
Suzanne is an award-winning poet, installation artist, librettist, and scholar. She is Métis, from the Gaudry and Fayant families, families with roots that extend back to the first families. Dr. Steele has taught Métis cultural history, poetry of the First World War, and creative writing in Canada and the UK. Her work has been broadcast to 11 million worldwide (BBC World Service, CBC, NPR), presented internationally, and is studied internationally at the PhD, Master, and high school levels. She has read extensively at literary festivals and given papers in Oxford, London, St Andrews, Scotland, Amiens, France, and other locations. Dr. Steele's research is in narrative studies, ethics, and the artistic challenge of representing war beyond the tropes of combat. She graduated from the University of Exeter (UK) in 2017, her undergraduate degree is in Music (voice) from UBC, and she has a Master of Library and Information Science from the University of Western Ontario.
From 2008-2010 Dr. Steele served as an Official Canadian War Artist, Canada's first poet sent into a war zone (Afghanistan) in the 101-year history of Canadian War Artists. She was embedded over an 18 month period with the First Battalion Princess Patricia's Canadian Light Infantry (1PPCLI) and visited them outside the wire in Afghanistan in 2009. In 2012 Suzanne and composer Jeff Ryan premiered their critically successful symphonic/choral work, Afghanistan: Requiem for a Generation, a major commission from the Calgary Philharmonic Orchestra, a work based on Steele's observations of a Canadian infantry battalion going to war and returning. This war requiem, sensitively and movingly composed and orchestrated by Ryan, was broadcast nationally and internationally and was performed by the Vancouver symphony in January 2017, and in Calgary and Toronto in November 2017. The requiem recording was commercially released in 2018.